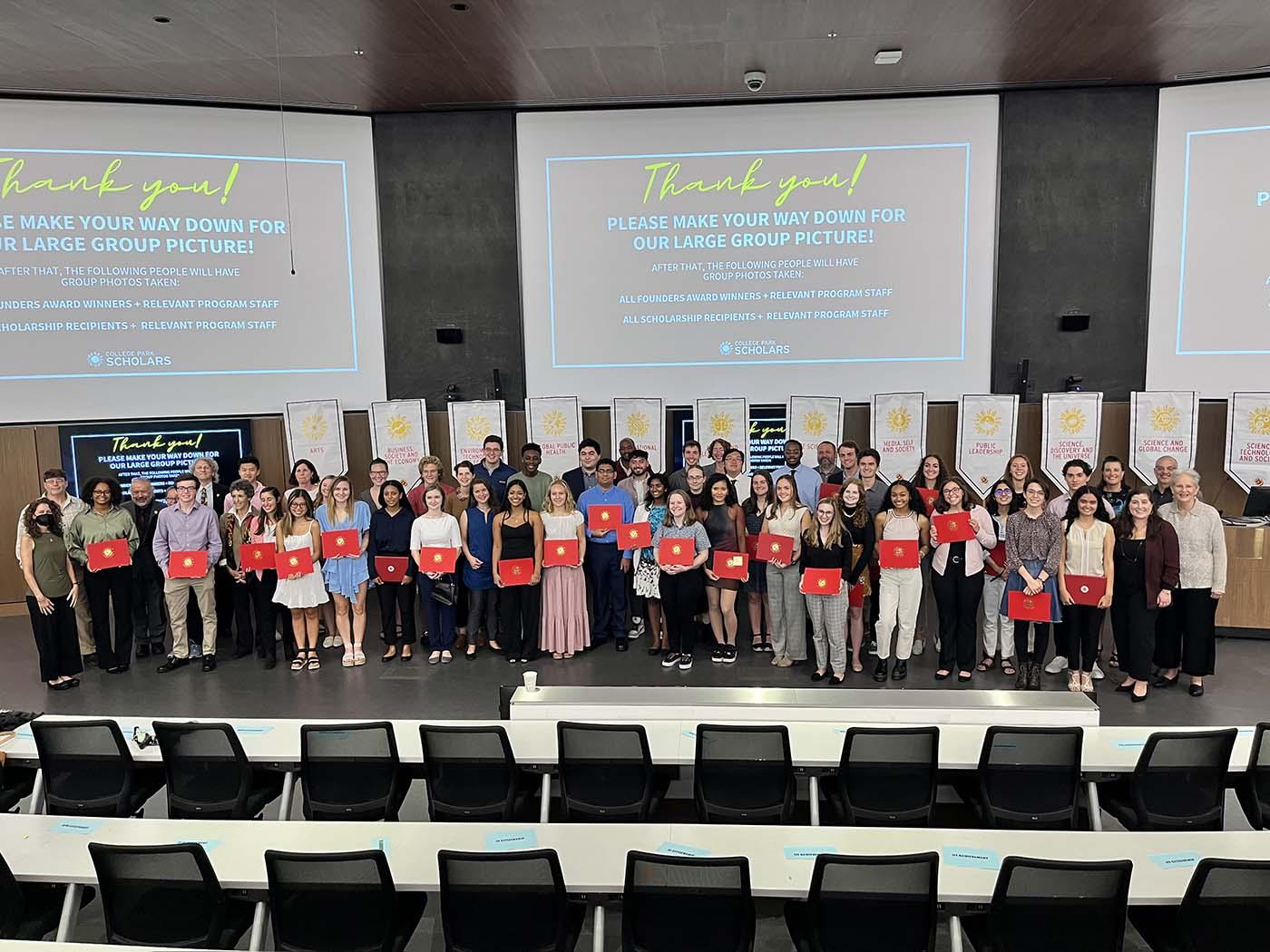 Students in College Park Scholars's Citation Class of 2022 began their University of Maryland (UMD) careers in the fall of 2020, under the shadow of the COVID-19 pandemic. They spent their first year almost entirely online: Some Zoomed into their program colloquium from their double-turned-single dorm rooms; others attended virtually from their families' homes, away from campus.
Still, these students found ways to connect, thanks to arrangements made by their Scholars programs. Outdoor study breaks on McKeldin Mall, virtual camping trips, walk-and-talk meetings with advisors and more offered ways for students to adapt to their unprecedented first year.
"This citation class's first year in Scholars was primarily virtual and their second year was mostly masked, but their commitment to their learning and to the Scholars community was palpable, strong and deep," said Marilee Lindemann, executive director of Scholars.
At Scholars's Citation Awards Ceremony on Oct. 7, 2022, those students in the citation class who went above and beyond expectations were recognized for their contributions to the community. Forty-four students were recognized for outstanding achievement or outstanding citizenship in their programs. Five received scholarships. Six students were given Scholars' highest honors, the Founders Circle Awards.
The Meghan Price Scholarship for Leadership and Public Service honors the achievement and promise of Scholars Public Leadership alum Meghan Price, who before dying in a car accident her senior year had been elected president of the Student Government Association. The award is given to juniors or seniors who are dedicated to leadership and service.
This year, the scholarship went to senior mechanical engineering major Marisa Teti, an alum of the Science and Global Change (SGC) Scholars program. Teti lauded Scholars as an opportunity to build social relationships while taking on creative projects and leadership roles. She served as a Student Advisory Board representative and later a teaching assistant for SGC during the Fall 2021 semester.
Teti's impact has extended beyond her own program, however. During the Spring 2021 semester, a time when the pandemic stifled many creative efforts, she piloted a collaborative project between SGC and Arts Scholars to paint a recycling bin in the Cambridge Community. That dumpster—featuring Testudo, Scholars and a message about saving the planet—remains in the community to this day, just by Cambridge Hall.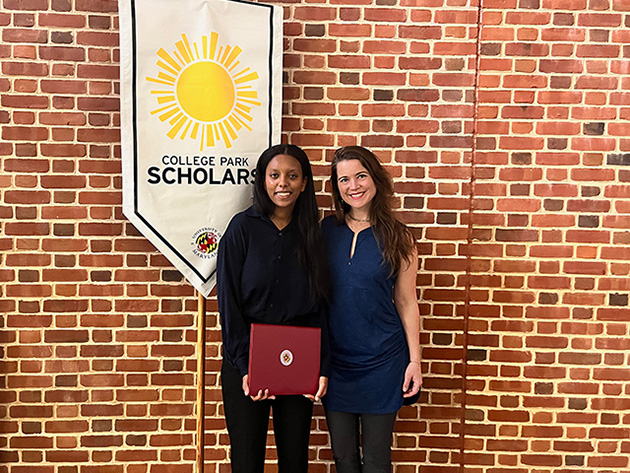 Growing up in the predominantly Black Prince George's County, senior government and politics major Soyame Mulata learned well how minority and low-income communities are disproportionately impacted by the effects of climate change. Mulata, an alum of the International Studies (IS) Scholars program, hopes to bring that knowledge and experience into her future career as an environmental lawyer, where she'll work to protect disadvantaged communities from such impacts. She is the recipient of this year's Rebecca Basena Kampi Memorial Scholarship.
The Basena Kampi Scholarship honors the memory of Rebecca Basena Kampi, a Public Leadership Scholars alum who died in a car accident in 2018. Like Basena Kampi, who was known for uplifting underserved communities, the award goes to a student who demonstrates commitment to public service or community work focused on producing social change.
"My goal in my future career is to stand up for people who don't have the ability to stand up for themselves," Mulata said.
As an undergraduate research assistant in Fall 2021, Mulata researched the development of emotional skills in Black and multiracial children. And, at her internship at the World Resources Institute, Mulata has already started fulfilling her dream of standing up for the underserved. Mulata has worked on legislation that ensures environmental justice for minority communities and conducted direct outreach to those communities and to environmental justice agencies around the country. By becoming a lawyer, Mulata said she hopes to protect both the people affected by climate change and "Mother Earth" herself.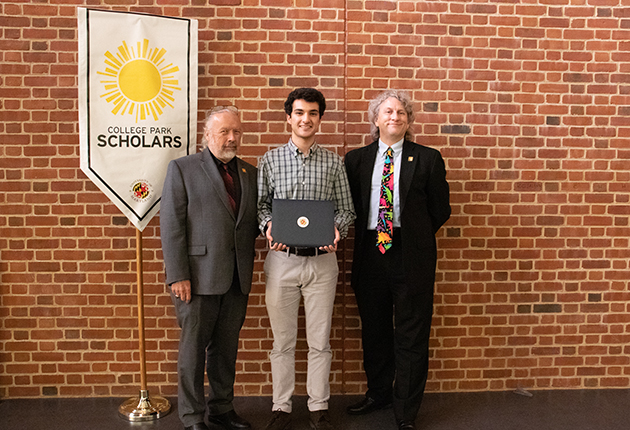 The Martha and Ira Berlin Legacy Fund Scholarship was established to support students who are seeking to further enhance their Scholars learning through a well-defined and innovative scholarly or creative project.
This year's recipient was Erfan Jabari, a senior bioengineering major and SGC alum. During the Spring 2019 semester, Jabari began working in the Tissue Engineering and Biomaterials Laboratory at UMD for his Scholars practicum project. There, he helped define the remodeling processes that must be conducted for enhanced bone regeneration in people with bone defects. His current work focuses on using 3-D bioprinting to improve treatments of those defects.
Jabari has received an array of awards and grants for his research, including the ASPIRE Student Research Award from the Maryland Technology Enterprise Institute and the Winston Family Award for outstanding thesis. He was also named the Undergraduate Researcher of the Year in 2022 by UMD's Office of Undergraduate Research.
"Erfan is easily in the top 1 percent of undergraduates and undergraduate researchers I have encountered," said Dr. John Fischer, Fischell Family Distinguished Professor and department chair in UMD's Fischell Department of Bioengineering.
The Kenneth A. Joseph Memorial Endowed Scholarship honors the memory of Ken Joseph, who served as associate director of the Media, Self and Society Scholars program from 1999 until his death in 2009. Joseph was a beloved mentor to many students, and the scholarship is awarded to freshmen and sophomore Scholars to help them continue Joseph's commitment to the betterment of society.
This year, the scholarship was awarded to freshman English and cinema and media studies major Maria Coutoulakis and sophomore kinesiology major D Marco Arteaga. Both students are members of Media Scholars.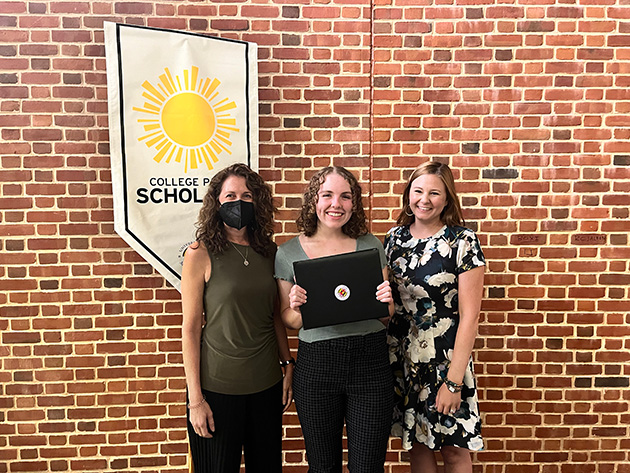 The Ira Berlin Writing Award honors a Scholar who has demonstrated excellence in academic writing. Submissions could include essays, reflection papers, research papers and other genres of nonfiction academic prose.
Kelly Biglin, a junior public health major and an alum of the Global Public Health (GPH) Scholars program, won the award for a 10-page paper she wrote during her first semester of her freshman year on the cholera crisis in Yemen. It was her first research paper of such a length, but her passion for the issue made the writing process easy, she said.
Biglin wrote in her award application essay that through this experience and her Scholars program as a whole, she learned the necessary skills to transition from academic writing to professional writing and found her love for writing about health. She used those skills in two internships with the U.S. Department of Health and Human Services, Office of Inspector General, and later with a nonprofit, I Will Survive, Inc. In both positions, Biglin had the opportunity to write at length—sometimes 20 pages—about issues she's passionate about.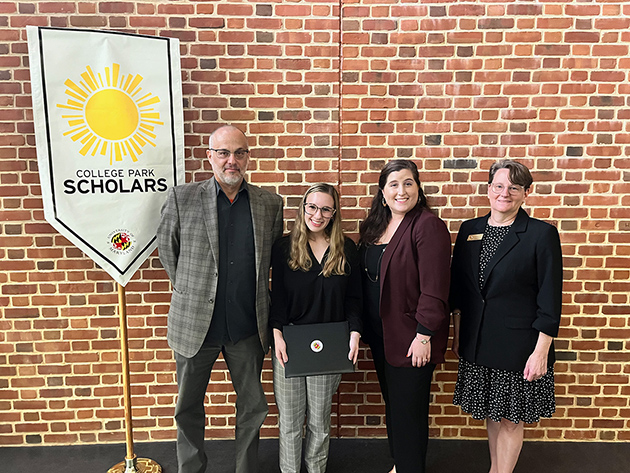 The Katherine McAdams Leadership Award is named for the second executive director of Scholars, Kathy McAdams. The award is given to a young woman in Scholars who has proven to be an effective leader during her freshman and sophomore years.
This year's recipient is Rebecca Scherr, a junior double majoring in government and politics and English. She is an alum of the Justice and Legal Thought Scholars (JLT) program. One thing about Scherr: She's shy, but that only makes her a better leader, she says. When her supervisor at her summer job with a nearby law firm told her that shyness and lawyering were mutually exclusive, Scherr only became more determined to prove that wrong.
Scherr said she hopes to break these stereotypes and the societal expectations that force people away from their dreams. By serving as a model for people in law while also being shy, she hopes to inspire others like her, who are "timid" but also want to advocate for people. No one should strive to be a "perfect" leader, she said. She won't either.
"I'll continue to speak softly but firmly, to be observant, and to choose my words with care," Scherr said. "I'll continue to be shy."
When Ivy Huang began to pursue her capstone project for Arts Scholars, she suspected her peers may not know much about her major, hearing and speech sciences. To bring more awareness among Scholars and beyond to speech and language disorders, Huang curated a virtual art exhibit, "Voices," containing pieces from artists with such disorders from across the globe.
"By increasing awareness and understanding, the Scholars community can take a step forward in eradicating the stigma and social norms surrounding these disabilities," Huang wrote in her award application essay.
Huang received the Beth and John Pattison Award for Creativity for this project. The award honors a Scholar who has exhibited exceptional creativity and innovation, including in the areas of art, architecture, creative writing, research and more, during their freshman or sophomore year.
"Creativity is an instrument of change," Huang said. For her, creativity wields incredible influence in raising awareness, inventing solutions, and sharing ideas, helping propel society forward. Through her capstone, for example, Huang was able to connect with both neurodivergent individuals and her fellow Scholars. She hopes to leverage creativity in her future career to bridge more gaps between different populations and connect people.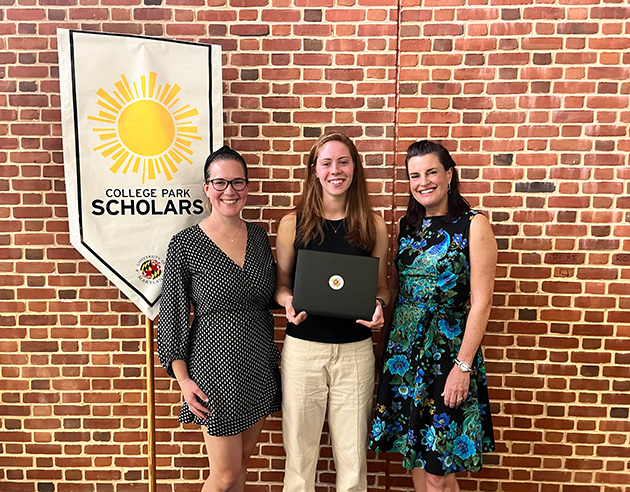 The Peres Study Abroad Award honors a Scholar with an interest in international and global affairs and who has demonstrated global competencies and learning as a result of having studied abroad. 
Peres recipient Keating Drake—a junior who is double majoring in public policy and criminology and criminal justice, and minoring in Spanish—spent her Spring 2022 semester in Seville, Spain. While she gained greater cultural and linguistic abilities in Spain, the Public Leadership Scholars alum also widened her awareness of public policy around the globe and how similar problems can arise in every country.
During her semester abroad, Drake worked on a research project studying racism in Spain and how it relates to U.S. attitudes toward racism. After speaking with residents of Seville, Drake produced an eight-page research paper and recorded a podcast discussing her experience in a culture that typically avoids talking about race, and about how racism is a widespread issue that must be addressed through cross-cultural communication. 
"We are quick to judge each other's differences, but when you seek to understand someone's perspective, your own begins to shift as well," Drake said.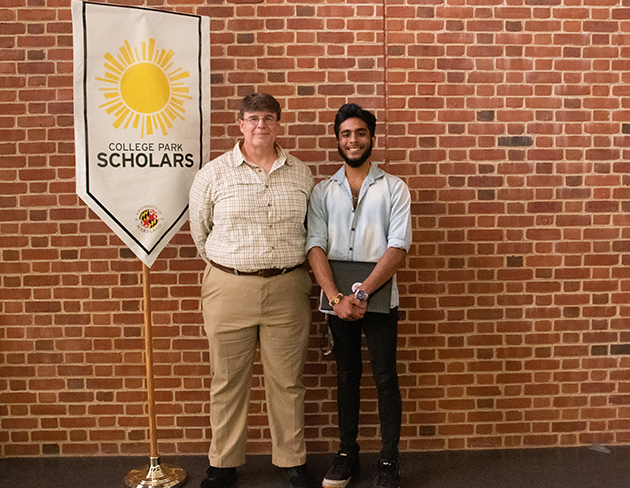 Though he knows his fellow undergraduates may disagree with him, Amol Agrawal loves research. Pushing the boundaries of knowledge and introducing new ideas to the world are part of why he loves university life, said the civil engineering and communications double major. The junior put that passion into working as a research assistant for a project exploring college engineering students' sense of ethical and social responsibility over time. The project was led by his Science, Technology and Society (STS) Scholars director, David Tomblin. In addition to helping with qualitative data gathering and assessment, Agrawal had the opportunity to contribute to a collaborative, 30-page research paper.  His efforts awarded him the Nancy and Ira Shapiro Excellence in Undergraduate Research Award.
The Shapiro Research Award honors a Scholar who has demonstrated excellence through a research project related to their Scholars program. The project must have demonstrated active collaboration between a faculty mentor and the student, fulfilled the mission of discovery, and identified questions that may be pursued in further research.
With this project, Agrawal was able to pursue his interests in a way that was quite meta. The research concerned the intersection of STEM and social issues specifically among the students of STS Scholars, which also explores this connection. It was one of the first times Agrawal truly saw this intersection between his majors, he said. As both a researcher and a subject for this effort, he was able to contribute his passion and drive to the research team.
Over the summer, Madison Townshend spent most of her time on a farm. At her internship with the Community Ecology Institute in Columbia, Maryland, the Science and Global Change Scholars alum personally harvested almost 500 lbs. of produce to be distributed to local schools and food banks. But that's not all she did.
Townshend worked with the institute's Nourishing Gardens program to build gardens in communities and educate them on how to harvest vegetables—part of that program's mission to address malnutrition and access to fresh food. For one project, she applied for and received funding to build pollinator gardens in community spaces around Columbia. It was lessons in her Scholars program on researching, planning and communicating project ideas that helped her get the money, she said.
But what most impacted Townshend—an environmental science and policy major who is also minoring in nonprofit leadership and social innovation—was installing a garden at a group home for disabled women. The home had a small budget for meals, and many of the women struggled with nutrition, so Townshend helped provide them with fresh produce. It was connecting with that group of women that she remembers most from her internship.
"Watching their excitement as we installed the garden and then talking with them and hearing their appreciation was the most rewarding interaction I had that summer," Townshend wrote in her award application essay.
Her experiences, and explanation of how they intertwined with her Scholars learning, earned  Townshend the Tri-Star Award. The Tri-Star is Scholars' all-encompassing prize of recognition, honoring a student who exemplifies academic excellence, has contributed to their community in meaningful ways and values how diversity enhances learning.
Citizenship and Achievement Awards
Recipients of the Citizenship and Achievement Awards are a remarkable and varied group of individuals, according to Lindemann. From artists, to globetrotters, to scientists and more, these students exemplify the core values of Scholars and their respective programs.
Explore the full list of winners: