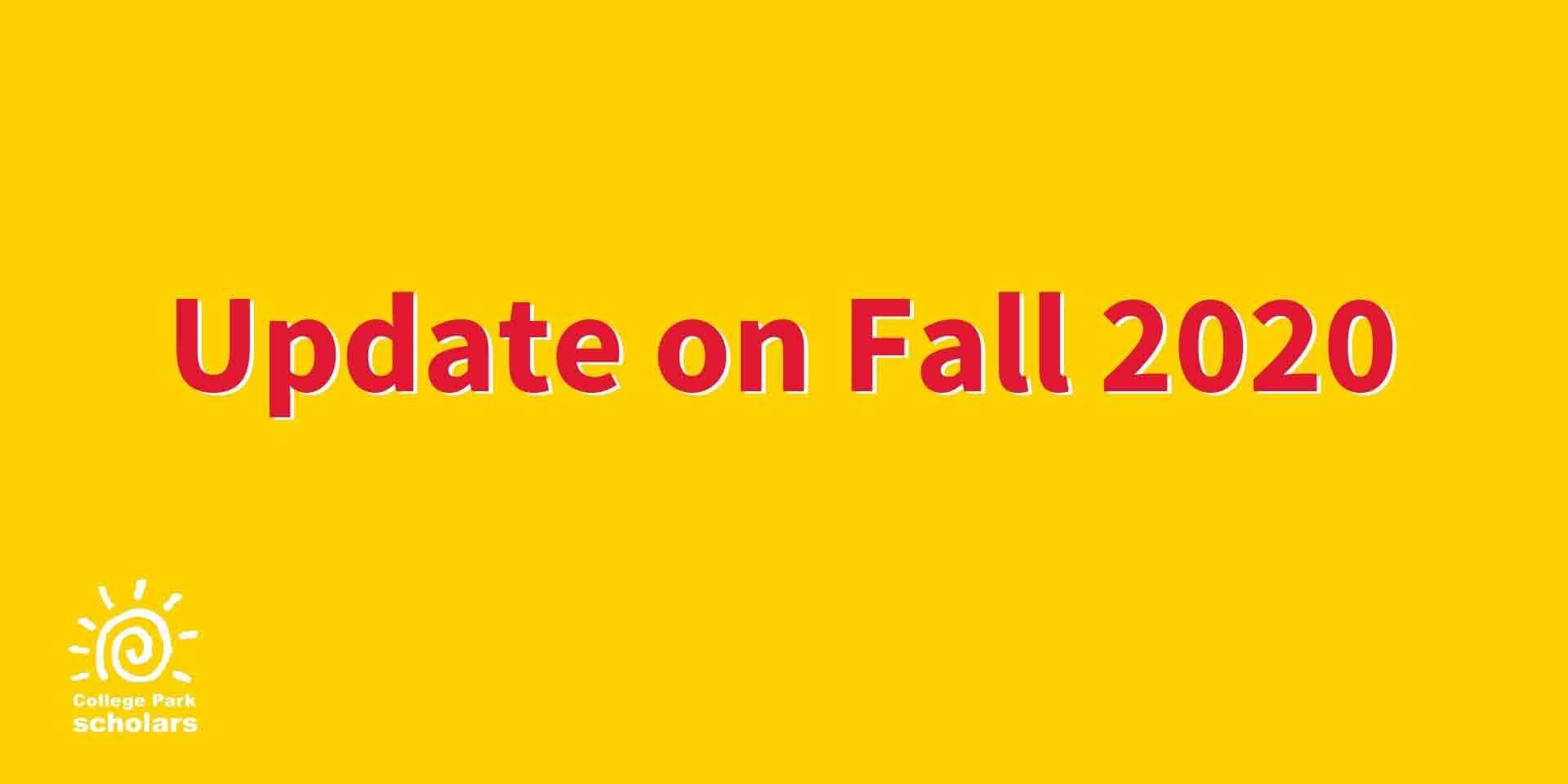 Incoming Scholars students received the following message from College Park Scholars yesterday evening: 
Dear students,
I hope your summer has gotten off to a good start, and you're eagerly planning for fall as a University of Maryland (UMD) student. We in College Park Scholars are equally excited to welcome you in August!
By now you should have received a message about UMD's fall semester, as well as your on-campus housing situation if you were planning on living in the residence halls. I wanted to share with you some initial information on what College Park Scholars is doing to help make your first semester with us as fun and enriching as possible.
I'll acknowledge right away: This is a new situation for all of us. We in Scholars are still working to figure out what this unusual fall—with its online and blended courses; adjusted residence hall capacity; and increased health and safety measures—will look like in practice.
But we are working on it. I also hope you'll keep in mind that fall is just one semester out of a two-year Scholars program. Here's some of what you can expect:
The choice is entirely yours whether you decide to live on campus for Scholars this fall, commute to campus, or engage with Scholars completely online. Everyone has their own level of comfort around being in close proximity to other people these days, regardless of social distancing protocols. Scholars will not require any student to participate in any in-person engagement opportunity if they don't feel comfortable doing so.
Your Scholars colloquium course will be specially designed for the fall. Using student feedback from our virtual spring semester, the latest research on online teaching, and our rich understanding of undergraduate education, the Scholars faculty and staff have been evaluating how we will effectively deliver our curriculum in a primarily virtual context. I can tell you that you can expect to work with your fellow students to dig into complicated problems, both through class discussions as well as through project-based group work. Colloquium has always helped students make connections and affirm their sense of belonging—your Scholars courses will continue to be an important part of how you become part of our community.
A Scholars peer mentor will help show you the ropes. Later this summer, you will be matched with a peer mentor from your Scholars program. This sophomore Scholars student, who is trained to assist you in making connections both within your program and across Scholars, will help make your transition to college a smooth one. Your peer mentor will serve as your campus resource—virtually or in person—and I encourage you to lean on your peer mentor if you have questions about college, your Scholars program, or our campus.
You will have opportunities to connect with other first-year Scholars. You may be anxious about starting college. (That's totally normal, by the way.) Don't worry. Scholars is experienced at helping students get to know each other and the university. We are currently reimagining our traditions—getting input from students in the process—to provide a mix of virtual and in-person opportunities that will ensure your health and safety. But rest assured, you will have a strong, inclusive, and supportive community in Scholars that you can count on, even in these trying, uncertain times.
Over the course of your two years in Scholars, you will have a chance to engage in the greater community, through service, dialogues, and more. A commitment to service and community engagement remains a key tenet of Scholars. We will be offering ways for students to engage in the greater College Park community—whether virtually or in person—as well as forums for students to make meaning of recent protest and social movements.
I realize you may be craving more details, and you and your family likely have many questions about what fall might look like. You may also be getting a lot of conflicting information through the rumor mill. We will do our best to answer your questions and share more information as details are finalized.
In the meantime, I encourage you to visit UMD's COVID updates page, the Department of Resident Life's FAQs, and the Scholars website, from time to time for updates. Despite the uncharted territory we are navigating, please know that all of us—your Scholars faculty, staff, and peer mentors—are committed to your success at UMD.
Sincerely,
Dr. Marilee Lindemann
Executive Director