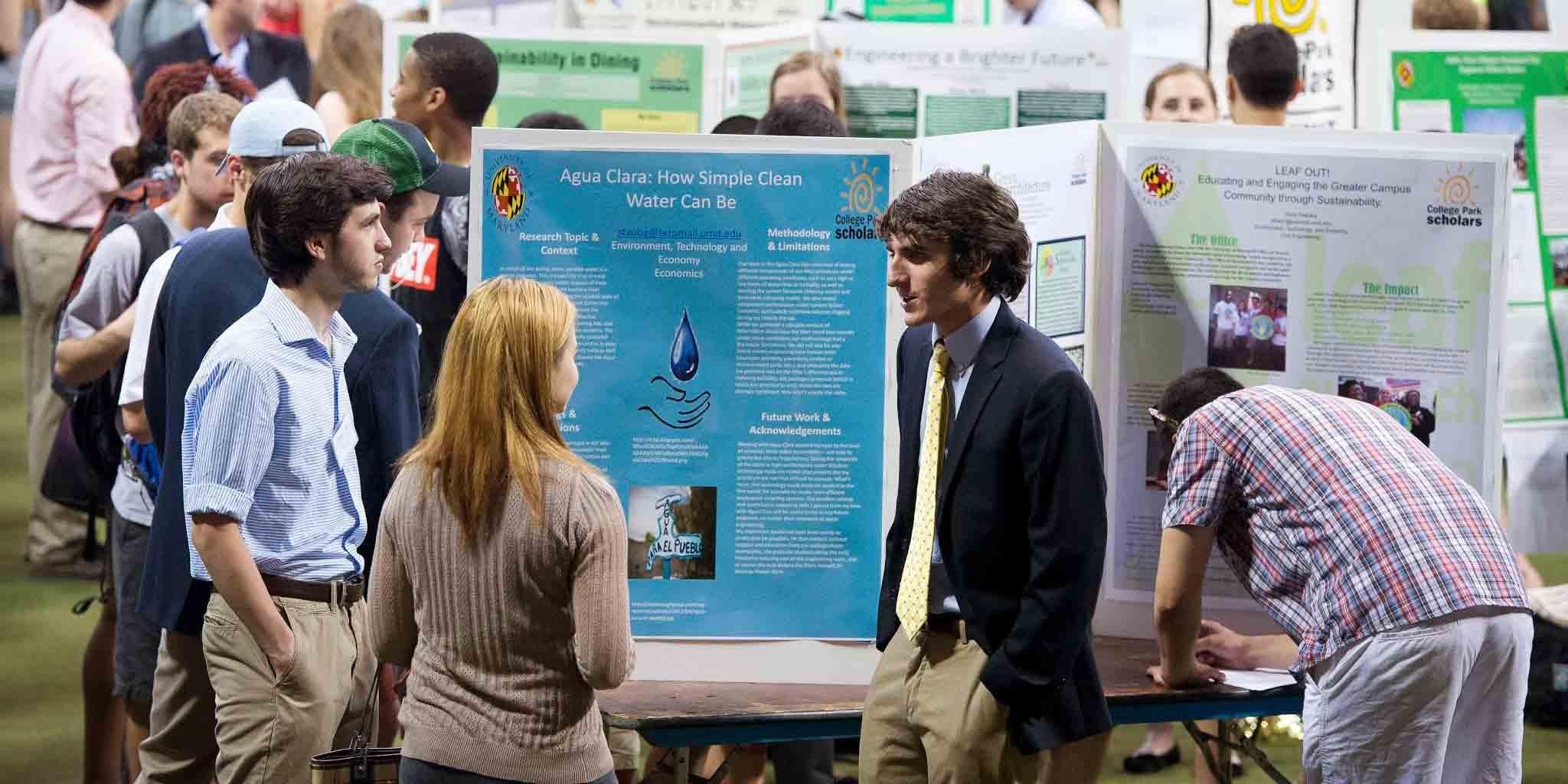 College Park Scholars means two years of learning across disciplines, considering complicated problems and making connections between the classroom and the rest of the world. As a capstone to that experience, we require sophomore Scholars to identify and complete a practicum project. In 2017, a sophomore in our Environment, Technology and Economy program developed a sustainability intervention as part of an internship. A Science, Technology and Society student researched basic income and workforce automation. A group of Public Leadership sophomores organized to start a local chapter of a national camp for children of cancer patients.
Others have completed research in labs on and off campus, service projects in College Park, internships around the nation and travel study around the globe.
In our view, however, wrapping up that internship, research or service with an assignment quietly submitted to a single instructor isn't really enough. Many of these projects address significant questions that are of interest to stakeholders well beyond our community of first- and second-year students. Just like all scholarship, their work has an audience.
In keeping with the purpose of the practicum—applied study of an issue by way of research, internship, creative work or service-learning—Scholars are expected to communicate their project experiences to the university each year. Presenting a practicum project to a broader audience also makes sense because we don't really understand something until we teach it to someone else.
That reporting has for nearly two decades taken place during the annual Academic Showcase, and the students' medium for demonstrating learning has been the Showcase poster.
Scholarly communication
Following the lead of Tom Holtz and John Merck, the director and associate director of our Science and Global Change Scholars program (and the longest-serving faculty in Scholars), Scholars programs have taught students to design posters for Showcase. These are the kind of posters that one might find at an academic conference: If practica are scholarly projects, then it stands to reason that they should follow the conventions of scholarly communication. Thus the poster has long been an efficient genre for Scholars, a concise way to synthesize all kinds of capstone experiences and spark conversation with those who attend our version of a scholarly meeting, the Academic Showcase.
As College Park Scholars has grown, and as every program has decided to participate in Showcase, our event has grown into an exhibition of more than 500 posters in increasingly larger spaces. Academic Showcase, which started in the lobby of Cumberland Hall, has since expanded to take over the Grand Ballroom of Stamp, then Orem Hall at Riggs Alumni Center, then the floor of Cole Field House and, most recently, the Armory gym.
We sometimes joke that Showcase has become overwhelming, but in a good way. I get tinnitus each year during Showcase, but nevertheless find myself inspired and amazed by the conversations I manage to have.
And yet we know that the poster has its limits. Further, meaningful conversation among 500 sophomores and hundreds of guests in a cavern isn't easy.
Reimagining Showcase
In a little more than a month, we are therefore taking Academic Showcase to the Edward St. John Learning & Teaching Center. It's an ideal site for us to reimagine Showcase. This year, we are challenging students to share their work in a variety of ways beyond the poster—giving them the framework to make the signature academic program of the year in Scholars a more dynamic, more authentic academic conversation.
Many Scholars will continue to display and discuss conference-style posters, but they will also deliver short presentations and performances, facilitate simulations and games, and exhibit creative work.
We designed the two-year Scholars curriculum with the conviction that scholarly practice requires community: Scholars (and scholars) begin by exploring what others have discovered and shared. After considering that existing work, they imagine ways to enter the conversation with their own ideas. Finally, they contribute to the discussion through their projects, anticipating the communities who might consume and respond in turn. These include peers, faculty and mentors, as well as those who will guide those students during the rest of their semesters as undergraduates (and, in some cases, beyond).
The Edward St. John Center's corridors are perfectly suited to focused conversation. Its classrooms, meanwhile, are designed for exactly the kind of lively presentation and exchange we imagine at Showcase. I'm certain the venue will make for one of the most engaging Showcases we've ever had--but in the end, the reason this event is as impressive as it is each year comes down to our students and their work.
Academic Showcase offers students a way to—as the name conveys—showcase their meaningful work while reinforcing their recognition that scholarship becomes more than what we do in isolation. At the same time, it is a celebration of students' two years with College Park Scholars... an invitation to sustain the sort of engaged and reflective work begun in their Scholars programs. We are looking forward to what will be an exciting event, and we hope you will be part of our day.
The 2020 Academic Showcase will take place Friday, May 1, from 4 to 5:30 p.m., at the Edward St. John Learning & Teaching Center. The entire university community and the general public are invited to attend.