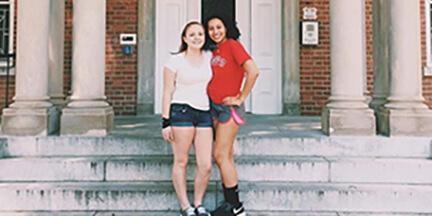 Everyone's college decision process is different. Here are some examples of Scholars students who chose the University of Maryland (UMD) for distinctly different reasons.
Mari Lemmie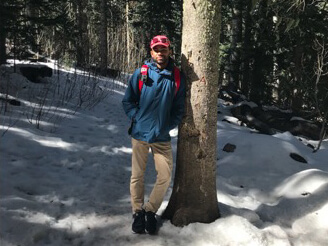 Hometown: Baltimore, Md.
Year: Senior
Major: Public policy
Scholars program: Justice and Legal Thought
I first became familiar with College Park Scholars when I attended Maryland Marquee Day during my senior year of high school. I had been mainly looking at colleges in the Washington, DC, area because of my interest in politics. Learning that I might have the opportunity to participate in the newest Scholars program, Justice and Legal Thought, solidified my desire to attend UMD.
Coming from a restrictive high school environment, I was looking for a program that would allow me space to explore my interests and take a unique approach to learning, which is exactly what I found in Scholars and the School of Public Policy. Being a part of the inaugural cohort of Justice and Legal Thought was the experience of a lifetime, and I became a more authentic, compassionate and driven leader in the challenging, yet nurturing, environment that Scholars provides.
Like most institutions of higher education, I believe that the university has some room to improve in a few areas—but these things are representative of larger societal issues. Fortunately, Scholars has provided me and other students with the tools, information and confidence to advocate for change on multiple levels. My plans for the future are constantly evolving due to changes in myself and in the world, but I'm excited for my next chapter, confident that I have a strong foundation and the support of my Scholars family.
Ayanna Wright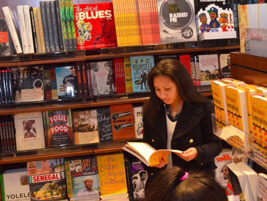 Hometown: Bear, Del.
Year: Sophomore
Majors: English and Marketing
Scholars program: Public Leadership
College Park Scholars is one of the main reasons I chose UMD. I'm from Delaware, and I only knew one other person from my high school who would be coming to College Park. The community aspect that the program offers—through the Scholars classes as well as through residing in a living–learning community—appealed to me, because I thought it would help make a large campus feel smaller, which it did. I also liked the opportunity to be involved in something that interested me academically outside of my business major (marketing).
Another factor that helped influence my decision was diversity. Of all the schools I applied to, not including historically black colleges and universities (also known as HBCUs), UMD is the most diverse. This diversity is especially apparent in my Scholars program. I'm grateful for the diversity I experience every day on campus, both in and outside of the classroom.
Prior to coming to College Park, I really liked the DC–Maryland–Virginia (also known as DMV) area and culture, and while at UMD I have been exposed to both. The proximity to DC is especially nice, an experience I am currently enjoying through field trips for classes and on my own on the weekends for brunch. All in all I am very happy with my choice in attending UMD and accepting my invitation into College Park Scholars. If given the option again, I would make the same decision.
Kaitlin Ta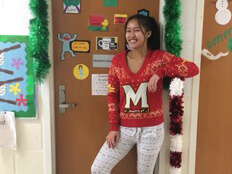 Hometown: Silver Spring, Md.
Year: Freshman
Major: Microbiology
Scholars program: Environment, Technology and Economy
UMD was not a hard choice for me. It had been one of my top schools since sophomore year of high school. The summer between my freshman and sophomore years, I participated in a summer program at the university known at Ag-Discovery. I spent three weeks on campus and absolutely fell in love. The smoothies at the Eppley Recreation Center, the sand volleyball courts on La Plata Beach and the pool were all aspects of campus that made Ag-Discovery one of the best experiences I have ever had. I had fun for three weeks straight, and I knew that UMD would be a great choice for me.
Another factor that set UMD apart was the variety of majors that they offer for the biological sciences. Most colleges just have biology as a major, but UMD has many specialized biology majors as options for undergraduates. I chose microbiology because it aligned with my area of interest.
I had offers from others schools, but I was really attracted to the campus life of UMD. This university has so many clubs and extracurricular activities, and the school spirit is intense. I also was accepted into the Scholars program at UMD, which was the living–learning community I really wanted to be accepted into. No other college had invited me into a living–learning program, so I knew that UMD saw something special in me.
Grace Kelly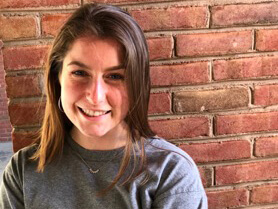 Hometown: Ellicott City, Md.
Year: Sophomore
Major: Public policy
Scholars program: Public Leadership
I first came here as a freshman in high school while my brother was touring colleges. I decided during that visit that I would not be attending UMD.
Three years later I decided to apply to UMD, mainly because of the in-state tuition. UMD was out of my comfort zone; it was a big school that I didn't know much about, and that was scary. I still don't know why I felt the urge to pick UMD or what gave me the courage to do so, but I did and I haven't looked back. Admittedly the first week or two after being dropped off on campus were really hard for me. But after that second week, I had fallen in love.
UMD is my home. It has given me everything I could want and more. And being in Scholars has completely changed my life socially and academically. Scholars gives students a hands-on learning experience unlike any other, including opportunities such as excursions to places in DC, guest speakers and an individualized capstone project. Scholars in general is a phenomenal experience as it is truly a family and makes the adjustment to college so much less intimidating. Many of my best friends today are Scholars students whom I lived with my freshman year.
Being in the Public Leadership Scholars program also prompted me to change my major. I am now a public policy major because of the classes I have taken, the lessons I have learned and the leaders who have impacted me. I didn't know anything about public policy prior to Scholars, and now it is everything I do.
UMD is a big school, which is one of the amazing things about it. At times, though, it can be overwhelming, and you want to find your small group in the larger pond. That is exactly what Scholars has done for me.
Brian Woodson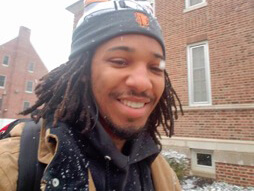 Hometown: Oakland, Calif.
Year: Junior
Major: Aerospace engineering
Scholars program: Public Leadership
I honestly can't remember why I chose UMD. When I was looking for colleges, UMD hit most of my marks: far from home but still near extended family, a strong aerospace engineering program and a huge student population. But so did most of the schools on my list. All I can say is that once I got here, met a few people, attended a few social events and attended classes, I knew I had made a great choice. While the weather does get me sometimes, as I was used to 50 to 70 degrees year-round in California and Maryland doesn't really conform to any sort of weather norms, I have thoroughly enjoyed myself otherwise.
It is hard to know ahead of time whether any school is the right fit, but I really think it's just something you have to try out and see. The most important part of college in my mind is finding where and how you fit in once you're there, and UMD offers so many opportunities for you to do so. The range of activities on campus, the diversity of the people you'll meet and the variety of courses and majors available are all what make UMD so special.
It may take time to find what's right for you. I didn't find my current roommates or friends until my second semester, and it took even longer to find the right activities for me. But I'm just glad UMD gave me the space to do so. I have friends who have changed majors two or three times, and each program was nationally ranked. I think that's what is so great about the UMD: It's a place where you can come in knowing exactly why you're here, what you're here to do and how you're going to do it, or having absolutely no idea what you got yourself into--but you can succeed regardless. I know I made the right choice.
This blog post is the second in the "Choosing Scholars" series, which examines various aspects of College Park Scholars. The first post in the series examines the interdisciplinary nature of Scholars.
About the author:
Katie Bemb is a journalism major and, like some of the students interviewed for this blog post, an alumna of the Public Leadership Scholars program. She has worked in the College Park Scholars communications office since early 2016. Katie says she chose UMD mainly because of proximity to DC but also because she was excited by the prospect of effecting social change through the College Park Scholars program. She says the in-state tuition didn't hurt, either!