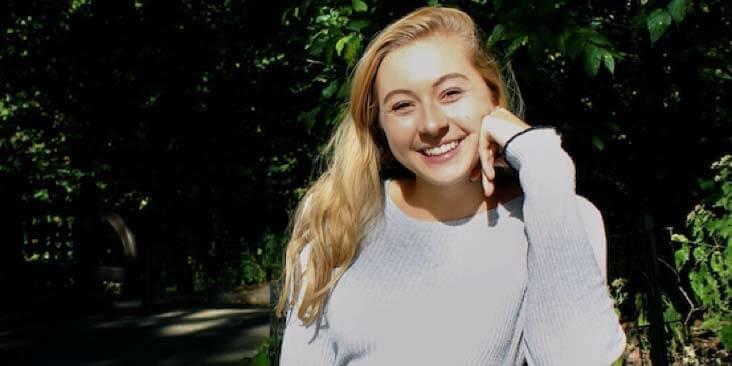 This blog post is the first in the "Choosing Scholars" series, which examines various aspects of College Park Scholars.
When Erin McCormick was invited to College Park Scholars last year, she knew that she wanted to pick a program that would expand her world view and teach her something different.
"I wanted to expose myself to subjects I wasn't confident in in high school," McCormick says.
After reviewing the curricula for the 12 Scholars programs, she was drawn to the Science, Discovery and the Universe (SDU) program because she hadn't yet had the opportunity to learn about astronomy.
"In SDU we like to emphasize how culture and science interact," explains Alan Peel, director of the SDU program. "This approach stresses that no one discipline makes progress in a vacuum. Understanding the interdisciplinary aspects of various sciences is crucial for understanding today's world and for making progress in any field, science or otherwise."
Multiple voices in classroom
McCormick is an elementary education major with a concentration in English. During her first semester, she interned with America Reads, working directly with elementary school students to improve their reading skills.
"Something we strive for in Scholars is to have interdisciplinary interests and holistically minded people. SDU is a very science-based program, and we have a lot of STEM majors," says SDU assistant director Marian Digby. "And we are certainly looking for that, but it's always great to have students like Erin who bring something different to the table."
Having multiple voices or perspectives in class is valuable, adds Peel. He points out that all too often, the way science is taught during students' formative years tends to emphasize memorization. But rather than having students learn something that's already been "figured out," Peel says SDU instead encourages students to build upon existing knowledge through creativity and a solid foundation in scientific methodology.
McCormick acknowledges that, through her Scholars colloquium, she has had to question ideas and think creatively.
Discussion-based courses
One of those instances was with a first-semester group project. SDU Scholars students selected a pseudoscience and developed a group presentation and paper arguing why that "science" should, or should not, be classified as such. McCormick's group chose to study the Loch Ness Monster, which they determined was indeed a pseudoscience.
"There were some cool [projects]—one group chose acupuncture, another presented on feng shui," McCormick says. Discussions following the presentation allowed students to debate each group's conclusions.
"[Colloquium] is definitely different from my other classes, because it's very discussion- and conversation-based," McCormick observes. The discussion-based nature of colloquium courses enables students like Erin to explore scientific methodology and apply that knowledge to other lines of thought.
"Erin has said that SDU changes the way she thinks and the way she would teach. Our colloquia are causing her to entertain new perspectives and use her critical thinking skills ," Digby says. "This is a student who really embodies the interdisciplinary nature we're looking for."
Through Scholars' interdisciplinary programming, McCormick and other students are encouraged to participate in experiential learning.
"I went on an excursion to New York City for the day with my program, and we got to see the Museum of Natural History," McCormick said. "It was just really cool to know that I have these opportunities in college."
McCormick adds that the College Park Scholars community made it easier to make friends starting out freshman year through activities such as Service Day and other academic excursions with SDU. Together, the program courses and interactions with classmates have made her more open-minded as a person.
"I plan on putting that open-minded philosophy into my teaching when I'm older," she says. "I like seeing people grow, because it also helps me grow. I've had really inspiring teachers ... who really shaped how I think about things, see the world, carry myself. I want to do that for other people."
About the author:
Katie Bemb is a journalism major and Public Leadership Scholars alumni. She has worked in the College Park Scholars communications office since January 2016.