Science, Discovery and the Universe
The uses and abuses of science in society
NOTE: College Park Scholars will not be recruiting a first-year cohort of Science, Discovery and the Universe for fall 2022.
Introduction
The effects of politics, culture and economics on the field of astronomy show that psychology can be just as powerful as reasoning when humans build scientific knowledge. So how can we know what scientific information is accurate?
Science, Discovery and the Universe (SDU) offers students the chance to put their learning in context, challenging them to explore the processes behind science, particularly astronomy. Through interactive investigations, thoughtful discussions, debates, persuasive and analytical writing assignments, and reflections, students examine:
How and when we can trust scientific information;
How politics, psychology and culture affect interpretations of scientific findings; and
What roles students can take in supporting how science is conducted in modern society.
In this program, students will be introduced to the philosophy behind the research techniques used by astronomers, geologists, physicists, engineers and others involved in the study of the cosmos on large and small scales. They will also have the opportunity to use the tools of scientific inquiry and critical analysis to examine recent discoveries and claims made in other disciplines. Many of the skills they develop in SDU classes and extracurricular activities are directly transferable to other classwork and most careers.
SDU welcomes students from all majors who want to think critically about the intersection of science, exploration, communication and progress.
Colloquium and Lecture Topics
Parapsychology
The origins of "scientific" racism
The "global warming is a myth" myth
The U.S. national space policy
Astronomy and religion: The science of Easter
Science writing and journalism: similarities and disparities
Other Learning Opportunities
Experiential learning excursions inspire students to observe and analyze scientific developments. Students in SDU:
Visit the University of Maryland (UMD) Observatory and the Howard B. Owens Science Center Planetarium, as well as the many science museums in our area, from the Baltimore Aquarium to the Udvar-Hazy Center of the National Air and Space Museum;

Have the opportunity to take an overnight trip to the incomparable Radio Astronomy Observatory at Green Bank, West Virginia, where they learn how to use a 40-ft. radio telescope to analyze 21 cm hydrogen emission from clouds in the Milky Way; and

Conduct numerous service activities for our connected communities, such as helping Howard B. Owens Science Center prepare for K–12 school openings in the fall, tutoring in the Math Success Center on campus and participating in "Get Out the Vote" initiatives during election years.
In addition to field trips, students have the opportunity to pursue research or internships as part of their practicum requirements. Recently, SDU students have:
Worked at NASA's Goddard Space Flight Center;

Experimented with ferroelectric memory research on campus;

Participated in innovative public health research on campus; and

Even tracked meteors and exoplanets at the UMD observatory.
Curriculum Overview
Over the two-year program experience (four semesters), students will complete two supporting courses that will count toward their SDU Scholars citation. In most cases, these courses will also fulfill General Education requirements. Note that your Scholars courses—colloquium, practicum and supporting course(s)—will generally be in addition to any courses you take to satisfy major requirements.
The following table represents a typical two-year curriculum, but individual schedules may vary. Details about courses and requirements can be found on the SDU Citation Checklist.
| SEMESTER | COURSES | CREDITS |
| --- | --- | --- |
| Freshman Fall | Scholars Colloquium | 1 credit |
| | 4–5 courses toward degree and major requirements (including possible supporting course) | 12–15 credits |
| Freshman Spring | Scholars Colloquium | 1 credit |
| | Academic Writing | 3 credits |
| | 3–4 courses toward degree and major requirements (including possible supporting course) | 9–12 credits |
| Sophomore Fall | Scholars Colloquium | 1 credit |
| | 4–5 courses toward degree and major requirements (including possible supporting course) | 12–15 credits |
| Sophomore Spring | Scholars Practicum | 1–3 credits |
| | 4–5 courses toward degree and major requirements (including possible supporting course if not already completed) | 12–15 credits |
Sponsoring College
Residence Hall
Centreville Hall
Faculty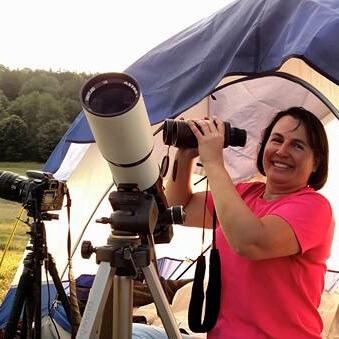 Elizabeth Warner
Program Associate, Science, Discovery and the Universe
Science, Discovery and the Universe News