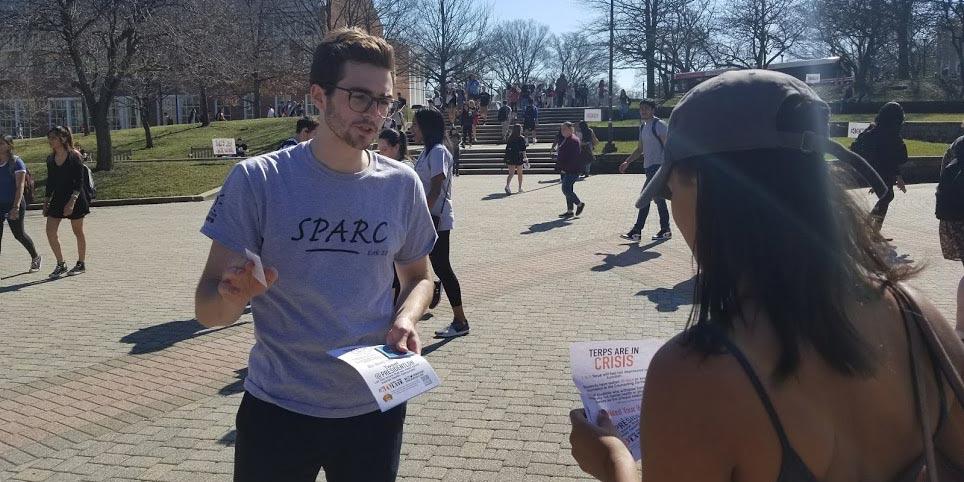 When Anthony Sartori was a freshman at the University of Maryland (UMD), he recognized the need for a community-wide revitalization of care—something that would connect students with themselves and with others.
"I came to college lacking self-care strategies," Sartori says. "No one taught me how to properly take care of myself or what I need to do when I'm feeling overwhelmed."
So, the Life Sciences Scholar began having conversations with other College Park Scholars students, as well as Scholars Assistant Director Ben Parks. He realized that many others felt the same, and were interested in providing and facilitating self-care opportunities for their peers.
"Being in Scholars gave me a sense of community, and great friends who are still good friends today," Sartori says. "But it is really something in our society where individuals just struggle with reaching out to others and struggle with putting themselves in new situations to reach new people."
Launching a Movement
In November 2016, Sartori and his team launched Scholars Promoting and Revitalizing Care (SPARC) to foster a culture of care, starting within the Scholars community. Then, SPARC was in the process of finding dedicated executive board members to begin impacting the community.
Through his studies as a psychology major, Sartori became increasingly familiar with the prevalence of mental health issues on the UMD campus and beyond. He brought this knowledge to the table while leading SPARC in the Scholars community.
"SPARC wanted to serve as a unifying source on campus," Sartori explains. "At any one of our meetings, we had at least one person from each Scholars program, which just shows the breadth of the issue and the efforts we went to reach people in our community." 
After cycling through multiple board members, SPARC finally had a more solid, committed team by the spring of 2017. Along the way, the group received guidance from Parks, who served as the club's advisor.
"It took us a year to figure out how to lead," Sartori says. "It was a very intense learning process trying to start something up and not knowing how to do it, but Ben was with us every step of the way."
Along with the meetings with Parks, Sartori's teammates say that he frequently checked in to ensure that the vision SPARC was fighting for was their collective group vision.
Roxy Kazem, a Public Leadership Scholar and SPARC board member, says Sartori has "the strongest passion for mental health, more than anyone I've ever met." She adds, "At almost every meeting he would say, 'If this helps even one person, we've made change.'"
Last fall, SPARC organized 20 events in a span of six weeks as part of its Revitalizing Care Month. These events all aimed to connect members of the community with themselves and one another, but most yielded low turnouts, which the team found disheartening. However, it did lead SPARC to reassess its goals and mission.
Developing a Campaign
Sartori says: "The month of Revitalizing Care was telling, because as we advertised and got the word out, we realized that the university as a whole does not prioritize student mental health. During that month, we heard a lot from students, friends and people on our board about the challenges of having a mental illness on this campus and the lack of resources. This pushed us in a new direction."
The group decided to pursue an advocacy campaign for student mental health on the UMD campus.
None of the SPARC members had previous advocacy experience, which Sartori describes as being a "beautiful thing" because they all worked together as a team, learning along the way.
"We recognized that there is a serious mental health crisis at UMD," Sartori says. "We realized we had the ability to make change."
SPARC's awareness campaign was originally headed in a more negative, blaming direction. When Sartori reached out to Scholars central staff, specifically Parks and Executive Director Marilee Lindemann, they encouraged a rhetorical shift to make the campaign more collaborative than adversarial.
"Institutional change happens slowly. You have to have good relationships with people in order to create change within an institution," Lindemann affirms. "You need to think about what attention you want to get and how you can build the relationships to produce the changes you want. I really enjoyed the conversations Ben, Anthony and I had. It's what I love so much about Scholars: having the opportunity to work with students to move their projects forward and to watch them develop as leaders and change makers."
Sartori says: "I trusted Dr. Lindemann so much because of her years of experience with advocacy. She helped me open my eyes to what others around me had been saying. I had a very specific vision, but it took many people to steer me on the right path. It took this campaign to teach me the power of getting feedback and really listening."
Reaching Success
Once SPARC had adjusted the tone of the campaign, success came quickly. In February, the group launched its #30DaysTooLate campaign to focus on the prevalence of mental health issues on the UMD campus and to push for increased accessibility to mental health resources for students. Sartori and the other members tabled in Hornbake Plaza in SPARC T-shirts, handing out fliers and encouraging students to share their stories.
"The Hornbake event really showed us that what we were doing was actually valid," Sartori explains. "So many people have been feeling what we've been trying to amplify."
On Valentine's Day, SPARC delivered what Sartori calls its "most impactful piece of advocacy": Letters to Loh. SPARC members collected 30 stories from UMD students, filled 10 binders with those stories and distributed them to University President Wallace Loh and his executive team. The letters gave student accounts of their struggles with depression, suicidal thoughts and more. All the letters echoed SPARC's platform on the necessity for greater access to mental health resources on campus. Within a week of delivering the binders, SPARC received a private letter from President Loh addressing their campaign.
In March, Vice President for Student Affairs Linda Clement sent out a university-wide email to inform the campus community on actions being taken to address the mental health crisis on campus. She announced that the Counseling Center would hire three additional counselors, thereby increasing student access to mental health resources. Clement emphasized that the UMD community must work together to identify solutions, especially as "students' health and well-being is critical to their academic success."
Looking Ahead
Throughout the #30DaysTooLate campaign, SPARC was preparing its application and presentation for the Do Good Challenge in May. Sartori refers to SPARC's participation in the Do Good Challenge as the "culmination" of the campaign. After about 75 hours of preparation, Sartori and SPARC's co-president, Public Leadership alum Kristen Brockett, pitched their idea to a full theater in the Clarice Smith Performing Arts Center.
"The university gave us this beautiful stage to present our advocacy," Sartori says. "We shared the message that we've been sharing throughout this campaign, and it was so well-received."
While the team did not win the Do Good Challenge, they did win $2,500 for the Heart of the Audience award, which honors the group that best captured the audience's attention and favor. They were also awarded another $2,500 for second place.
SPARC plans to use that $5,000 to change the self-care culture on campus. Half of its winnings, for example, will be used to pilot a Mental Health First Aid program on North Campus through a partnership with the Department of Resident Life. This program aims to equip students and university staff with the knowledge to assist someone experiencing a mental health or substance use–related crisis. According to Active Minds—an organization that supports mental health awareness and education for students—67 percent of college students tell a friend they are feeling suicidal before telling anyone else. Therefore, Sartori explains, this program will be especially relevant and effective on the UMD campus.
Sartori graduated in May, but he says he is an advocate for life. While he doesn't anticipate leading another advocacy movement anytime soon, he does plan on transforming local organizations by encouraging self care.
"I've been fortunate to watch Anthony grow into a leader, mentor and activist over the past four years," Parks says. "SPARC truly has changed the conversation about mental health and care, and yielded positive administrative changes. I'm so proud of him, and I'm confident that his future adventures will all involve serving and advocating for others."
About the author:
Katie Bemb is a journalism major and an alumna of the Public Leadership Scholars program. She has worked in the College Park Scholars communications office since early 2016. Katie is apparently not a fan of free time, given that she seeks out new internships, jobs and campus programs each semester. Upon graduation, she hopes to use her communication skills to enact social change through domestic policy and global human rights development.