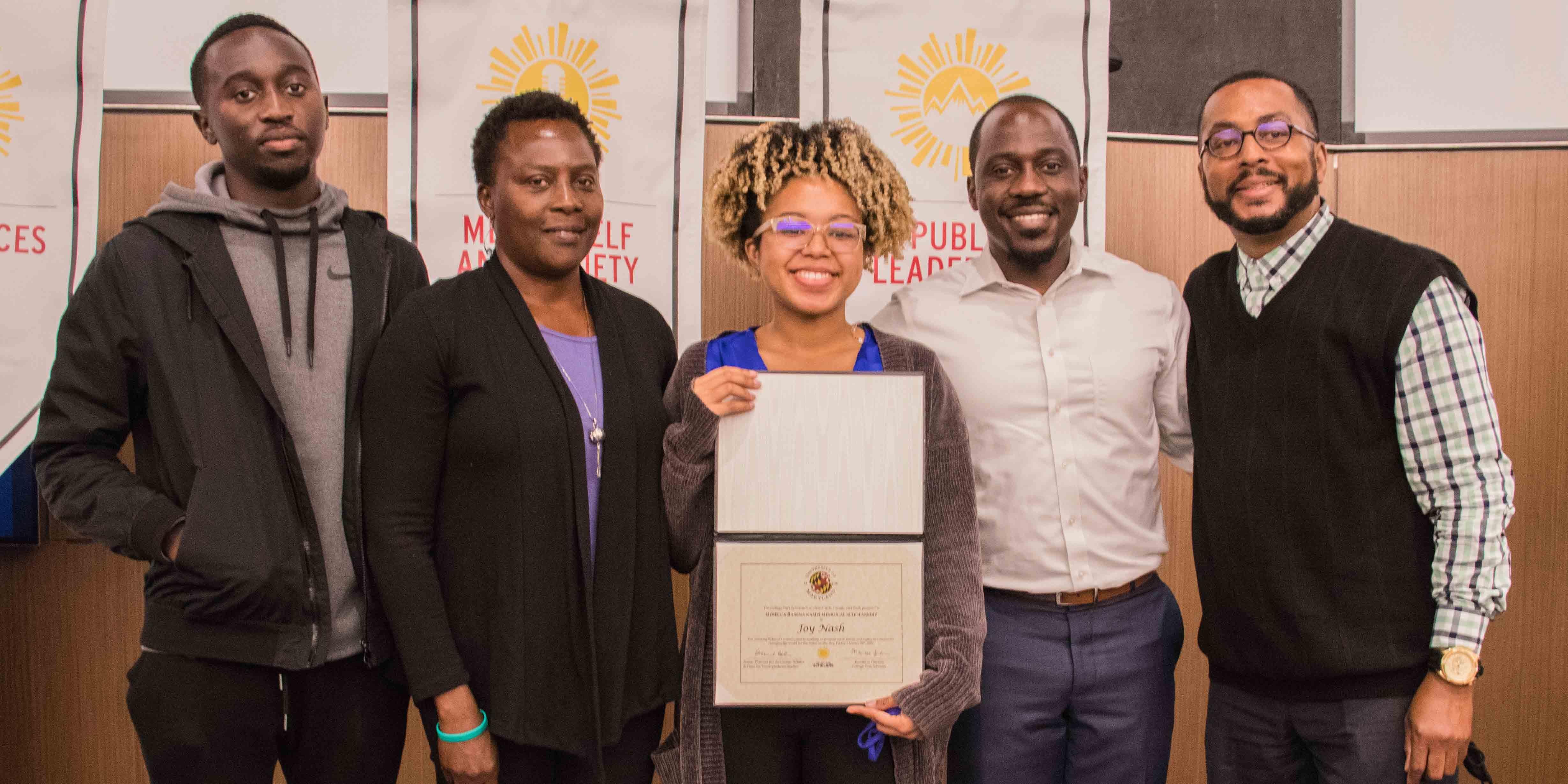 College Park Scholars has awarded its inaugural Rebecca Basena Kampi Memorial Scholarship to Joy Nash, a junior materials science and engineering major and an alum of the Media, Self and Society Scholars program. The scholarship provides financial support for undergraduate students in College Park Scholars who, through their leadership and public service, work to produce social change and support social justice.
Nash, a Washington, DC, native, made it a point to serve and help others in underrepresented and underprivileged communities as she was growing up, volunteering as a tutor at her local Boys' & Girls' Club, a library aide at several DC Public Library locations and as a ward representative through the Marion Barry Youth Leadership Program. Her commitment to community service was such that by the time she graduated from high school, Nash had amassed more than 500 hours of service, earning her a citizenship award from her high school.
Since coming to the University of Maryland (UMD), the engineering student has continued to find ways to assist members of her college community. As an undergraduate teaching assistant for the Media Scholars program, Nash engaged in and facilitated productive conversations of what Director Alison Burns noted were "some of the most polarizing issues of our time," particularly how media portrayals of race and cultural difference impacted real-world events and experiences. Nash further applied her facilitation skills to Scholars' Real Talk dialogue group for students of color, to help other minority students navigate the struggles that can come from attending a primarily White institution. And, both through her involvement as a Scholars Ambassador and in the UMD chapter of the National Society of Black Engineers, the Scholars alum has worked to support and recruit aspiring Black and brown engineers to prepare them for the challenges of college and professional life.
Most recently, Nash enlisted with the Maryland Army National Guard—a decision she has described as one of the best ways she has determined to make a positive impact on others.
"Many youths in my area don't know how they can apply their talents to professions that can both satisfy them and provide a steady income. Even more are discouraged from going to college or trade school due to financial hardships or familial responsibility. By becoming an officer with the Guard, I will be able to learn leadership skills that will help me protect my nation as well as organize programs in my community," Nash explains.
Scholarship honors memory, values of Rebecca Basena Kampi
These ideals are directly in line with the purpose of the Rebecca Basena Kampi Memorial Scholarship and the individual it honors, Rebecca Basena Kampi. Basena Kampi was a 2015 UMD grad and alum of the Public Leadership Scholars program who devoted her energy to uplifting and supporting those around her. Following her death in a car accident in 2018, her family established the scholarship earlier this year to continue her legacy of supporting others.
"Rebecca cared about making a difference in people's lives, especially those who didn't have voices [of their own]. She tried to empower people and help," explains Monica Basena, Basena Kampi's mother. "We are grateful to have Joy Nash as the inaugural recipient of the scholarship. Joy embodies the spirit of uplifting others and the commitment to make a difference in their lives. It is our hope and prayer she continues doing this good work in whatever she does and wherever she goes, and continues to build a living legacy in Rebecca's spirit."
Nash recently met Basena Kampi's family, at the 2021 Scholars Citation Award Ceremony. "Hearing about Rebecca's life helped me to better understand that what I received was more than just money, but a legacy: A legacy for a young woman who impacted those around her and left a space that can never be filled, only remembered and honored," Nash says. Talking to the Basena family, Nash adds, "reminded me why it's important to keep trying to do better and be better. It helped me see the person behind the award, all the work she sadly had to leave behind, and why myself and others need to be able to pick up where she left off so we can make an impact too."