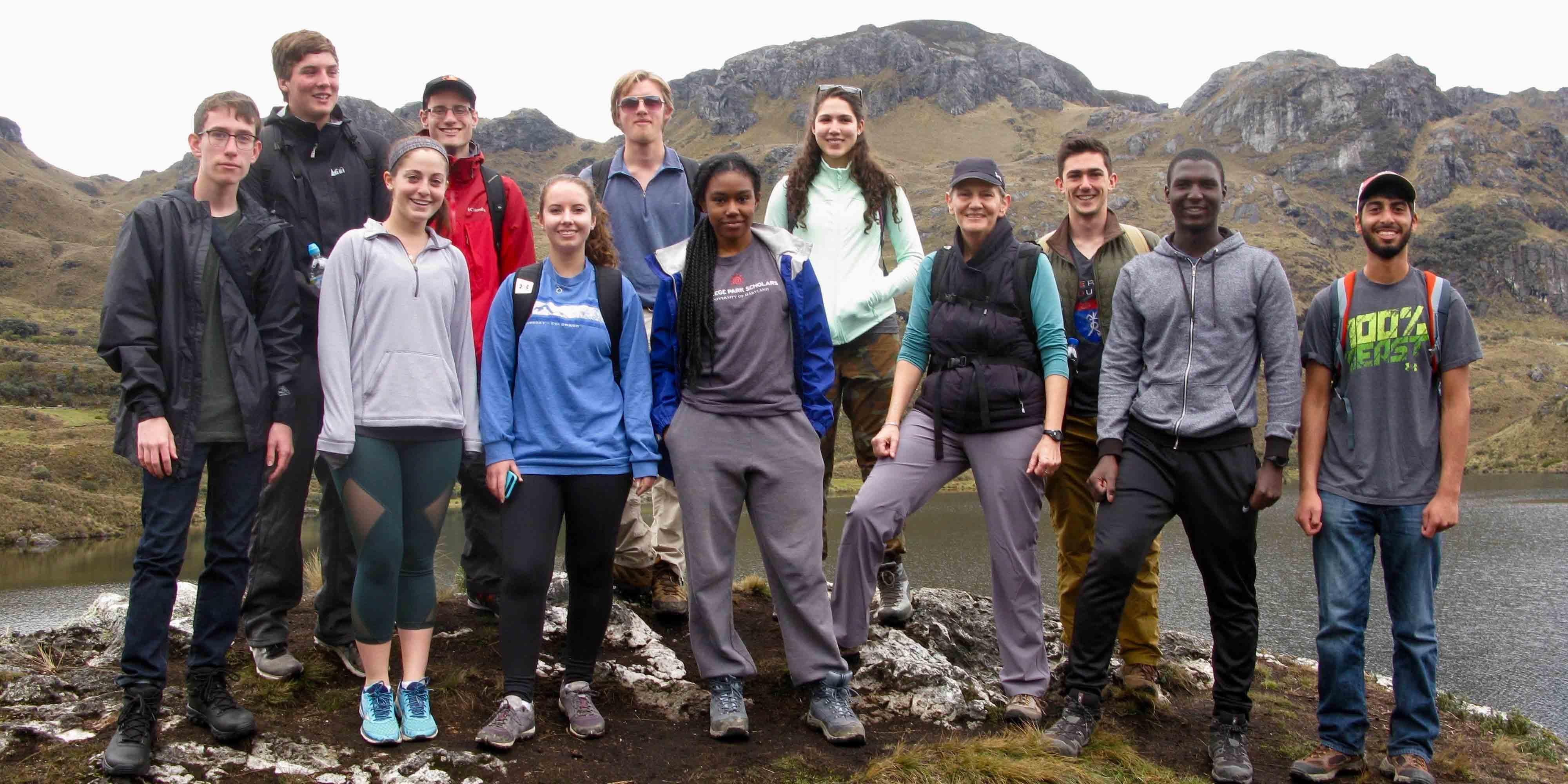 Things I did not know in early January:
Panama hats are actually made in Ecuador. They got their name not from where they were produced but where they were sold for international distribution in the 19th century.
It's hard to keep your balance while trying to walk the line of the Equator. Weird, I know, but it's something about conflicting gravitational pull.
These are just two of the fun facts I picked up—firsthand—during a January trip to Ecuador. I wasn't in Ecuador as a tourist but in my professional capacity as executive director of College Park Scholars. I accompanied Matt Aruch's short-term study abroad course, "Education, Technology and Society: Ecuador in Context."
Matt is an assistant director of the Scholars Science, Technology and Society (STS) program, which encourages students to explore the history and social implications of technology and innovation. He is also a doctoral student in international education policy with longstanding interest and experience in South America. For the past four years, Matt has offered a winter session course on the design, development and implementation of technology-based social programs in Ecuador. At Matt's invitation, I eagerly joined for two of the course's three weeks. I wanted to observe and learn from his success as we consider expanding global learning opportunities in Scholars.
Experiencing program like a student
Going along on this adventure meant that I could meet with the various institutional and community partners with whom Matt has collaborated over the years. Those partnerships have helped strengthen the course, deeply rooting it in local knowledges and networks.
Going along also meant that I could experience the program much as the students experienced it. I took Spanish classes right alongside them at the University of Cuenca. I also stayed with a host family, whose kindness and hospitality offered me a richer and more authentic experience of the country than I could otherwise have had.
I tagged along on site visits to an environmentally sustainable shelter for abused women and a gallery of artisan products that promotes fair trade and economic justice. I survived an exhilarating hike at 14,000 ft. in the (literally) breathtaking Cajas National Park. (My hiking boots, unfortunately, did not.) I was charmed by the antics of the blue-footed booby, a marine bird, while exploring the trails of Isla de la Plata, off Ecuador's southwestern coast. In all of these experiences, I was impressed with how Matt had woven opportunities for his students to learn and reflect into the itinerary. His students took full advantage of those opportunities, asking a steady stream of thoughtful questions that showed how fully engaged they were in learning about technology and society as well as the geographic, cultural and biological diversity of Ecuador.
Students as teachers
The most challenging and, I suspect, the most satisfying part of the course for students was the week they spent working with teachers, students and community members from Ayaloma and Rañas in the rural indigenous community of Shiña, south of Cuenca. The students worked in teams to design and deliver lesson plans­—in Spanish—to different age groups of K–10 students.
The lessons were simple, hands on and effective. They involved activities like finger-painting and tower-building. I watched with pride and pleasure as Ashley Brown, a sophomore communications major, along with her partners Jennifer Strong—a senior biological sciences major in the Honors Integrated Life Sciences program—and Tara Bazir—a first-year bioengineering major in STS—worked with a rambunctious group of seventh graders to turn pictures of their favorite things into an opportunity to build their vocabularies in English and Quechua, the indigenous language that is also taught in the schools of Shiña.
Meanwhile, Garry Mogge, a first-year geography major in the Scholars Environment, Technology and Economy program, taught a lesson in mapping. The exercise encouraged students to make meaning out of their unique worlds and experiences. It also facilitated communication across lines of difference. "As a geography major," Garry explains, "I understand how important maps are to understanding how people think about the world around them. Although we may have been limited by our languages, the children and I were able to use cartography as another language to talk about spatial concepts."
In College Park Scholars, we're big on active, applied learning that takes students outside of the classroom and, in some cases, out of their comfort zones. We encourage cross-cultural engagement and service-learning rooted in reciprocity and collaboration with communities served. This is exactly the kind of learning that tends to occur in study-abroad programs.
Expanding global offerings
Given those underlying values, I'm not surprised that Scholars students participate in study abroad at higher rates than those students not in Scholars. According to the university's 2016 Graduation Survey, 22 percent of bachelor's level graduates participated in study abroad during their tenure at Maryland. In comparison, of the Scholars students who graduated in 2016, 36 percent participated in study abroad.
These trends were evident on the trip. Though Matt's course is open to all University of Maryland students, 11 of the 17 students who traveled to Ecuador were current College Park Scholars. Eight of those 11 were first-year students.
I'm proud of those numbers. The world is large, and I want Scholars students to explore every nook and cranny of it, in all its infinite variety. My Ecuador experience has affirmed my commitment to expanding our global offerings and lowering the obstacles to student participation in such life-changing opportunities.
The path forward will be challenging, but fortunately I picked up some good tips on hiking when I was 14,000 ft. up in the sky. Vamos, amigos!