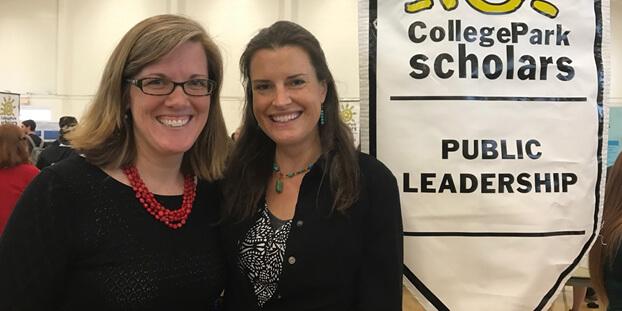 After working with Public Leadership Scholars for 10 years, Jennifer Littlefield will be transitioning out as director of the program and moving into the Public Policy Undergraduate Studies Office full-time.
Littlefield sent Public Leadership Scholars an email on March 8 to inform students that this semester will be her last with PL.
"It's very bittersweet for me as August will mark my 10-year anniversary with the Public Leadership Program, four years as the Director," Littlefield wrote. "I absolutely love PL, its mission, curriculum, activities, staff, and most of all YOU. I will miss it tremendously, but I'm also very excited to be focusing my attention on launching the new major in Public Policy."
Sophomore Public Leadership Scholar Pamela Kekst also described Littlefield's transition as bittersweet.
"When I found out Jen was leaving PL, it was bittersweet. Bitter because she did do a great job of fostering community in PL, but sweet because I knew that she was moving onto another great opportunity and would still be at UMD," Kekst explained. "It's been clear to me from the first day I met Jen that she is so passionate about leadership and helping students develop, and I know that she will continue to be a resource for me."
Scholars Director Marilee Lindemann said Littlefield has been a vital part of Public Leadership for the last decade and that she will be missed.
"She has been a caring, energetic program director, revamping the PL curriculum to emphasize civic engagement and leadership for change. She has also been a valued member of the professional community here. Jen can be counted on to show up, to contribute meaningfully, and to still be smiling at the end of a long day," Lindemann said. "We wish her well in her new endeavors and look forward to all the great things she'll do as the undergraduate program gets launched in the School of Public Policy."
"It's so difficult to leave the Scholars community," Littlefield said. "The central staff in Scholars is unparalleled on campus in their overall amazingness. They are so effective while also being really likable and caring. My fellow faculty directors are some of the most committed faculty I know, and I'll miss working with and being inspired by them."
Susannah Washburn will be replacing Littlefield in the fall. For her first several years at the University of Maryland, Washburn directed the iGIVE living-learning program, which is a freshman program sponsored by the School of Public Policy in which students live together and learn about philanthropy and social change through research, writing, grant making, and social action projects
"My work with iGIVE and, before that, my work with American University's Leadership Program is great preparation for leading PL," Washburn said. "All three programs focus on developing young leaders by fostering awareness of community, state, national and international issues. Each program also develops self awareness and provides opportunities for interactive, experiential and team-based learning."
Prior to teaching, Washburn spent 20 years helping social service organizations meet community needs through strategic planning, grant making and public policy formulation and execution. She served in political appointments under both the Bush and Obama Administrations at the Corporation for National and Community Service, the federal agency that runs AmeriCorps, where she held various positions, including program officer, senior advisor, and acting chief of staff. She was appointed as executive director of the White House Council for Community Solutions in 2012.
"She has tremendous experience in teaching and student development, as well as the nonprofit and public sector," Littlefield wrote. "I have zero doubt that she will be a terrific director... you will greatly enjoy working and learning with her."
As Washburn looks forward to directing PL next year, she will be taking the time to listen and learn more about what the Public Leadership Scholars program is all about.
"I have a lot of respect for the students and educators who built this amazing program -- so job one is really to learn what exists and why it was created that way," Washburn said. "That said, every leader needs to play to her strengths. I have a rich and varied work history in state government, the nonprofit sector and the federal government. I plan to integrate my expertise into the curriculum and draw on my strong network in D.C. to benefit PL students."
Lindemann said Scholars is delighted to welcome Washburn to Scholars faculty.
"Susannah is a perfect fit for her new position, with her background in philanthropy and her experience directing the iGive program in the Carillon Communities," Lindemann said. "I have a hunch this will be a seamless transition, and I can't wait to see what Susannah's leadership will bring to PL."
"I am greatly looking forward to being a part of the Scholars community and plan to set up an office in Cumberland," Washburn said, "so I can meet as many people as possible and immerse myself in the experience."