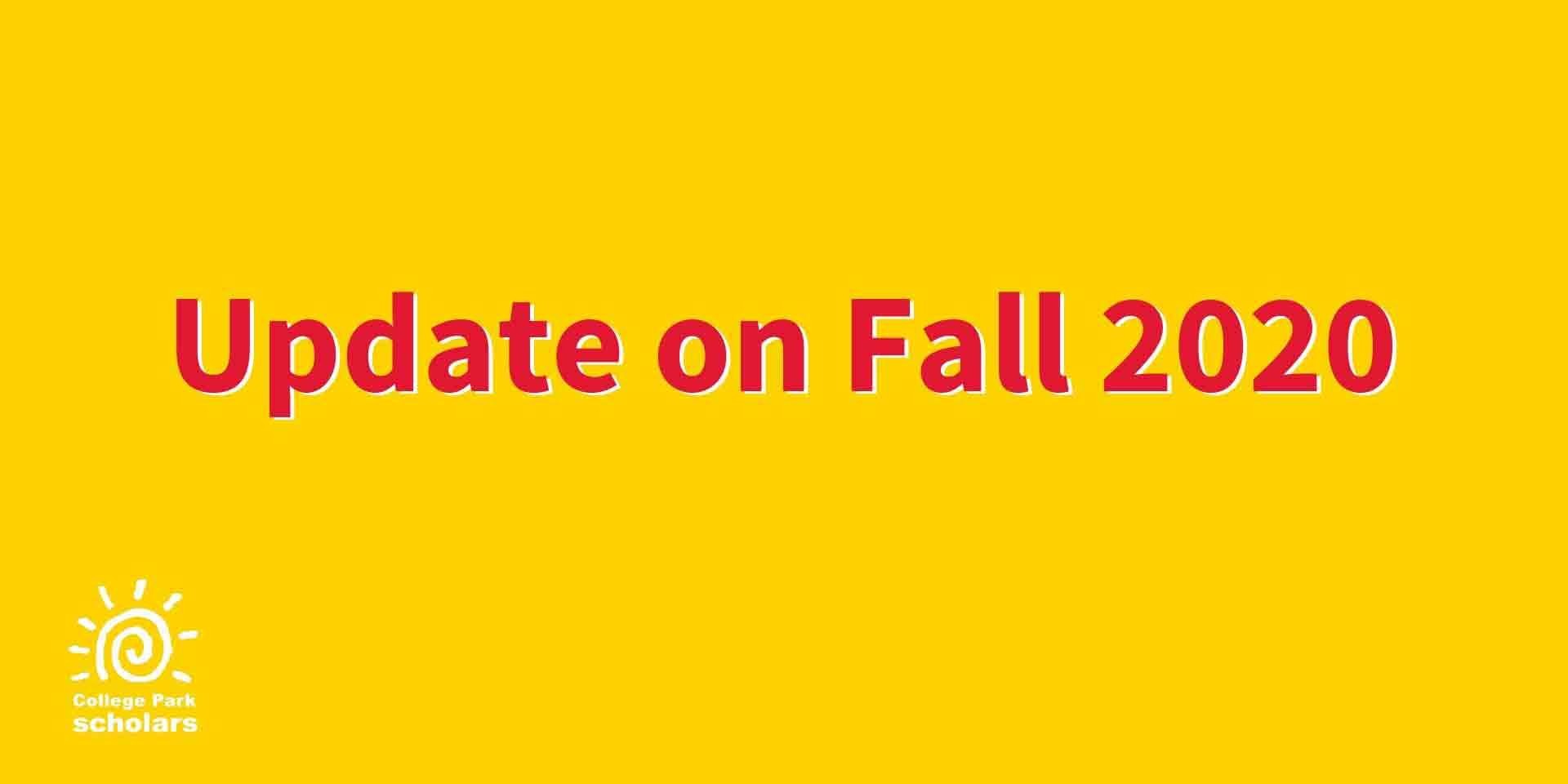 Sophomore Scholars students received the following message from College Park Scholars on July 9:
Dear students;
I hope this email finds you and your loved ones safe and well, and finding ways to enjoy summer. It's been a roller coaster of a year so far, and I am sure you've experienced some uncertainty over what fall semester might look like on top of it all.
Over the past several weeks, College Park Scholars faculty and staff have been meeting regularly to address exactly that question, with a group dedicated specifically to the sophomore experience. We want our sophomore Scholars to receive the care and educational experience you deserve.
Of course, how we do that in the midst of a pandemic is something we're still working on. So while this email will not answer all of your questions about fall, I hope it will at least start filling in some of the blanks on what you can expect in College Park Scholars:
Outside of a handful of exceptions, your Scholars courses will be online. Your Scholars faculty is taking what they learned from the spring virtual experience, exploring applications that might aid in instruction and determining how best to leverage the online medium to provide a positive learning experience. And, because asynchronous classes caused scheduling issues for students this spring, your Scholars class will primarily take place on the day and time scheduled in Testudo.
You should expect most of your co-curricular activities to be virtual as well, but your Scholars faculty is assessing whether there may be opportunities for students to safely participate in small-group field trips or projects in person. (For those of you planning on participating in Scholars entirely remotely this fall, your program will provide you with other opportunities.)
You'll be able to find a capstone or practicum project that works for your needs. I realize the pandemic may have forced your initial practicum plans to change. Rest assured, if you need it, your program will be able to offer a variety of options to enable you to complete your practicum requirement.
We are trying to set aside some (socially distanced) space in the Cambridge Community Center for students to study and collaborate. A lot depends on campus policies, classroom availability and specific decisions around building maintenance. But we've made clear in discussions with our partners on facility usage that if possible, we would like to be able to offer the CCC as a limited study space for our students.
I know none of this is ideal. As a teacher, I delight in the give-and-take of the in-person classroom, and I imagine you do, too. Building friendships and community are certainly easier in person, but part of showing care for our community is doing what we can to keep our students and staff safe. Together, I know we can create powerful opportunities to learn and grow in the year ahead, and I'm counting on you to be a part of the Scholars adventure in 2020–21.
If you have any questions—or ideas for how we might be able to improve your experience this fall—please reach out. As usual, I'd love to hear from you.
Sincerely,
Dr. Marilee Lindemann
Executive Director