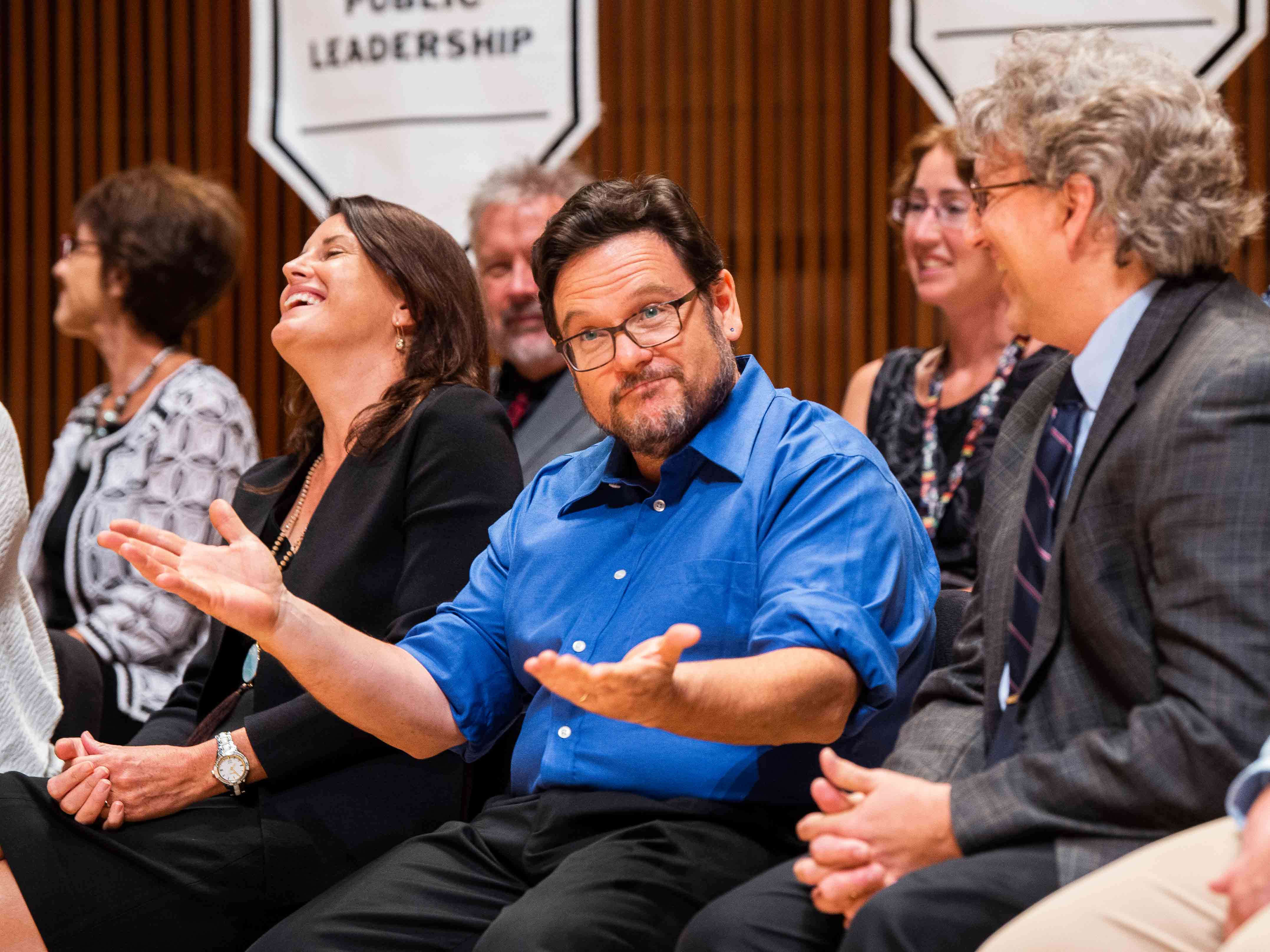 Dr. Alan Peel, director of the Science, Discovery and the Universe (SDU) Scholars program, will be stepping down from his position as of June 30. He served as co-director of SDU from 2007 to 2013 and has been sole director since 2013.
Peel had been building a career in research when he fell into the Scholars position by happy accident. A physicist by training, Peel had completed a post-doctoral fellowship under Stephen Hawking at the University of Cambridge in England, where he worked on what galaxy cluster velocities can reveal about cosmology. He arrived at the University of Maryland (UMD) in 2005 to start a second post-doctoral research position with the Department of Astronomy.
About a year in, the project was canceled (though Peel managed to publish a paper recently with results from that work). The department found Peel interim employment as a course instructor. Then, one of the co-directors of SDU announced he was leaving the university. The Department of Astronomy, the academic home of the SDU program, offered the position to Peel.
"I knew I liked teaching—I had enjoyed teaching in grad school too much, and my advisor there had tried to warn me off of it and get down to business with research," he says. He had also enjoyed his unexpected interim teaching opportunity for the astronomy department. "It was time to reassess my career path, and this seemed like a really good opportunity."
Ensuring Interdisciplinarity, Community for Students
"Under Alan's leadership, SDU has been a magnet for talented STEM students as well as non-STEM majors who are fascinated with science's role in society," says Marilee Lindemann, executive director of College Park Scholars. "He has been an innovative teacher and a dedicated, caring program leader."
SDU uses astronomy as the primary lens through which students examine what science is and how it's abused in society. The underlying goal for Peel, however, has been to foster interdisciplinarity in his students.
"We try to make them see how artificial the boundaries are between their subjects," he explains. "I say to them, 'You can be taking chemistry or Shakespeare, and there are still connections between them all, and you will understand your major better if you understand its connection to other disciplines.'"
Peel has anecdotal evidence that it works: "We take the seniors out for drinks in April, and we ask them what they remember about SDU," he says. In between stories of capstone projects and program excursions are recollections about class discussions: "They'll remember, in detail, the debates or the topic they picked apart to analyze. The fact that that remains with them as seniors blows me away. They'll admit without prompting that the things they learned in SDU ended up being useful in other classes," says Peel.
Peel's other focus with SDU: to build community for students.
David Oguh is a rising junior who just completed the SDU Scholars program. "The SDU Scholars and faculty were the first people I met," Oguh says. "I've formed strong friendships with other SDU Scholars from all majors and backgrounds. Dr. Peel has done a great job of forming a community that I am proud to be a part of. He has regrown my interest in astronomy and physics, and getting to know him during our social hours and office hours has been awesome."
Adds Andy Harris, chair of the Department of Astronomy, "Alan has been a terrific leader for the Science, Discovery and the Universe program. Always deeply engaged, his obvious care for others has provided much-needed support and encouragement for many students embarking on their university careers. We're very sorry to see him go, and confidently wish him much success in whatever comes next for him and his family."
No First-Year Cohort for 2022–2023
As Peel moves on to explore opportunities outside of UMD, College Park Scholars and the Department of Astronomy have put the program on pause to consider how best to grow and support it into the future. To that end, Scholars did not recruit a first-year cohort for SDU for the coming academic year. SDU Assistant Director Erin Thomson will remain with the program during 2022–2023 to lead second-year SDU students. Members of the Central staff will provide additional support to ensure SDU sophomores remain a core, and involved, part of Scholars.