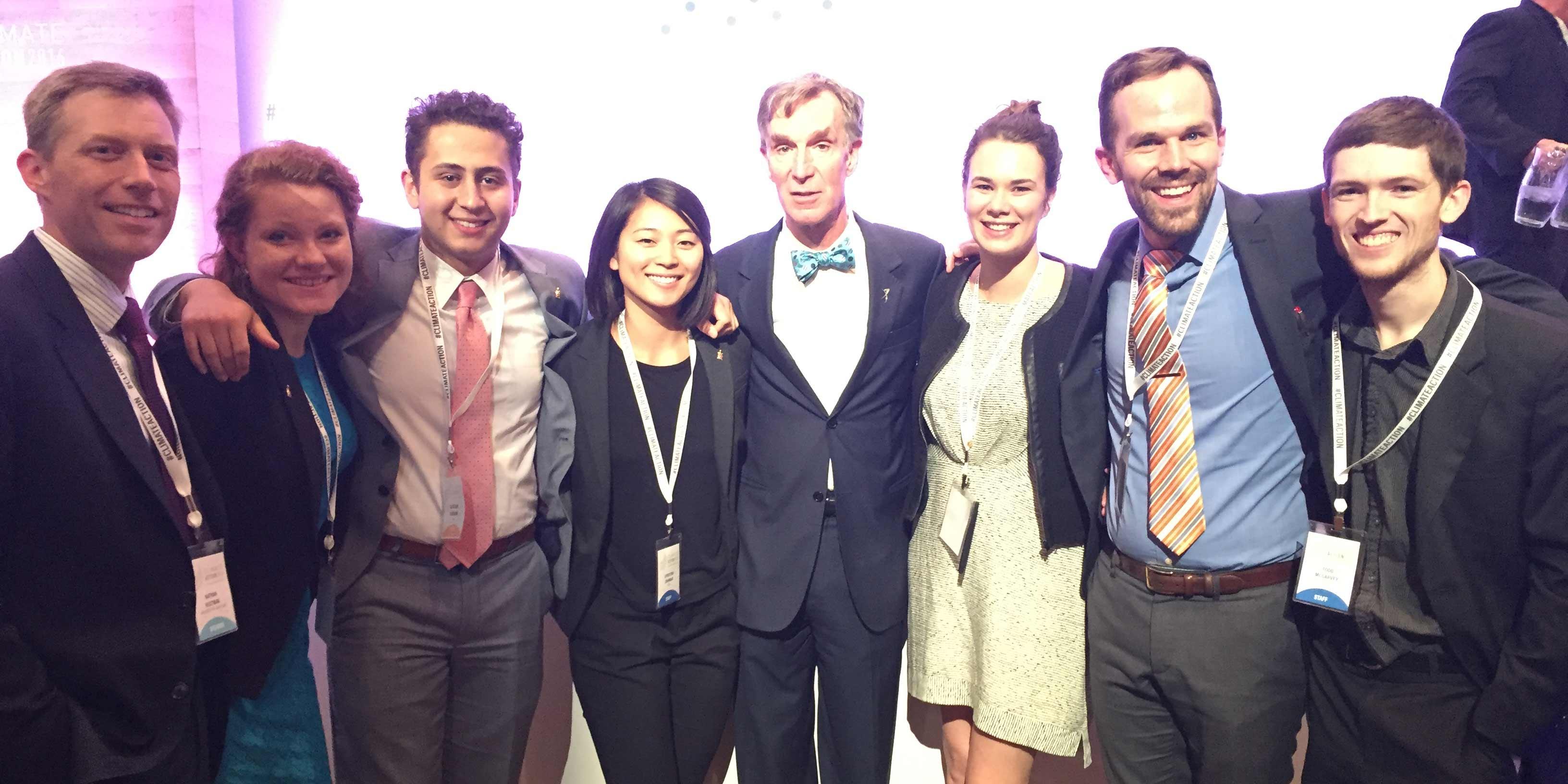 Scholars students came out in full force for the Climate Action 2016 forum and summit on campus and in DC from May 4-6. The three day-long events focused on climate change and sustainability, looking at how to turn a problem into an opportunity for change.
Eight current Scholars found their niche interning with Climate Action 2016 through the Public Leadership (PL) and Environment, Technology and Economy (ETE) programs.
"James [Stillwell] offered PL students the option to intern with him this spring, and myself as well as a few of my peers jumped at the opportunity," freshman PL Scholar and psychology major Pamela Kekst said.
Current Director of Climate Implementation in the School of Public Policy and former PL assistant director James Stillwell met with the PL colloquium to facilitate a climate debate and spur interest in the forum.
"My experience working with the extremely talented and motivated students of the Public Leadership Program and Scholars overall inspired me to pursue my own passion for climate action in greater depth, and I feel endlessly grateful that I didn't have to travel far from this outstanding community to do so," Stillwell said.
"Scholars directly helped me receive this opportunity because James' connection with PL meant he offered it to us first and explicitly," Kekst said.
The eight Scholars served as interns for Climate Action 2016 as part of their practicum requirement and included Singh, Kekst, Katie Bemb, Leeza Wayne, Mia Carmel, Nan Himmelsbach, and Alistair Faghani from PL and Cathy Wang from ETE.
"The students were instrumental in helping compile invitee lists, helping to line up programming, drafting and reviewing critical documents and print materials for the events, and providing staff support at the events themselves," Stillwell said.
The on-campus forum, held May 4, looked to "provide an opportunity for discussion among academia as well as a diverse range of stakeholders with an interest in advancing the climate implementation agenda," according to the forum's website.
"Global climate change is the defining issue of our age, and UMD is quickly emerging as a global leader in providing cutting-edge research, analysis, and tools for decision-making at all levels of governance to accelerate ambition and multi-stakeholder action in the wake of the historic Paris Agreement," Stillwell said.
Kekst's hopes for the forum were interdisciplinary and intersectional in nature.
"I want to see a lot of people there, both from the student body and all the sectors participating in the event," Kekst said. "I hope it can be a space where networking takes place, and true connections as well as innovative ideas for progress form."
For Singh, making an impact across the university community was her goal for Climate Action 2016.
"My hopes for the forum are that it will be successful and make an impact on the students, professors, government officials, and general body of individuals that come," Singh said. "We have put a lot of time and work into making this the best possible event it can be."