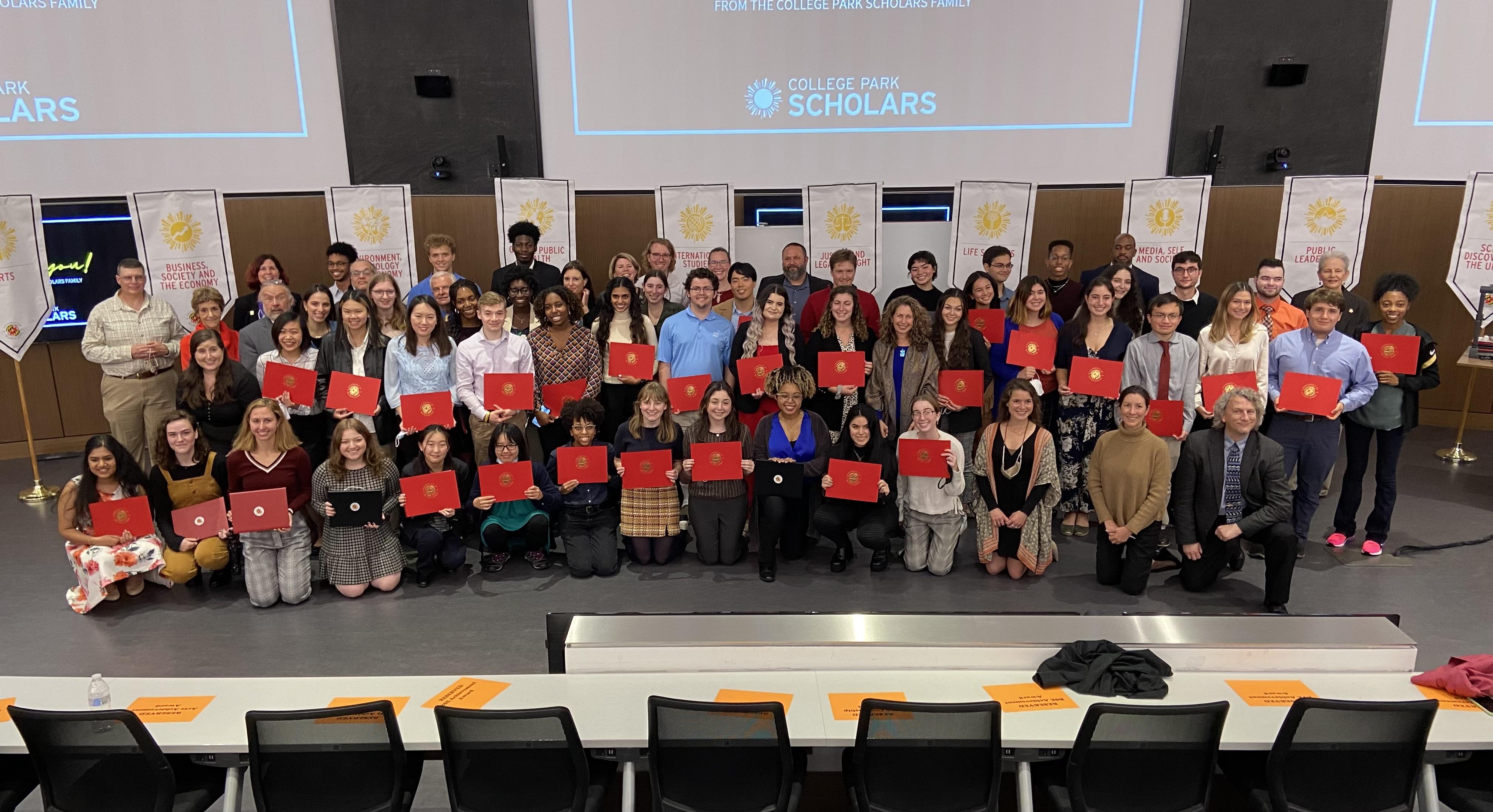 When the Scholars Citation Class of 2021—all 930 of them—stepped onto the University of Maryland campus in August of 2019, spirits were undoubtedly high. College Park Scholars was celebrating its 25th anniversary, with branded #ScholarsAt25 shirts, buttons and laptop stickers, and even a Maryland Dairy ice cream flavor created specifically for the occasion. But spirits sank in March of 2020 with the onset of the COVID-19 pandemic, sending the cohort into a virtual experience for the rest of their time in the program.
Despite such setbacks, these Scholars demonstrated resilience in their efforts to stay connected to Scholars. "The real heroes of this extraordinary time were our students, who were resolute and resilient in the pursuit of their educations," said Executive Director Marilee Lindemann.
Some students went above and beyond expectations, leaving a lasting impact on their respective programs and on their communities, however isolated they might have been from one another.
On Oct. 29, 2021, College Park Scholars honored these students at its annual Citation Awards ceremony. Forty-seven students were recognized for outstanding achievement or outstanding citizenship in their programs. Eight received scholarships. Meanwhile, six students received Founders Circle Awards—among Scholars' highest honors.
Scholarships
Meghan Price Scholarship for Leadership and Public Service: Alexia Ayuk of Business, Society and the Economy, and Gabriela Winter of Public Leadership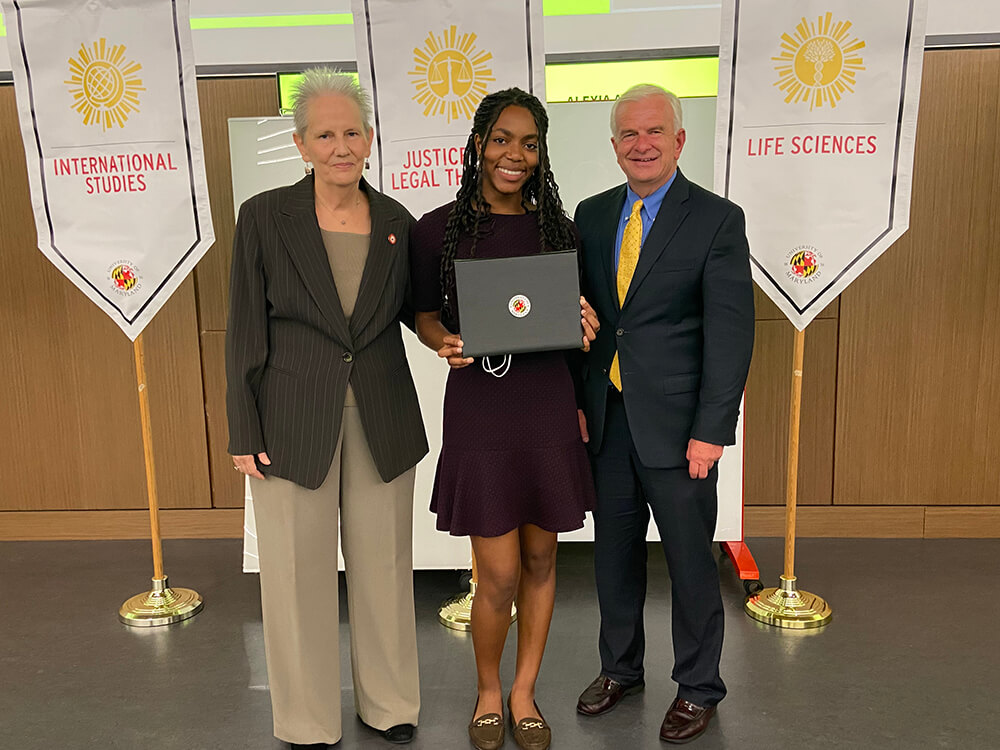 The Meghan Price Scholarship for Leadership and Public Service honors the achievement and promise of Scholars Public Leadership alum Meghan Price, who before dying in a car accident her senior year had been elected president of the Student Government Association. It is given to juniors or seniors who are dedicated to leadership and service. Gabriela Winter (not pictured) and Alexia Ayuk received this year's honors.
Gabriela Winter is a Public Leadership alum and senior supply chain management major. She credited Scholars with helping her develop strong leadership skills and the confidence to take on large projects—for example, she raised $10,000 for a school in Guatemala as part of the Scholars Cup charity fundraising competition in 2019. Winter currently serves as president of the Student Alumni Leadership Council, for which she launched a diversity, equity and inclusion joint committee to create programming and training for members of the council.
Alexia Ayuk is an alum of Business, Society and the Economy (BSE) Scholars and an accounting major in her junior year. With her mother being an immigrant from Cameroon, Ayuk said she was taught the value of education and service-learning from an early age, leading her to devote herself to various meaningful leadership and service opportunities through high school and college. During her time in BSE, she established a student advisory board that helped promote cohesiveness within the program. Ayuk is also the president of the Robert H. Smith School of Business's Undergraduate Student Association and a devoted member of countless other organizations and clubs.
Through Scholars, Ayuk noted she has learned of the kinds of qualities needed today in business.
"I have begun to realize that what the world needs now is not self-interested business leaders but self-aware advocates for business rooted in compassion to heed equitable systems and methods throughout the world," she said.
Martha and Ira Berlin Legacy Fund Scholarship: Megan Burke and Sarita Miller of Global Public Health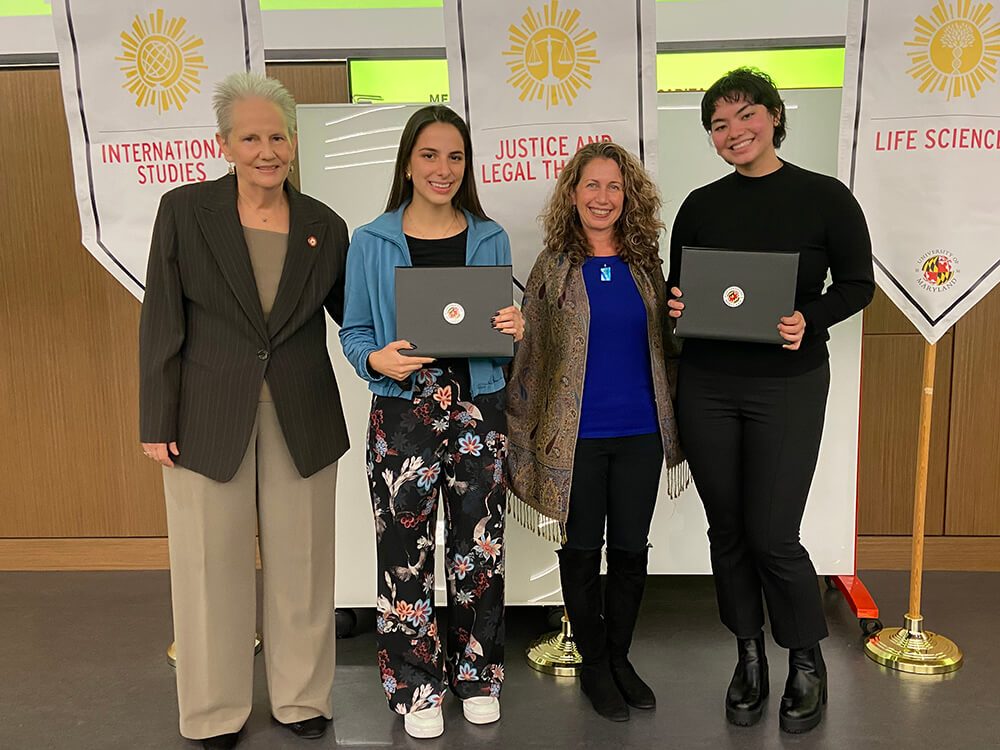 Neuroscience major Megan Burke and physiology and neurobiology major Sarita Miller are both junior Global Public Health (GPH) Scholars alums with goals of working in medicine. They were also both recipients of this year's Martha and Ira Berlin Legacy Fund Scholarship, established to support students who are seeking to further enhance their Scholars learning through a well-defined and innovative scholarly or creative project.
Burke has been an undergraduate research assistant at Dr. Anna Li's lab on campus since May 2020. She sought funding for a research project aimed at studying the neural responses (in rats) associated with drug relapse, and the role that social reward-seeking might play in addiction recovery. Through the project, Burke was able to draw connections between her commitment to social justice and aspirations for a career in medicine. She credited GPH with allowing her to see how the collaboration of science and sociology, of applied research and ethics, and of medicine and equity embody public health.
Miller, for her part, developed a survey and an open-ended interview for students on the cultural taboos about menstruation, even seeking International Review Board approval to present the findings from her Scholars practicum project at Public Health Research Day. Miller's determination to use her learning to serve a public good made her practicum a model for all GPH students, according to Program Director Lis Maring. The scholarship supported Miller's desire to continue her practicum research with further data collection and analysis.
Rebecca Basena Kampi Memorial Scholarship: Joy Nash of Media, Self and Society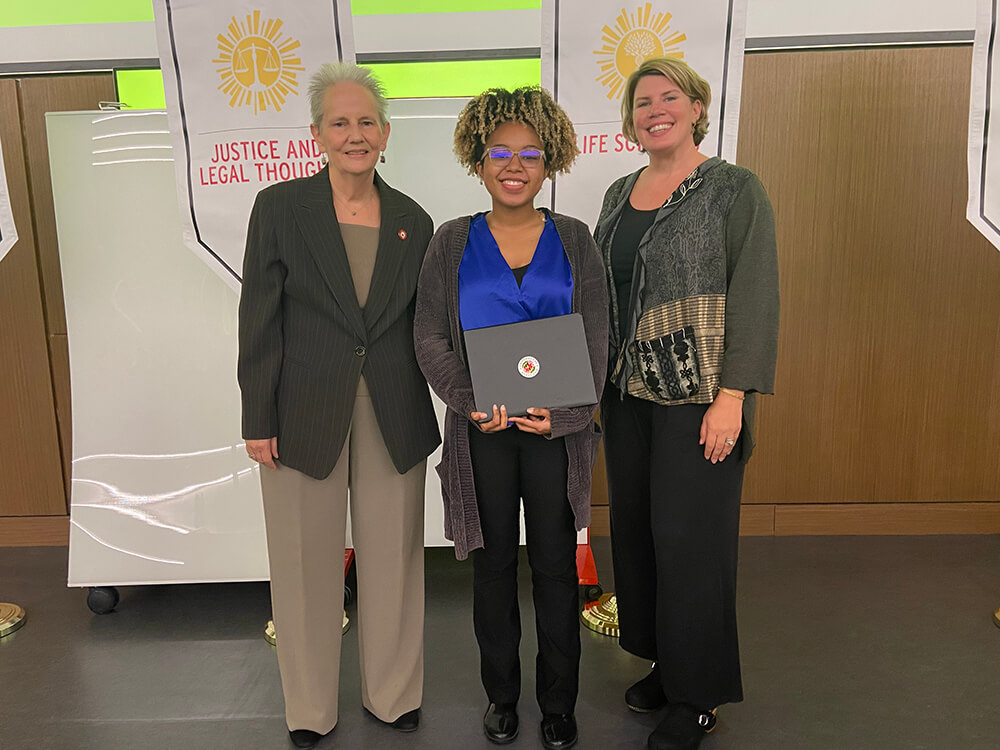 The brand-new Rebecca Basena Kampi Memorial Scholarship honors the memory of Rebecca Basena Kampi, who received her citation from the Public Leadership program in 2015 but died in a car accident in 2018. Like Basena Kampi, who was known for uplifting underserved communities, the award goes to a student who demonstrates commitment to public service or community work focused on producing social change.
The inaugural award was made to Joy Nash, a junior materials science and engineering major and Media, Self and Society alum. Nash has been a dedicated public servant and volunteer throughout her life—by the time she graduated high school, she had amassed more than 500 hours of service in her hometown of Washington, DC. In Scholars, Nash continued this commitment by helping to facilitate conversations on race and cultural differences as an undergraduate TA for the Media Scholars program and a coordinator for Real Talk. Additionally, as a member of the UMD chapter of National Society of Black Engineers, she has supported her fellow engineering majors in the struggles that students of color face in attending a predominantly white institution.=
Recently, Nash enlisted in the Maryland National Guard, a culmination of her commitment to giving opportunities to underserved groups and making a positive impact on others.
"By becoming an officer with the Guard, I will be able to learn leadership skills that will help me protect my nation as well as organize programs in my community," she said.
Randall G. and Susan Woodfield Hoffman Scholarship: Jordan Homan of Media, Self and Society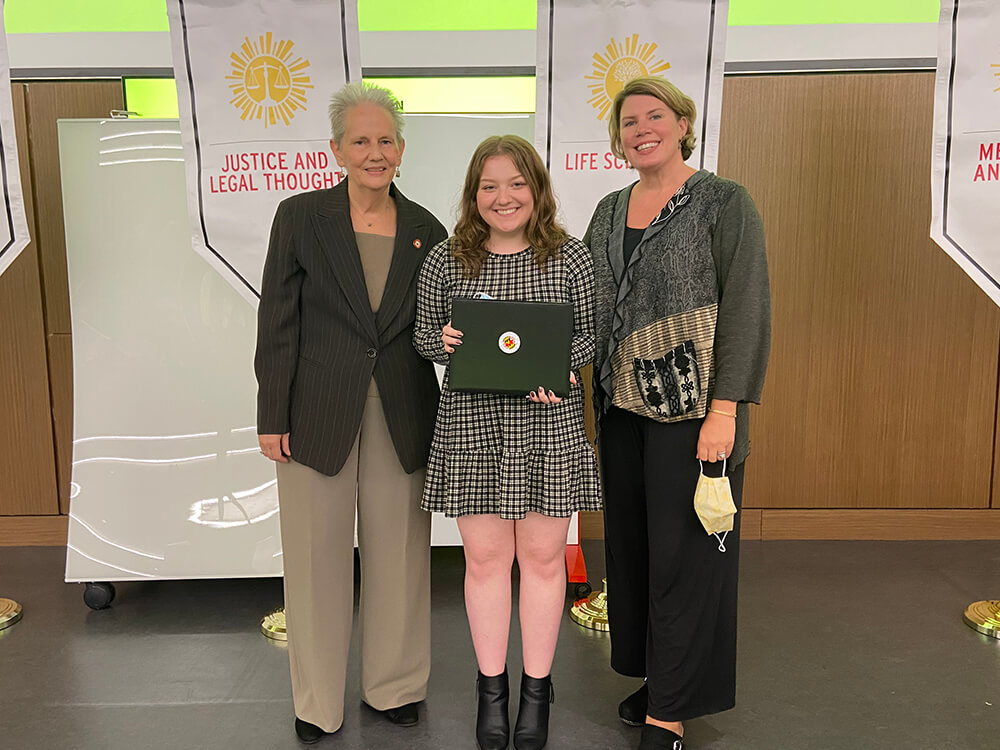 The Hoffman Scholarship extends support to students, particularly first-generation college students, who have demonstrated academic success. This year, the scholarship went to Jordan Homan of Media, Self and Society.
A first-generation college student, Homan is a psychology and criminal justice double major who worked an off-campus job throughout her freshman year to help finance her college education. Even so, she has retained a nearly perfect GPA—and all while taking upper-level courses as only a sophomore. Homan has also taken full advantage of what Scholars has to offer, including being a part of conversations surrounding her sense of privilege and her responsibility to be an ally and advocate for racial equality. Homan said that Media Scholars helped her recognize her responsibility as an advocate for underrepresented minority groups.
Kenneth A. Joseph Memorial Endowed Scholarship: Himnish Sambaraju and Sherwin-Nestor Esguerra of Media, Self and Society
The Kenneth A. Joseph Memorial Endowed Scholarship is dedicated to Ken Joseph, an associate director of the Media, Self and Society Scholars program from 1999 until his death in 2009. Joseph was a beloved mentor to many students, and the scholarship is awarded to freshman and sophomore Scholars to help them continue Joseph's commitment to the betterment of society.
This year, the scholarship was awarded to freshman Himnish Sambaraju, who is undecided in his major, and sophomore Sherwin-Nestor Esguerra, a journalism major. Both are students in the Media, Self and Society Scholars program.
Founders Circle Awards
Ira Berlin Writing Award: Matthew Fairchild of Global Public Health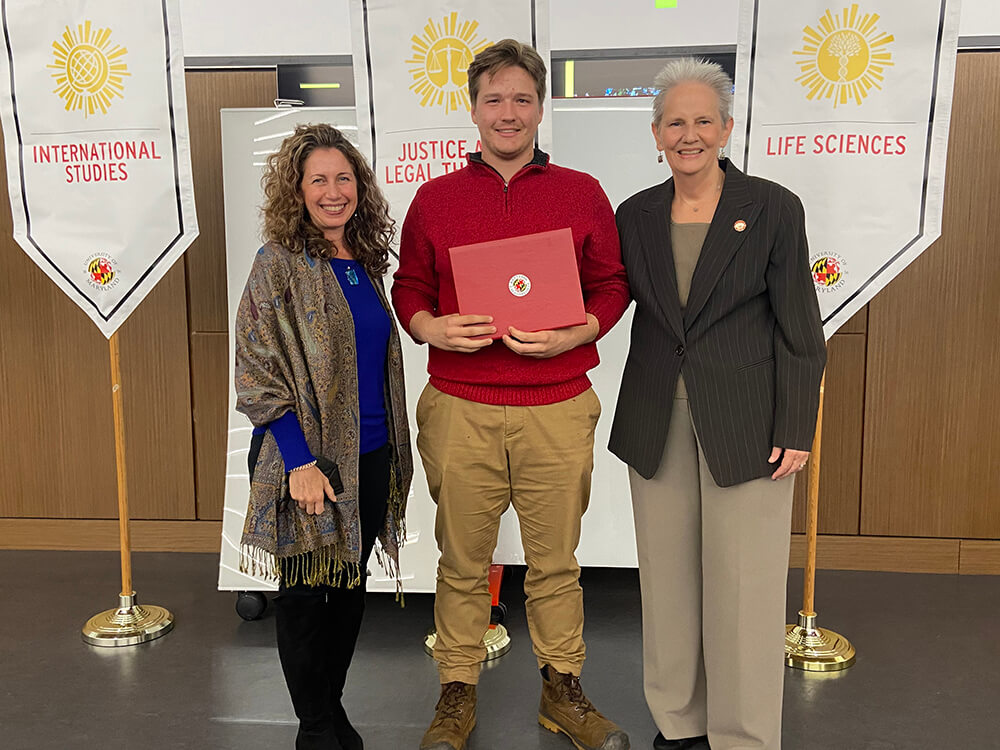 The Ira Berlin Writing Award honors a Scholar who has demonstrated excellence in academic writing. Submissions could include essays, reflection papers, research papers and other genres of nonfiction academic prose.
Matthew Fairchild, an alum of the Global Public Health (GPH) Scholars program, won the award for a paper he wrote on the impact of Israeli occupation on mental health among Palestinian adolescents. The paper, described by reviewers as brief, clear and memorable, was written for GPH Director Dr. Lis Maring's "Families and Global Health" course. The paper surpassed the standard of academic writing with straightforward sentences and a well-organized structure.
A junior majoring in physiology and neurobiology, Fairchild said he first began to realize that his interest in medicine would not exist in its own bubble when he joined GPH Scholars. The program made him realize more clearly the social determinants of health and allowed him to intersect that interest with his major. That realization culminated in his paper.
"Completing this assignment was my first opportunity to conduct in-depth academic research into an issue I advocate for," Fairchild said.
Katherine McAdams Leadership Award: Katie Rees of Arts
The Katherine McAdams Leadership Award is named for the second executive director of Scholars, Kathy McAdams, who died in September 2020. The award is given to a young woman in Scholars who has proven to be an effective leader during her freshman and sophomore years.
This year's recipient was Katie Rees, a junior Arts alum double majoring in theatre and government and politics. In her application essay, Rees wrote about the mental health challenges she faced coming out of high school, and the immense flow of support that the Arts Scholars program provided to her. Facing her fears allowed her to broaden her perspective and cultivate a leadership style rooted in passion and empathy.
"This, I believe, is where leadership begins; when we conquer ourselves so that we can then conquer the challenges we wish to address in the world," Rees said.
But that was only the beginning for Rees. After serving as a peer mentor for the Arts Scholars program, she is now an administrative teaching assistant. Maintaining her connection to Scholars, Rees said, is essential to her college experience and the continuation of her passion and leadership. It's a virtue that she brought to her practicum project, where she worked alongside the Justice Arts Coalition to showcase the work of incarcerated artists in the United States and bring the injustices of the carceral system to light.
Beth and John Pattison Award for Creativity: Kari Maygers of Arts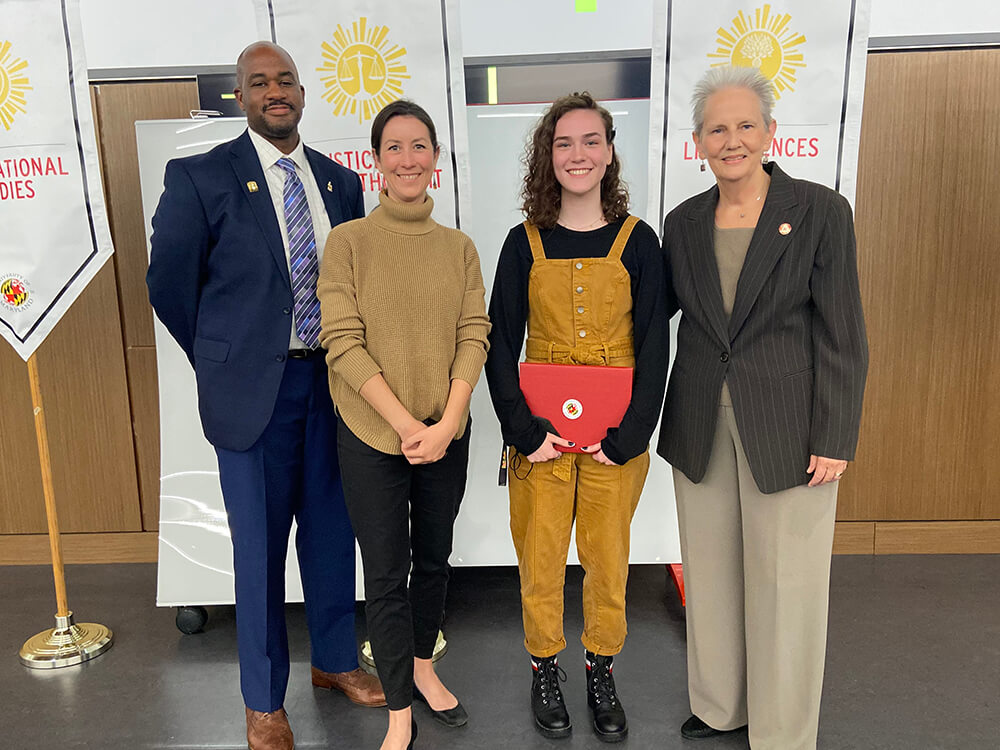 For her Scholars capstone project, junior anthropology major and Arts Scholars alum Kari Maygers explored the history of paint-making, consolidating her research into a series of three watercolor paintings that used historical and modern methods of paint-making while also depicting the socio-cultural implications of art throughout time periods.
By seamlessly merging her interests in art and anthropology, Maygers displayed the kind of cross-disciplinary and creative thinking that made her worthy of the Beth and John Pattison Award for Creativity. The award honors a Scholar who has exhibited exceptional creativity and innovation, including in the areas of art, architecture, creative writing, research and more, during their freshman or sophomore year.
In showcasing her work, Maygers hoped to educate her peers on art history as well as the importance of studying artistic processes, not just the final product. She said she hopes to continue to find the intersection of her interests going forward, learning from whomever and whatever she can.
Phyllis Peres Award for Study Abroad: Jules Parra of Science, Technology and Society
The Peres Study Abroad Award honors a Scholar with an interest in international and global affairs and who has demonstrated global competencies and learning as a result of having studied abroad. In January 2020, junior information systems major Jules Parra participated in a short-term global learning experience in Ecuador with Science, Technology and Society (STS) Scholars.
According to Parra, the trip helped her grapple with her identity as a Hispanic person who didn't grow up with the language and forced her to use Spanish with her host family and other Ecuadoreans to delve into how they viewed current and historical events. The experience led her to rethink the logic and facts she had always accepted as universal and reconsider her assumptions about other cultures.
Almost two years since her study abroad trip, Parra continues to bring her global awareness and competencies to every aspect of her college experience. As co-director of technology for the Technica hackathon on campus, she has spearheaded the inclusion of an automatic translation feature based on user location for the organization's website and sought to include international perspectives on her hacking team. As she continues toward a career in technology—preferably abroad, she said—Parra plans to continue dissecting her assumptions and becoming more malleable to new understandings of the world.
Nancy and Ira Shapiro Excellence in Undergraduate Research Award: Sofia Grossman of Environment, Technology and Economy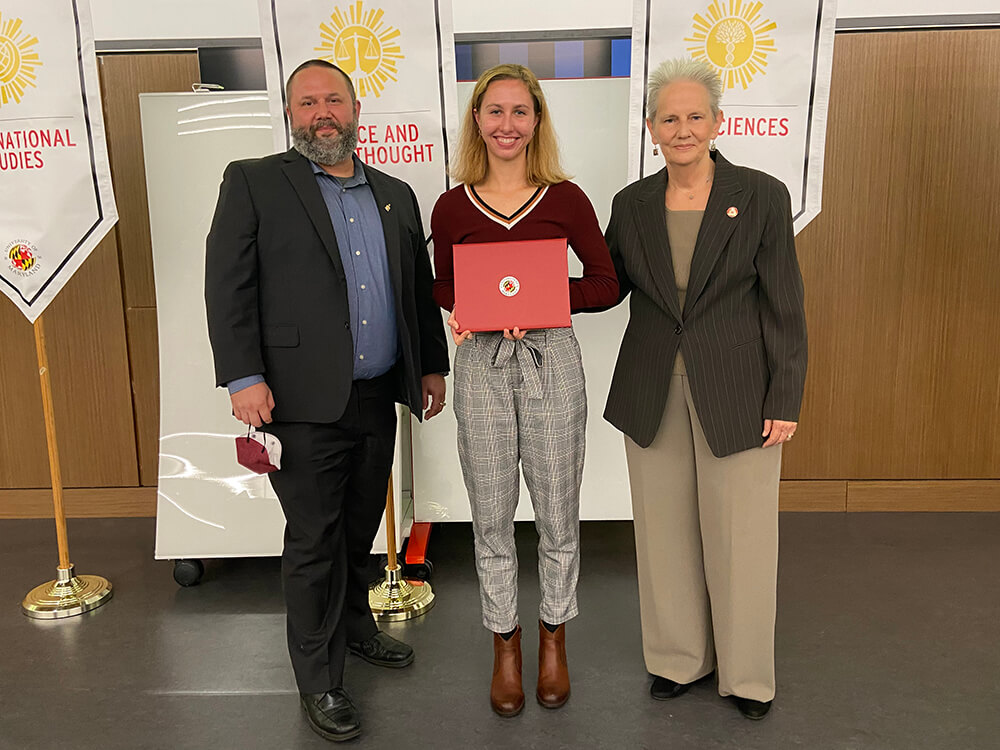 As Sofia Grossman worked as a research intern in the Kate Tully Agroecology Lab at UMD, she said she finally began to connect her foundation in Environment, Technology and Economy Scholars with the social impact of scientific study. Her reflection on her experience—and her ability to illustrate the ways Scholars helps make connections between disciplines and the world beyond the university—was a key reason that she was recognized with the Nancy and Ira Shapiro Excellence in Undergraduate Research Award.
The Shapiro Research Award honors a Scholar who has demonstrated excellence through a research project related to their Scholars program. The project must have demonstrated active collaboration between a faculty mentor and the student, fulfilled the mission of discovery and identified questions that may be pursued in further research.
Grossman, a junior environmental science and technology major, worked at coastal farms along the Chesapeake Bay and areas of the Anacostia river watershed to measure the salinity of groundwater. She additionally spoke with local farmers and provided management recommendations based on her research. According to Grossman, talking directly with farmers gave her a deepened understanding of how to both conserve the environment and support farmers' way of life.
"Sustainability is about looking at the entire picture of an issue, and thoughtfully planning how the environmental, social and economic aspects tie together for a successful outcome," Grossman said.
Tri-Star Award: Amy Yim of Arts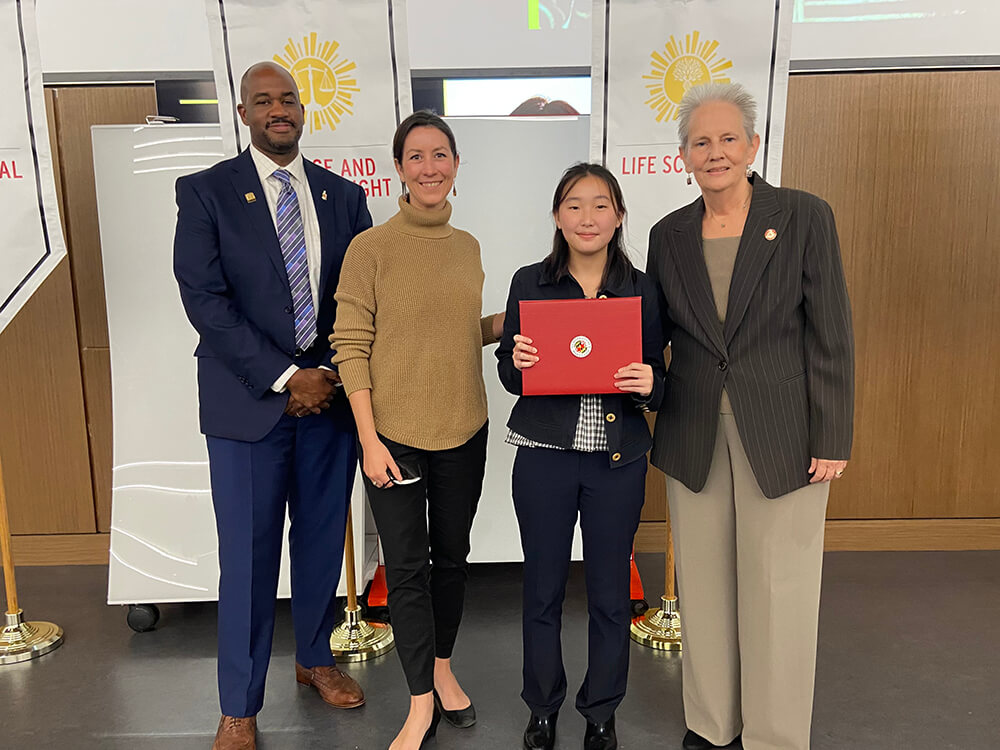 The Tri-Star Award, Scholars' all-encompassing prize of recognition, honors a Scholar who exemplifies academic excellence, has contributed to their community in meaningful ways and values how diversity enhances learning.
This year's Tri-Star Award went to Amy Yim, a junior mathematics major and arts leadership minor. An alum of the Arts Scholars program, Yim has contributed to the Scholars community as a peer mentor, an Arts Scholars TA and a member of the Arts Advisory Board. As treasurer of the board her sophomore year, Yim brainstormed how to use the program's budget to best serve the declining mental health of Zoom-fatigued Scholars. She overcame similar challenges in tutoring children online through the Lakeland STARs program.
Yim credited her experience with the Arts program in giving her the confidence to work for NextNOW Fest as a student curatorial intern this past year. Above all, though, she said her experience in Scholars gave her the opportunity to work with a diverse group of people, helping her challenge her thinking and become a greater asset to the communities she's a part of.
"The overlying commonality of any of my experiences in the Scholars program has been the diversity … . The opportunity to work with people of all ages, whether children, student or faculty, improved my ability to cater [my] communication based on the situation," Yim said.