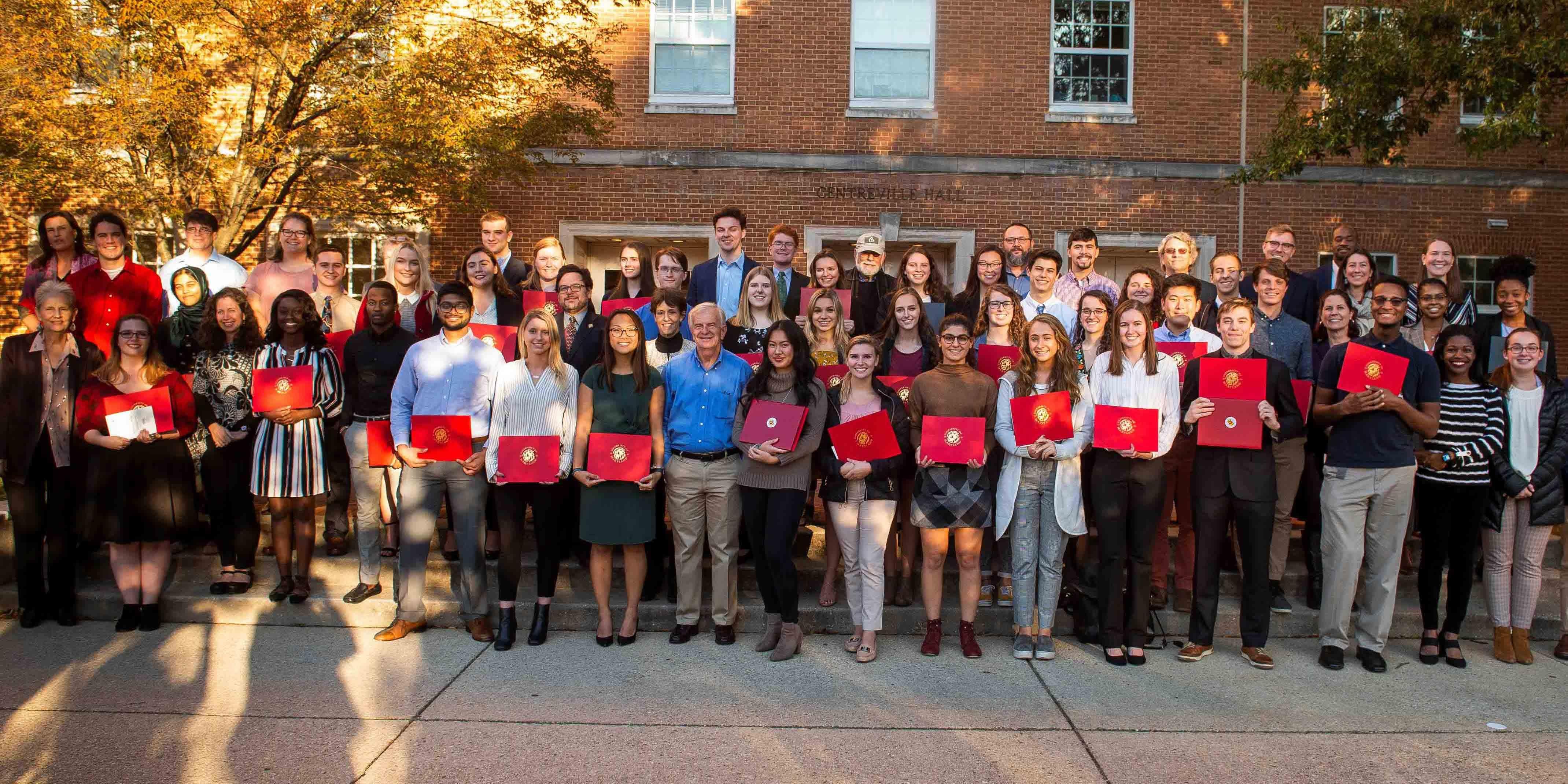 In 2017, College Park Scholars welcomed more than 800 freshmen to what would become its 24th citation class, the Scholars Class of 2019. All who successfully completed the requirements of their Scholars program received their official Scholars citation. But there were some that went above and beyond the expectations, leaving a lasting impact on the community.
On Oct. 18, 2019, Scholars honored these extraordinary students at its annual Citation Awards. Those recognized included 24 juniors—two from each program—chosen by their program directors for outstanding achievement and 24 for outstanding citizenship.
In addition, 10 students were selected to receive some of Scholars' highest honors: the Meghan Price Scholarship for Leadership and Public Service, the Martha and Ira Berlin Legacy Fund Scholarship and six Founders Circle Awards.
Meghan Price Scholarship for Leadership and Public Service: Senam Okpattah of Public Leadership and Jillian Atelsek of International Studies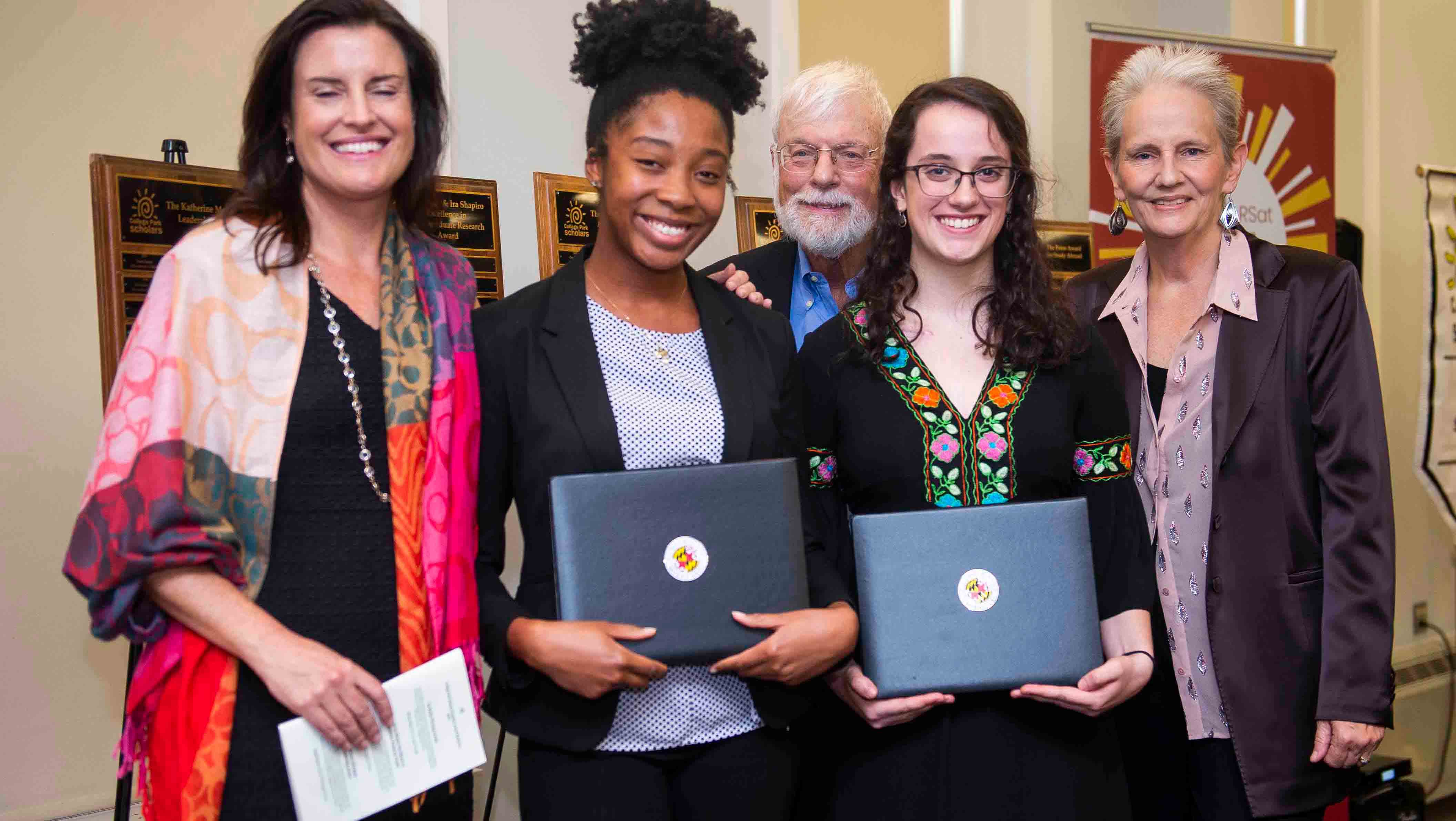 Senam Okpattah and Jilian Atelsek are awarded the Meghan Price Scholarship for Leadership and Public Service. The Meghan Price Scholarship for Leadership and Public Service honors the achievements and promise of Meghan Price, a member of one of the first classes of Public Leadership (PL) Scholars. Price was elected president of the Student Government Association in her senior year but died tragically in a car accident at the age of 20. The award, which recognizes a junior or senior with a dedication to service and leadership, this year went to Senam Okpattah, a PL alum, and Jillian Atelsek, an alum of International Studies (IS). 
Okpattah, from Baltimore, Md., is a senior double majoring in public policy and African American studies. While in Scholars, Okpattah seved as a representative, then co-president, of the Public Leadership Council. As a junior, she worked as an undergraduate teaching assistant for PL's sophomore colloquium. She was also recognized with an Outstanding Citizenship Award in 2018. Former PL Director Jen Littlefield praises Okpattah as "authentic, intelligent, mature and excellent at advancing the classroom conversation in a critical and thoughtful way."
Outside of Scholars, Okpattah serves as the director of diversity and inclusion for the Student Government Association. She had also been interning for the late Congressman Elijah E. Cummings since June. She hopes to establish a career in public service and wants to devote her life to uplifting marginalized communities. 
Atelsek (second from right) is a senior journalism and history major from Walkersville, Md. As the news editor for the University of Maryland's (UMD's) independent student newspaper, The Diamondback, Atelsek manages a team of about 20 student reporters and editors. She has further reported on a variety of consequential topics within the UMD community, including the death of Jordan McNair and the campus protests that stemmed from it, and a student-led push for more robust mental health resources.
Program Director James Glass describes Atelsek as having been a natural leader in IS, one who "was respected and trusted by her peers and consistently acted as an advocate for the program and fellow students." During her time in IS, Atelsek participated in the Model United Nations Conference at Harvard University, served as a peer mentor for new students, and conducted a semester-long research project on collective memory and Civil War monuments in Maryland.  After graduation, she aims to secure a job in a newsroom and continue telling stories. (Pictured here are: PL Director Susannah Washburn, left, Okpattah, Glass, Atelsek, and Scholars Executive Director Marilee Lindemann.)
Martha and Ira Berlin Legacy Fund Scholarship: Amit Dadon and Rebecca Shankman of IS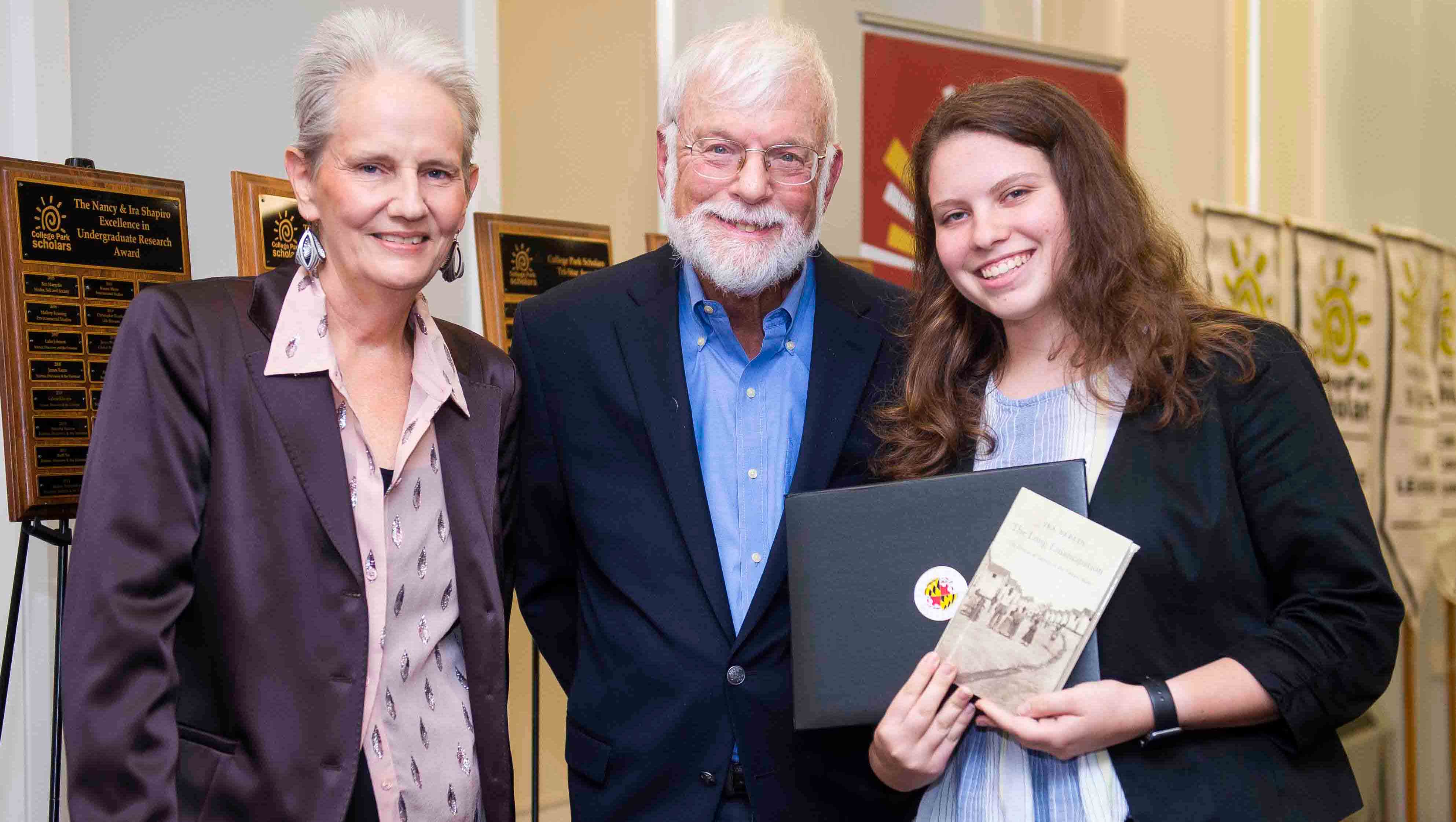 Rebecca Shankman is awarded the Ira Berlin Legacy Fund Scholarship.The Berlin Legacy Fund Scholarship, established in 2014 during Scholars' 20th anniversary, supports and recognizes Scholars students who in addition to academic excellence demonstrate an interest in learning outside of the classroom. This year's recipients were Rebecca Shankman (right) and Amit Dadon (not pictured), both of IS.
Shankman is a junior majoring in sociology and criminology/criminal justice. On campus, she works as a tour guide, helps organize service events at Hillel and is a lab assistant in two sociology labs. While a Scholars student, Shankman authored a paper on the correlation between voting rights granted to incarcerated felons and crime rates in the European Union, reflecting her career interests.
Shankman wants to pursue a career in research or policy, with the goal of reforming the criminal justice system. To that end, the Berlin Legacy Fund will support her participation in a policy and research internship with Towards Employment, a Cleveland, Ohio, agency that focuses on linking incarcerated individuals with employment after release. Shankman wrote in her application that the internship "truly encompasses everything I want to do with life."
Dadon is a Jewish immigrant from the Middle East, who graduated from Marjory Stoneman Douglas High School in Parkland, Fla., in 2017. A senior with a double major in economics and international relations, he is an organizer and advocate for the Parkland-based gun reform group Change The Ref. He has worked on political campaigns, interned on Capitol Hill, and led an advocacy tour with March For Our Lives. It is this activism that made him such a viable candidate for the Ira Berlin Legacy Fund.
Dadon's main goal is to end to the public health crisis of gun violence, while also continuing the fight for the rights and well-being of all, particularly immigrants and minority communities.
The Ira Berlin Writing Award: Thomas King of Justice and Legal Thought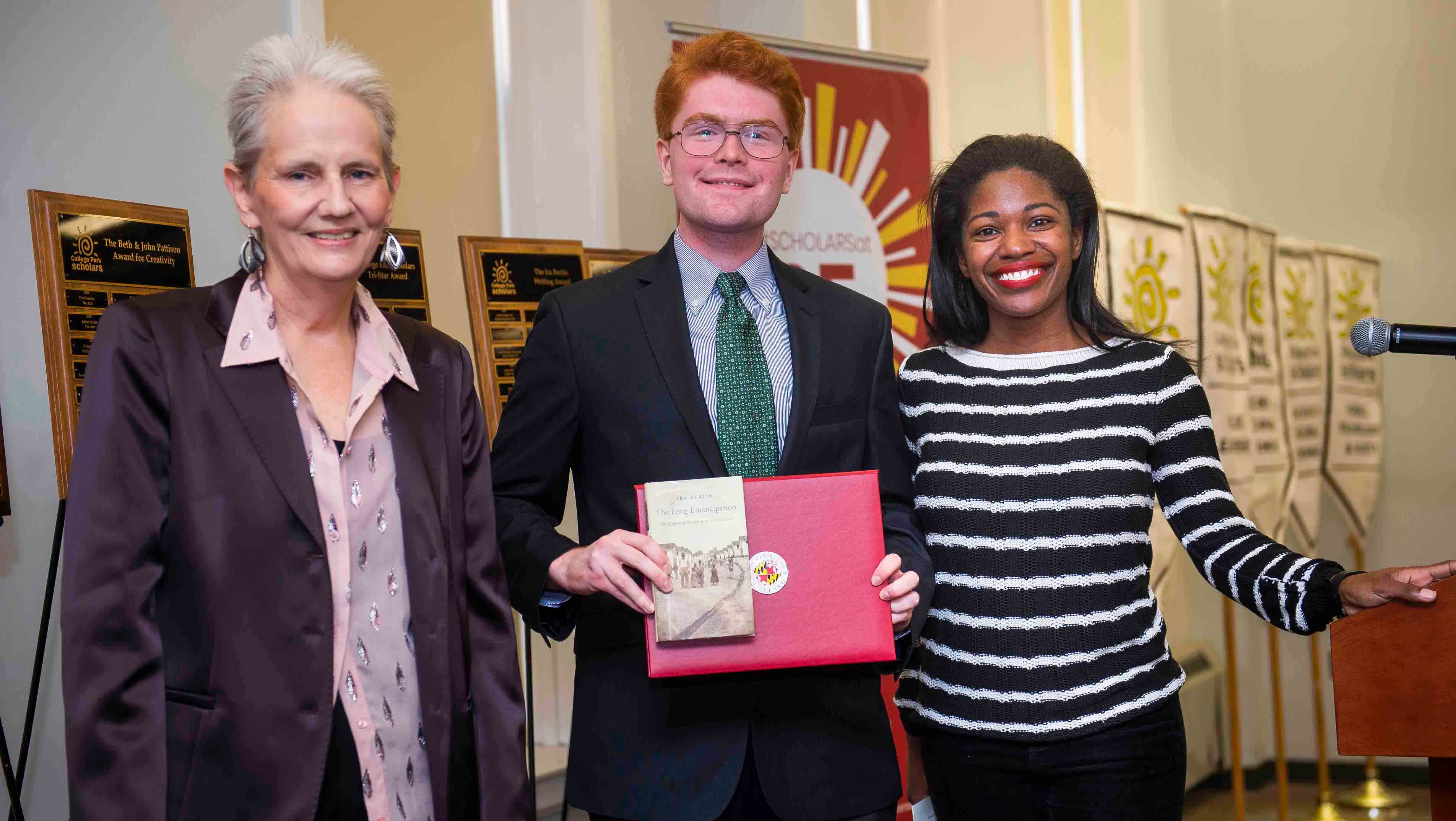 Thomas King receives the Ira Berlin Writing Award.Recipients of the Ira Berlin Writing Award demonstrate a passion and talent for writing academic prose throughout their Scholars curriculum. Submissions range from personal reflection papers to analytical essays to creative nonfiction.
This year's awardee, Thomas King (center, with Lindemann and Justice and Legal Thought Associate Director Erica Smith), is a junior from Towson, Md. A computer engineering major, he works as an undergraduate teaching fellow with the Department of Electrical and Computer Engineering, where he helps teach ENEE101, an introductory lab course.
As a Justice and Legal Thought Scholars student, King appreciated the writing opportunities presented in that curriculum, especially since such opportunities were few and far between in his engineering coursework. King's award recognizes his scholarly examination of the histories, problems and consumer stakes of DNA testing services in his paper, "23 and Free? Direct-to-Consumer Genetic Testing and the Law." This paper, analyzing the intersection of science and commerce, demonstrated King's ability to communicate across multiple disciplines.
The Katherine McAdams Leadership Award: Sabahat Fatima of Science, Technology and Society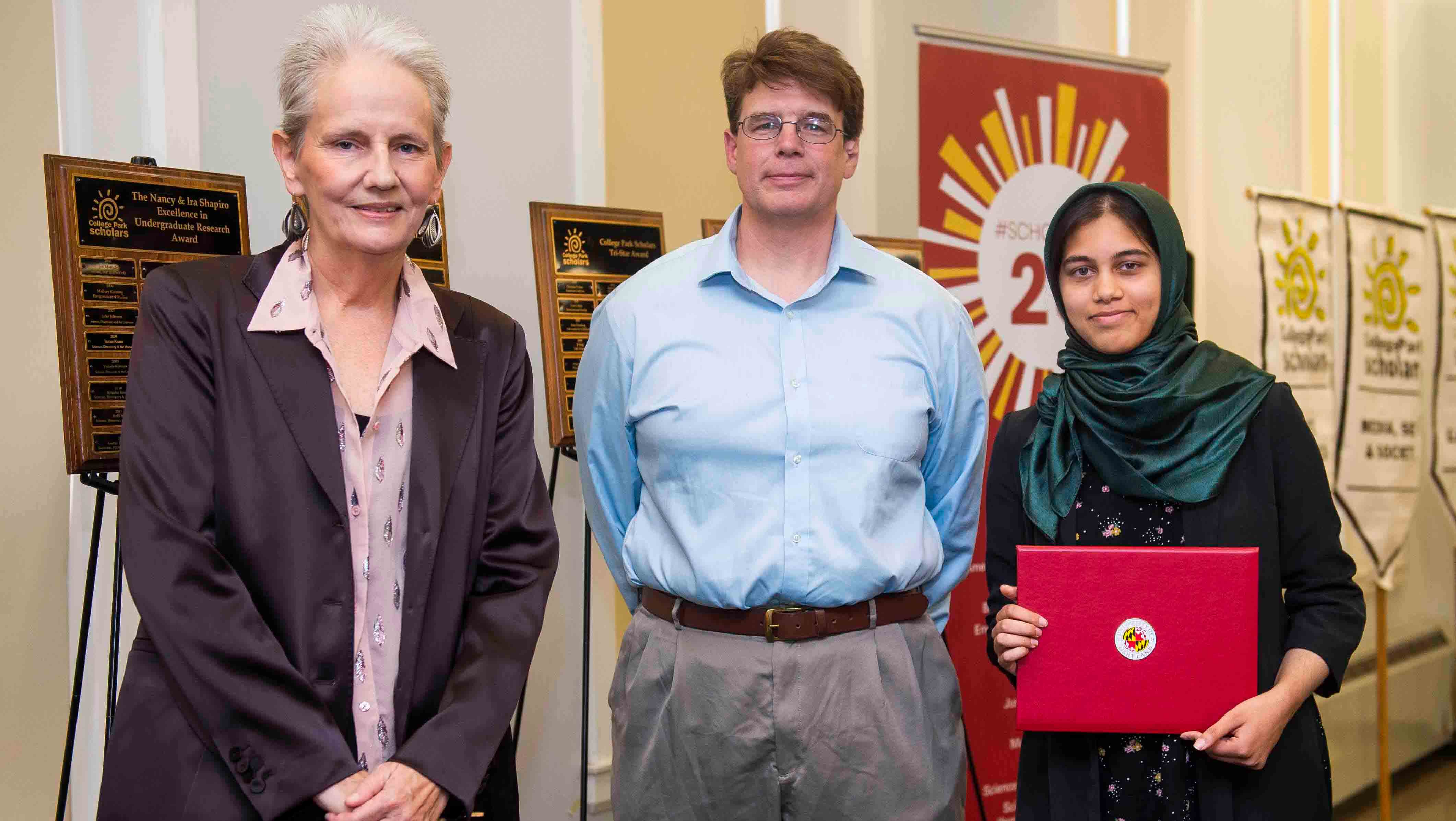 The Katherine McAdams Leadership Award recognizes the accomplishments and undertakings of a female Scholars student in the area of leadership. The award broadly defines leadership as a dedication to civic duty and an understanding of social responsibility in an empowering and ethical environment.
This year's award went to Science, Technology and Society alum Sabahat Fatima (pictured with Lindemann and STS Director David Tomblin). A junior from Baltimore, Md., Fatima's interest in affordable and globally available solar energy inspired her to study electrical engineering. In addition to serving as a commuter representative on the Scholars Student Advisory Board her freshman and sophomore years, Fatima was a peer mentor. She is currently a teaching assistant for an engineering ethics class taught by one of the Scholars faculty.
STEM education and empowerment is important Fatima, inspiring her to serve as an ambassador for the Society for Science and the Public. She is also involved as a sponsorship organizer for Technica, the world's largest all-women and non-binary hackathon. In her application, Fatima wrote of her steadfast commitment to being visible as a woman in STEM, as a woman who wears a headscarf and as a commuter in a living–learning community. She aspires to attend graduate school and eventually start a research venture.
The Beth and John Pattison Award for Creativity: Calvin Burns of Environment, Technology and Economy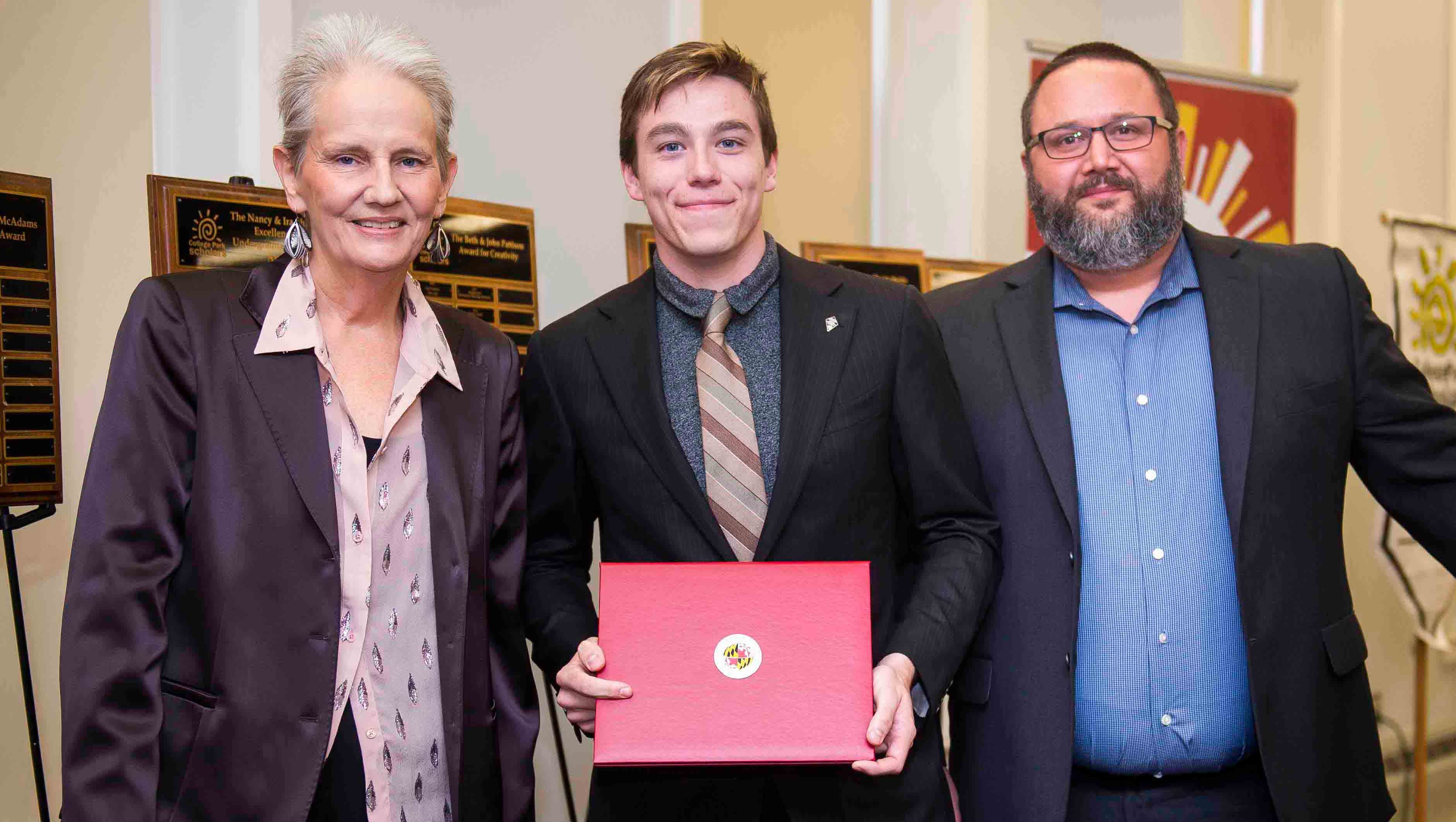 The Beth and John Pattison Award each year goes to a Scholars student who—through creativity and innovation in any field or area of interest—has left a lasting, positive impact upon both Scholars, and the community as a whole. This year's recipient was Calvin Burns, an Environment, Technology and Economy (ETE) Scholars alum.
Burns (center, pictured with Lindemann and Environment, Technology and Economy Director Tim Knight) is a junior civil and environmental engineering major, with minors in sustainability and project management. As a second-year resident assistant in Chestertown Residence Hall, Burns has worked with Scholars and Facilities Management to make the Cambridge Community more social and inviting for its residents, in the form of "Hammock Haven."
A self-described "hammock-lover, but also a tree-hugger and sustainability hippie," Burns developed Hammock Haven in response to the popularity of hammocking on campus and the negative effects the activity has upon the trees from which students hang their hammocks. The Pattison Award acknowledges his innovative approach to bettering both the community and the environment. Burns has near-term plans to expand the Hammock Haven project to other parts of campus.
The Peres Award for Study Abroad: Sequoia Mack of International Studies
The Peres Award for Study Abroad honors a Scholar who, through study abroad, has displayed an interest in actively learning more about international and global affairs. Recipients are distinguished by their scholarly attitudes, academic excellence and emerging global competency.
Sequoia Mack (center) is a junior double majoring in government and politics with a concentration in international relations and Spanish. A citation earner of the IS Scholars program, she spent the spring 2019 semester studying abroad in Buenos Aires, Argentina, where she completed a research project on slavery in Argentina and the Afro-Argentine population.
Mack wrote movingly about her experience as a black woman studying in a country that lacks a significant black population. What ultimately earned her the award was her manner of combining her personal experience and change of mindset with a contextual analysis of the country's history and culture, deriving meaning from her experience through both personal and academic perspectives.
Currently, Mack is interning at the U.S. Department of State in the Bureau of Democracy, Human Rights and Labor. She will be studying abroad again during the winter term, in Havana, Cuba.
The Nancy and Ira Shapiro Excellence in Undergraduate Research Award: Leila Riazi of International Studies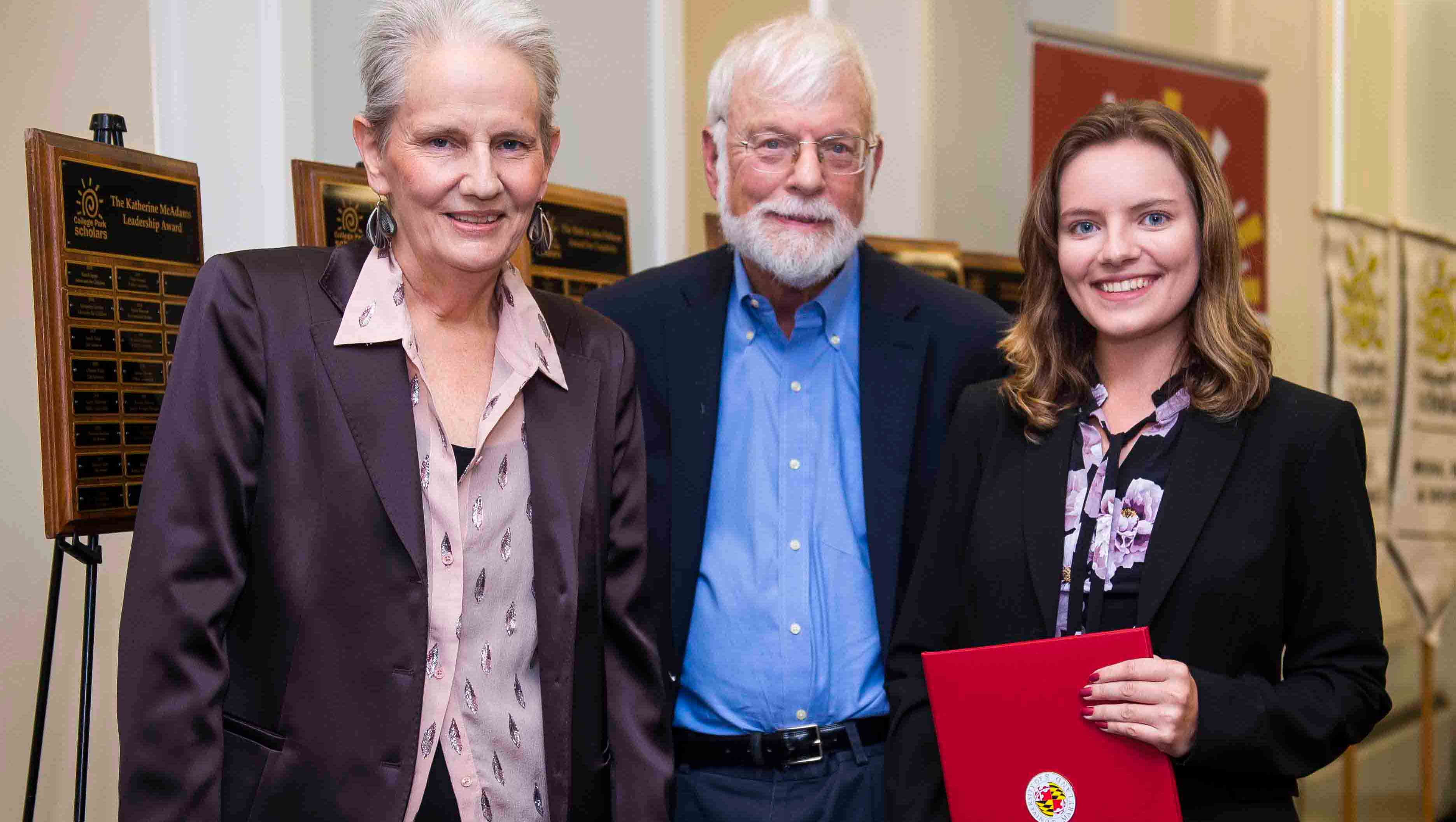 The Nancy and Ira Shapiro Excellence in Undergraduate Research Award celebrates a Scholar who has conducted a research project in collaboration with a faculty mentor.
Junior IS alum Leila Riazi (right) was honored this year for her work on such a project. In spring 2019, Riazi analyzed the conflict in Yemen as a proxy war between Saudi Arabia and Iran. Notably, her work introduced the reader to the war's implications on international policy. Her analysis compared this war with the long-term effects of Korean and Vietnamese conflict, making her project stand out from the rest.
Having grown up in Silver Spring, Md., Riazi is currently studying government and politics with a concentration in international relations. Much of her academic focus is on the Middle East.
After completing IS, Riazi joined the UMD Global Fellows program. This semester, she is a writing intern for the Department of Veterans Affairs through the Virtual Student Federal Service program. She hopes to eventually pursue a career in foreign policy after graduation.
The Tri-Star Award: Kaitlin Ta of Environment, Technology and Economy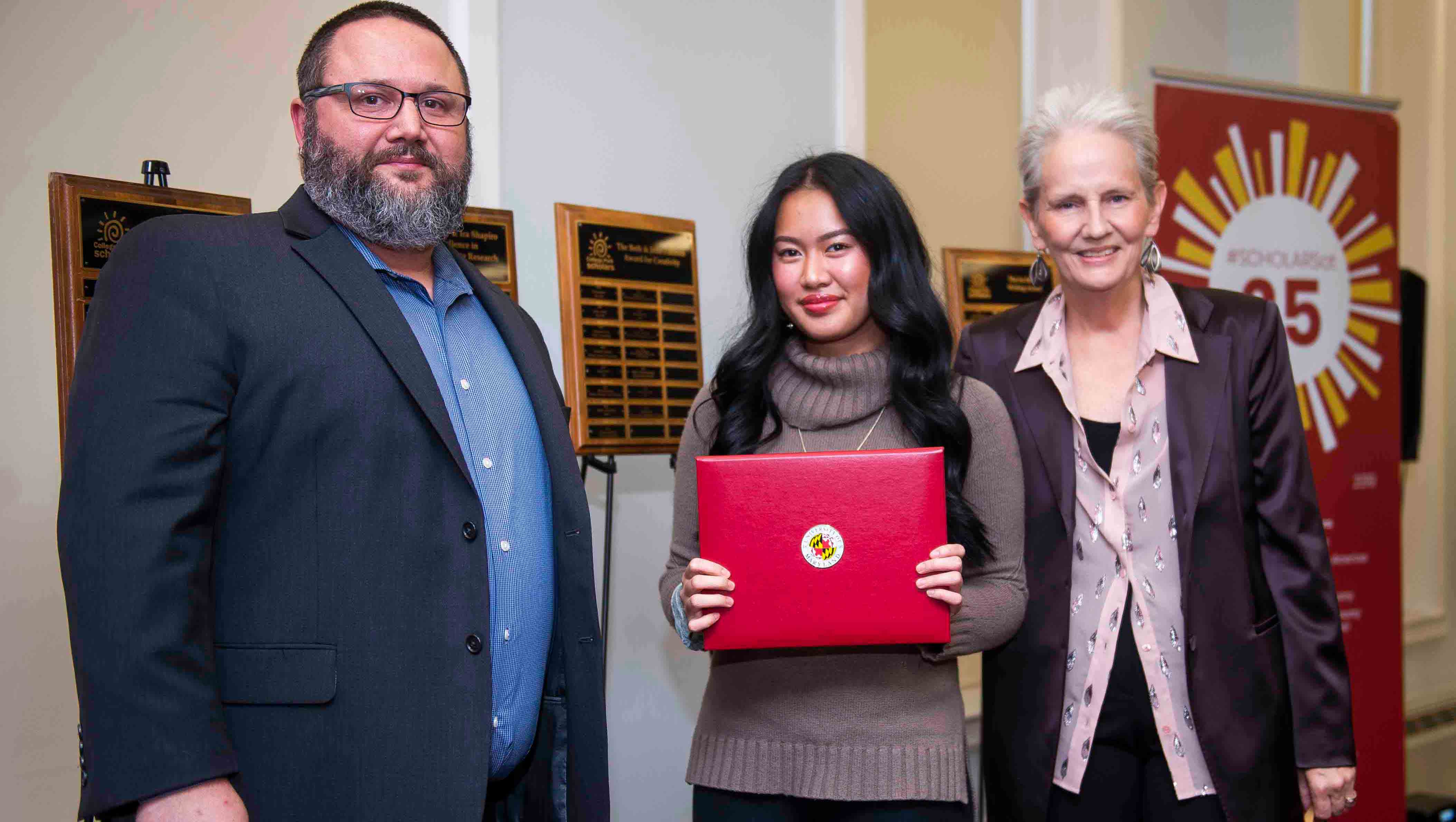 The Tri-Star Award is presented to a student who has demonstrated the embodiment of the three core values at the heart of Scholars: academic excellence, involvement in one's community and an appreciation for the values that diversity contributes to learning. Kaitlin Ta (center) of ETE was this year's Tri-Star winner.
From Silver Spring, Md., Ta boasts an impressive record of engagement within Scholars, including serving as a Scholars Ambassador, a Scholars employee and the captain of the ETE peer mentors. Her service extends beyond the Cambridge Community, however, through her volunteer work with the service organization, Terps4Change.
Dedicated to learning, the junior microbiology major has worked with the UMD ecology and health lab, as well as the microbiology and environmental health lab.
Ta credits her Scholars experiences as having taught her the ways in which "having different ideas and cultures shared is a great way to enhance learning." She values diversity and its lessons and values, exemplifying them in her everyday endeavors.
This past year, Ta has been scribing at a hospital in Baltimore. After graduation, she plans to attend medical school.