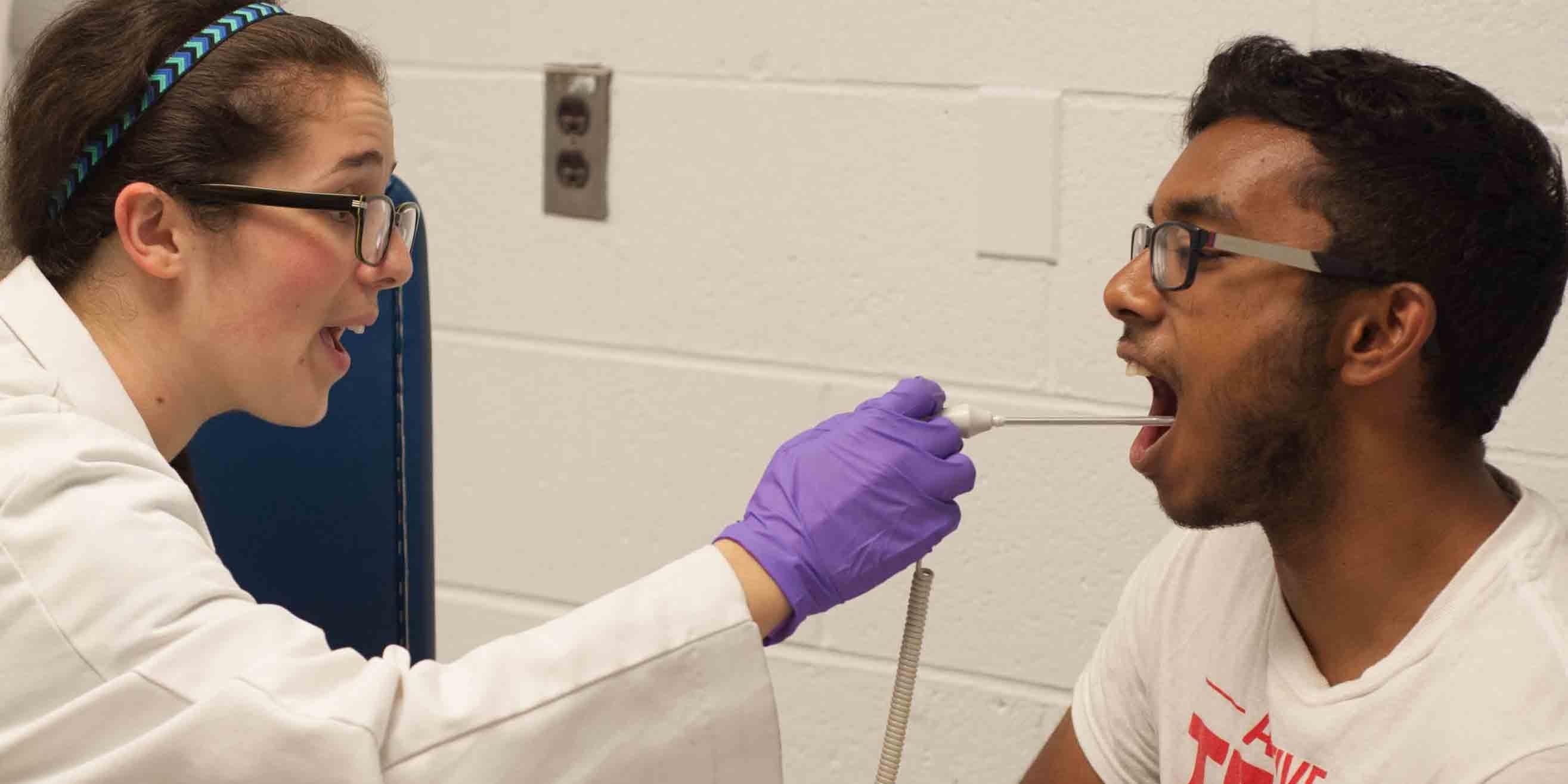 They say laughter is contagious. And yawns. And, of course, the flu.
Most people figure they catch the flu by touching contaminated surfaces or being exposed to droplets from a sick person's coughs or sneezes. But it turns out the flu may be even more contagious through the air than we had thought.
University of Maryland Professor Don Milton and several other researchers just released new findings that the flu may actually be spread just by breathing. For students of College Park Scholars, the discovery underscores the unique opportunity they have to be involved in groundbreaking public health research.
That's because Milton is continuing his CATCH the Virus Study this year, in partnership with our program.
Scholars involvement
The study identifies how influenza and other respiratory viruses are transmitted from person to person, using the natural laboratory of the college residence hall. (The "CATCH" part of "CATCH the Virus" stands for "Characterizing And Tracking College Health.") Volunteers confirmed to have the flu or who bear certain symptoms of respiratory illness are asked to breathe, speak, cough and sneeze into a machine that captures the expelled aerosol particles.
This year, any Scholars student has been able to apply to be a research assistant, thereby getting hands-on experience in the protocols of scientific research. Students get beyond the theory and instead glean firsthand how unforeseen challenges arise in this type of work, how scientists work around them and more.
Those students enrolled in three of our Scholars programs—Global Public Health; Science, Technology and Society; or Life Sciences—additionally can participate as study subjects, especially if they get a cold or flu. (Everyone living in the Cambridge Community can participate if they are contacts of a participant who has the flu.) Milton, incidentally, is a professor with the university's School of Public Health, which sponsors the Global Public Health Scholars program.
Why engage a living–learning community in this kind of research?
"Laboratory studies of influenza transmission didn't work well," explains Milton of previous phases of the study.
Studying real-world infections reportedly offers the best way to determine how often influenza is transmitted by air. "One way to do that is to keep a group of susceptible people isolated in a quarantine facility for the entire flu season while bringing in community-acquired cases. The other—which I think it more practical, even if difficult—is to use a free-living population," Milton says.
Milton acknowledges the challenges of relying on "free-living" populations for this kind of study. Researchers can't control who has contact with whom, what kind of ventilation there is in classrooms and residence halls, exactly what people are infected with, or when study subjects are infected.
That said, "a college residence hall population in a living–learning community would be just about the best group to study. We can have some hope of at least measuring those things that we cannot control," Milton explains. For example, environmental sensors in two Scholars residence halls and Scholars classrooms monitor factors such as carbon dioxide levels to assess ventilation quality within some of the buildings where study subjects live and study.
Framework for exploration
About 61 university undergraduates participated as research assistants for the study in the fall 2017 semester, of which 42 were Scholars students and 11 were former Scholars.
Across the program as a whole, the study has further provided a rich framework in which to explore the way things spread, from ideas to laughter to, yes, the flu. The annual theme for Scholars this year is, appropriately, "Going Viral."
Opportunities are still available for Scholars students to participate in the CATCH the Virus Study.
To get involved as a research assistant, contact Jennifer German at jgerman@umd.edu. To participate in the study, visit www.catch.umd.edu, email catch@umd.edu or call 424.246.8358.