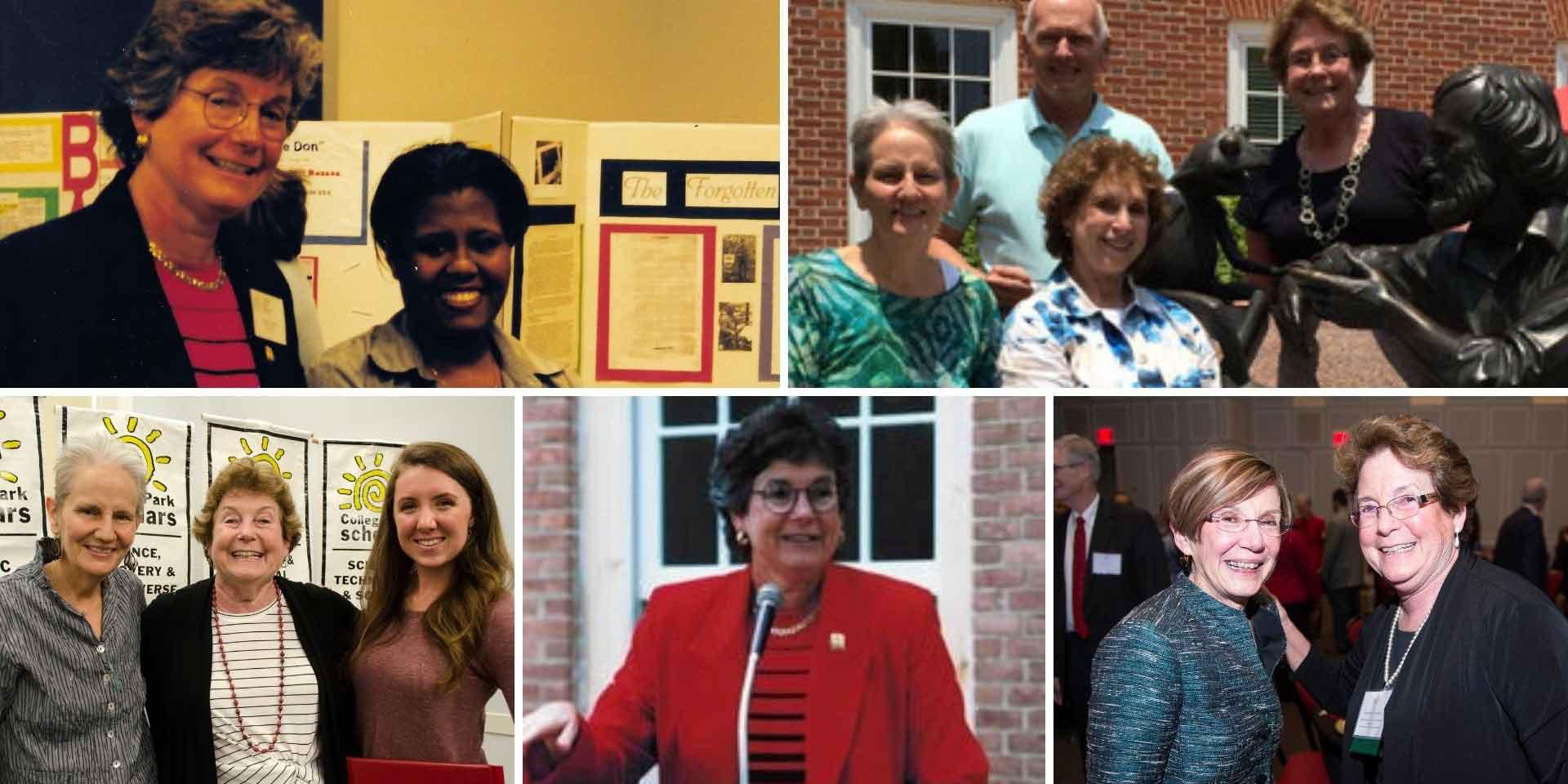 College Park Scholars mourns the loss of Katherine McAdams, who died Sept. 29, 2020, at the age of 70. McAdams was Scholars' second-ever executive director.
McAdams led Scholars from 1997 to 2002, years of important expansion and recognition for the program. Under her leadership, the roster of Scholars programs increased to 12, with the addition of Business, Society and the Economy; Earth, Life and Time (now Science and Global Change); and Media, Self and Society. The Cambridge Community Center became part of the Scholars community as it opened its doors to Scholars classes and programs.
McAdams further served as principal investigator on a $211,000 grant from the U.S. Department of Education that led to the development of Scholars' Discovery Research, a course that is still offered to Scholars students today as an option to earn practicum credit. As McAdams stepped down from Scholars in the fall of 2002, U.S. News and World Report's annual survey of colleges and universities recognized the University of Maryland's living–learning initiatives—of which Scholars is the largest program—as ranking third, nationally, in the publication's new category of "programs that work."  
"Kathy was a generous mentor and academic leader, but her many contributions to the university don't fully convey what a marvelous and caring human being she was," says Marilee Lindemann, Scholars' current executive director. "She was wonderful—warm, funny and down to earth."
Thomas Holtz, director of the Science and Global Change Scholars program, was recruited to Scholars by McAdams. "She served as executive director during my first few years in Scholars, and was in her time the heart of the community," he says.
Adds John Merck, associate director of Science and Global Change, who joined Scholars in 1999: "She was the person who not only built upon the basic institutions that [Founding Executive Director] Nancy Shapiro devised but who made Scholars fun and engaging for faculty by dint of her outstanding people skills. Scholars thrived by acting on the best of the many good ideas that she cultivated."
McAdams, who earned her Ph.D. from the University of North Carolina in 1989, first came to the University of Maryland in 1987 as a lecturer in the Philip Merrill College of Journalism. She became assistant professor in the College of Journalism in 1988 and later, associate professor. Her publications include two co-authored books as well as numerous chapters in books and refereed articles.
McAdams continued to make other significant contributions on campus after Scholars, serving as an associate dean in the Office of Undergraduate Studies from 2005 to 2010 and as associate dean for academic affairs in Merrill College from 2010 to 2012. She was named associate professor emerita in Merrill College in 2014.
"Admired by so many, Kathy was known for her creativity, resilience, kindness, and intelligence," says Donna B. Hamilton, associate provost and dean for undergraduate studies when McAdams joined the staff. "She led the work on course development for the new General Education program. In 2009-10, she edited the entire manuscript for 'Meeting the Challenge of Diversity, 1968-1976,' which told the history of desegregation at the University of Maryland through the eyes of those who worked in the Intensive Educational Development program."
Lindemann notes McAdams also felt a strong commitment to supporting young women in their leadership development. McAdams codified that support in 2004, establishing the Katherine McAdams Leadership Award, which specifically honors a female Scholars student who has proven to be an effective leader during her freshman and sophomore years.
In later years, McAdams delighted in meeting the recipients of her namesake leadership award, often trading contact information with them and making herself available as a mentor. That spirit apparently was a part of her character. "Kathy McAdams was an outstanding teacher—truly one of our best. She was a graceful, delightful woman who always put her students first," Merrill College Dean Lucy A. Dalglish says. Her academic leadership included highly effective supervision of more than 15 master's degree theses, and serving as adviser for 10 Ph.D. students and six students from the individual studies program. After her retirement in 2012, McAdams served for a time as a student ombudsman and continued to teach for Merrill College.
McAdams' family has requested that any gifts be made in her memory to the University of Maryland College Park Foundation, designated for the College Park Scholars Founders Endowment, which funds the Katherine McAdams Leadership Award. Gifts may be sent to the University of Maryland College Park Foundation Office of Gift Acceptance at 4603 Calvert Road, College Park, MD 20740-3421, or made online at https://go.umd.edu/SZh.