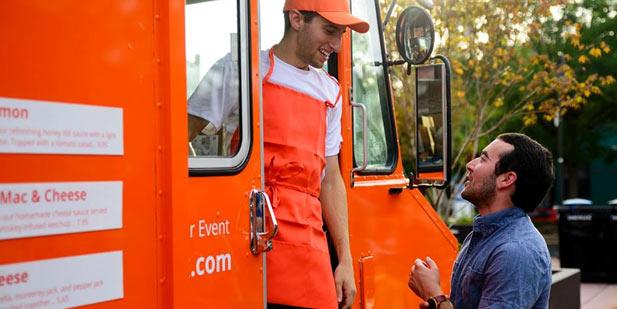 Two graduates of the College Park Scholars program have channeled their entrepreneurial passions in the launch of their new food truck business.
The Q Truck officially launched Sept. 2, along with several other popular trucks from the DMV area.
Former Environment, Technology and the Economy Scholar David Engle and senior Business, Society and the Economy Scholar Chris Szeluga decided to start this new business venture soon after new legislation in Prince George's County allowed food trucks in designated Food Truck Hubs, Engle said.
"The University of Maryland's Greater College Park initiative to revitalize the Baltimore Avenue corridor and academic campus is a fantastic approach to make College Park into one of the top college towns in the nation," Engle said. "We saw an amazing opportunity to be a part of this transformation."
Engle said that the University of Maryland, the City of College Park and Prince George's County have been extremely supportive of this new food truck business.
Engle said that the Scholars program helped him get involved on campus, which led to his collaboration with other business ventures.
"The Scholars program introduced me to many University of Maryland programs and initiatives on campus," Engle said. "Coming into Scholars, I was already fascinated in entrepreneurship and due to my fascination I became a part of Startup Shell, Startup Village, and have formed multiple companies."
According to Szeluga and Engle, their goal is to continue to bring more high-quality food experiences to College Park.
"We hope to continue to fine tune truck operations, develop more exciting menu options, and work with other food trucks to bring a rotating assortment of fun, fresh food to downtown College Park," Szeluga said.
The College Park Hub is located at 7413 Baltimore Avenue with two food truck spots. The Q Truck will be operating for dinner service from 5- 9 p.m. and for late night service from 9p.m.- 12 a.m. on Thursdays, Fridays, and Saturdays, while the university is in session.