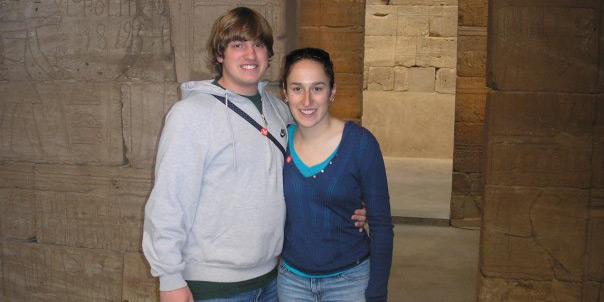 College Park Scholars Executive Director Marilee Lindemann often jokes to new students that some of them may end up meeting the love of their life in Scholars. The line usually gets an incredulous, slightly nervous laugh from students, but it's true: Some of our Scholars students eventually go on to fall in love and marry. In this special Valentine's edition of our alumni profiles, we offer a Q&A with one such couple.
Jeff Amoros and Corey Brewer         
Alum of:
BOTH: International Studies 
Year graduated:         
BOTH: 2009
Favorite Scholars memory?      
JEFF: Meeting my wife, Corey, in IS, but also visiting the United Nations (UN) through the Scholars in New York trip in April 2006. We attended a presentation by a staff member on how the UN operates, attended a Broadway show and went to the Met (Metropolitan Museum of Art).
COREY: "Step Up to Bat for Kids" charity softball game we participated in every year—and won my freshman year!
[We're noting that our couple offers up markedly different memories as their favorite… ]
What did you learn in Scholars that you still carry with you today? 
COREY: The importance of integrating learning into every aspect of your life, whether that is through service-learning, engaging in conversations with your peers or experiential learning. It doesn't stop in the classroom. We have to continue to seek out those opportunities wherever we might find them.
JEFF: My Scholars curriculum changed how and who I learn from, in a way that's been useful in every academic and professional setting I've been in since graduating. Our IS section of GVPT 100 went in-depth on game theory and introduced theories of structures of government. In my career in local government and political campaigning, those ideas have formed the basis for how I process political and policy information.
In addition, our Scholars-specific courses provided a broad outline for interpreting global events. We started our freshman year with the wars in Iraq and Afghanistan still near their peak, so taking courses that specifically focused on global politics, culture, society and economics helped me learn how to create frameworks for interpreting political and policy decisions outside of my own worldview.
When I think of Scholars, I think...   
COREY: Community.
JEFF: Winning the Scholars softball tournament.
The person from Scholars who made the greatest impact on me was...       
BOTH: Dr. Grant-Wisdom [the then–director of International Studies].
COREY: Affectionately known as Dr. G-Wiz. She was passionate about the topics she taught and truly made us feel like a community with her leadership.
JEFF: She significantly influenced the rest of my college career, and helped guide me toward classes outside of my major that helped shape my academic and post-college experience.
What are you up to these days?
JEFF: Corey and I just celebrated 14 years since our first date: "Batman Begins" at the Hoff, followed by bowling/pool at TerpZone. We got married March 15, 2014, at the Memorial Chapel.
Professionally, I'm currently the senior director of external affairs at the Baltimore City Health Department, where I manage the department's legislative, policy, communications and community engagement staff. I also do political consulting in the Baltimore region.     
COREY: I am a senior director of program management at 2U, Inc, an education technology company that partners with top colleges and universities to bring their degree programs and credit-bearing courses online. My very first experience in online educational technology was with the University of Maryland ICONS simulation we completed in our Scholars program. That led to an internship and later my first job out of college with ICONS. This all led to my career in the tech ed sector. [The ICONS Project creates simulations that allow participants to strategically navigate through complex problems and scenarios. The project is now part of the university's National Consortium for the Study of Terrorism and Responses to Terrorism (START).]
Knowing what you do now, what advice would you give incoming Scholars students?
JEFF: Take advantage of the time you have to learn things without a specific rationale for doing so. You may never get another chance to spend time reading, engaging and learning for learning's sake alone, and it will become progressively harder the further you get into your career and the more specialized your knowledge base will necessarily become.Jeff Amoros_Diamondback.jpg
And engage as much as you can with student life stuff—clubs, intramural sports, shows—to get exposed to new ideas, interests and people. [Jeff himself was a sports editor for The Diamondback during the 2007–2008 academic year and an assistant news editor a year later (see right). That was "back when we still published a print edition five days a week—aaaaaaaand I'm old," he says.]
COREY: Adding to what Jeff is saying, don't limit yourself on what you study or do because of what you think your path will be. The beauty of Scholars was that it allowed you to completely immerse yourself in the topic and explore it in different ways. It will continue to shape you even if you don't follow that specific path.