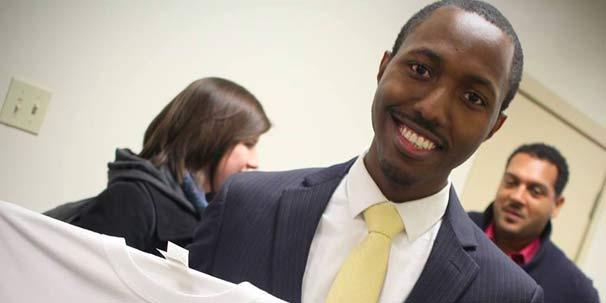 Jazz Lewis, a 2009 alumnus of Public Leadership Scholars, is currently serving as the second youngest delegate in the Maryland General Assembly.
"[Public Leadership] was pivotal to me, I got my first job in politics because of Public Leadership. I interned in the [Prince George's County] councilman's office as part of my practicum project," Lewis said.
This internship provided him with a "feel for change on the local level," especially in Prince George's County, where Lewis grew up.
Lewis was introduced to this internship opportunity when former Public Leadership Director David Crocker brought in a Prince George's County council member to speak to their class.
"Jazz excelled in all aspects of the program," Crocker said. "He was particularly inspired by the example of South Africa's Nelson Mandela. Like Mandela, Jazz has devoted himself to public service and the promotion of citizen engagement. PL and the School of Public Policy, where Jazz studied for his master's in public policy, are proud that he has already been elected to the Maryland House of Delegates and exhibits great promise as a democratic leader."
As Lewis began learning more about government, he decided to engage himself in local political campaigns, including Ben Cardin's senatorial campaign. After graduate school at the University of Maryland School of Public Policy, Lewis joined Congressman Steny Hoyer's staff.
"From a public policy perspective, you felt like there was a lot we could be doing to make better policy, like using data to guide policy decisions," Lewis said. "I started thinking, 'Well I could do this too,' I thought I could be part of the change."
Lewis's advice to aspiring politicians is to stay flexible and humble, because "you never know what opportunity will present itself. You just have to do the work."
"I had no idea what was ahead of me, but I just kind of followed my feet and the guidance of the university. People engage in politics, and they want to go to the Hill as automatic detail, but there is an opportunity to get involved in politics quicker if you look at the state and local levels of government."
Now, Lewis's goal is to get reelected so that he can continue to affect change in his district. Currently, Lewis is working on policies for local economic development in his district, where the unemployment rate is at 7.7 percent overall, and around 9.8 percent for young men of color.
Lewis returned to the campus in the fall for a Public Leadership alumni panel.
"Jazz was a part of the PL alumni panel in the fall, and he provided great insights into how the hard and soft skills he learned has helped him in his career in D.C. and Annapolis," said Brendan McCormick, program coordinator for Public Leadership Scholars. "Jazz embodies everything we want from our PL alumni, and we hope our PL students can follow in his footsteps."