Incoming students often hear about the various experiences that Scholars take on in their practica–the capstone project or culminating hands-on learning all College Park Scholars are required to complete in their second year. Though specific practicum requirements vary by Scholars program, students are commonly able to meet program needs by engaging in an internship, doing service-learning or conducting research. 
"Scholars was designed from the beginning to make sure that students were learning about complicated issues in and out of the classroom," said Associate Director David Eubanks, who oversees academic affairs for College Park Scholars. "A lot of the reading and preparation that takes place in colloquium is actually designed to help support out-of-class learning."
But what do these experiences really entail? Here are just five examples of how Scholars have taken on their practicum. 
Combining global learning, internship experience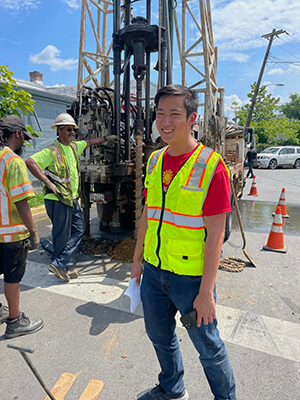 To sophomore civil engineering major Kevin Chan, Italy is not just a place with friendly people and good food. It's where the Environment, Technology and Economy Scholar spent 10 days of this winter break taking a University of Maryland global learning course. Titled "Sustainability and Infrastructure Condition and Safety," the class engaged students in learning activities, technical and cultural site visits, and field excursions to delve into the sustainable strategies implemented throughout Turin and Milan. This class, in addition to an internship he worked last summer with a civil engineering company, made up Chan's practicum experience. 
At his internship with AB Consulting, located in Lanham, Maryland, Chan spent time in a lab testing soil wetness and the strength of concrete with a break machine. The soil samples, which sometimes were collected by the interns themselves, were tested to determine if something could be built on top of it. The concrete break machines would take slabs of concrete directly from a building site and test its strength and durability. 
In his Italy class, Chan went on a site visit to a concrete recycling plant, which takes old concrete and recycles it into material used for new roads and construction. The methods within this plant connected back to the work that Chan had done for his internship. 
"It's really cool that both [the internship and the class] really just flowed and fit together perfectly," Chan said, "and that the experience just really works towards something that I'm actually passionate about." 
As an aspiring civil engineer and a sustainability minor, Chan said he felt fortunate to experience firsthand—via the internship—what it's like to work in the sustainability field. He also appreciated the cultural change that Italy presented, from the language to the learning environment. Learning about sustainability in his Scholars classes helped Chan prepare for both of these experiences, he said.
"The discussions we do in class, the passion that our lecturers have, it definitely had an impact on me," he said. 
Applying research data to public health initiatives 
Since his sophomore year, junior public health science major Andrew Ely has interned remotely for University of Maryland's Center for Substance Use and Health Research (CESAR) conducting research for the Emergency Department Drug Surveillance Program. The program takes urine specimens from hospital overdose patients across the country and reassesses them in its own labs to determine if hospitals are missing anything in their screenings. This informs hospitals how to better screen and respond to future overdose patients.
For his practicum, Ely, who was in Global Public Health Scholars, checked raw data analysis output from CESAR against its public dashboards to ensure the figures were displayed accurately. The data could include the percentage of drugs detected in screens, the demographics of patients involved in drug overdose visits and more. Ely also packed up materials for hospitals participating in the program. 
"It's been a great introduction to some of the professional worlds, because [the center] is an organization that actually does public health research, and they produce reports and things like that," Ely said. "And so just getting experience working with the process of seeing data, cleaning it and talking about key findings, I'm sure I'm going to use in my future public health career."
More recently Ely set up new figures and diagrams to display various aspects of the data through spreadsheets, tables and histograms. He studies reports from agencies such as the U.S. Food and Drug Administration or the Centers for Disease Control and Prevention to pinpoint problematic drugs that hospitals are seeing in their patients. The center would then add those into the drug screenings. 
Ely is applying to grad school for a master of public health or science in epidemiology. 
He said Scholars gave him the opportunity to learn more about substance abuse and the motivation to look for internships early in his college career. He believes that his practicum experience will make him stand out, especially since he worked on a small team with a high level of responsibility. 
Engaging in on-campus service-learning
When Justice and Legal Thought Scholar Kaitlin Mui learned of a job fair she wanted to attend last year, she figured it would be easy to find free business attire somewhere on campus. When she was unable to do so, the philosophy, politics and economics major became keenly aware of the lack of reusable materials on campus. 
A year later, the second-year Scholar has made the issue the core of her practicum project: She spends about 7 hours of her week volunteering at Terp to Terp, a campus reuse store founded in fall 2021 that provides free clothing and appliances to students. This fulfills one option of the Justice and Legal Thought practicum requirements, volunteering in service-learning by engaging in social justice and doing good within a community.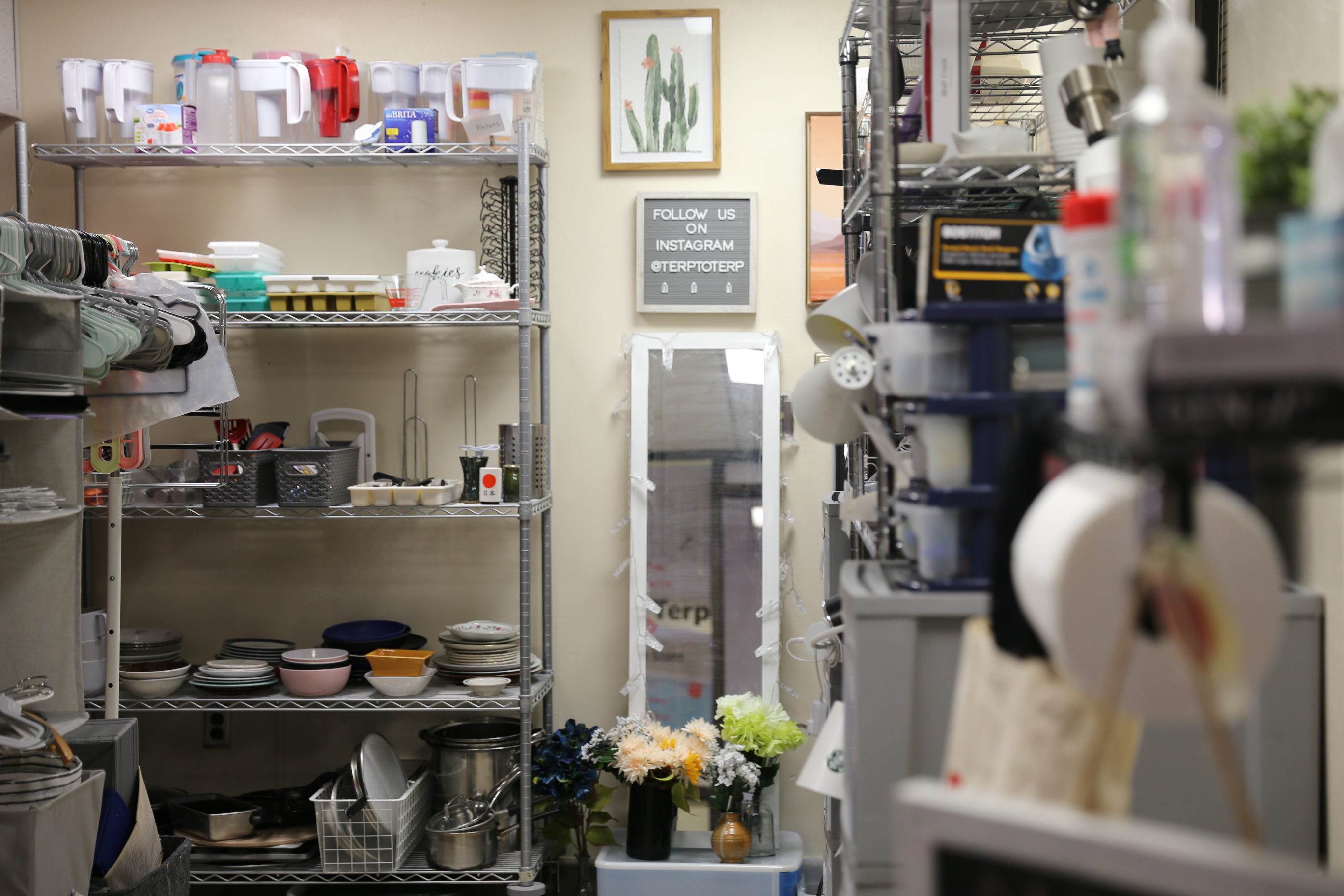 "When I actually started working with Terp to Terp and started learning more about sustainability and accessibility, I realized this is something I'm really passionate about," Mui said. 
At Terp to Terp, Mui spends time showing people around the store, collecting donations around campus and researching how to improve the volunteer system. She reaches out to different programs on campus in hopes of recruiting more volunteers like her. 
"The thing I find the most valuable [in doing this practicum project] is gaining a new perspective of what the term 'in need' means and what it looks like across various students and working situations and just trying to break down that barrier," Mui said. 
Besides having a newfound appreciation for the phrase 'one man's trash is another man's treasure,' Mui said she strengthened her time-management and communication skills in this project. She hopes to continue volunteering at Terp to Terp until she graduates. 
Discovering technology trends through research

 
"I just knew that I wanted to do a research practicum, and I had an interest in behavior with technology,"  said junior MaryAnne Onianwah, an information science major. 
Onianwah therefore cold-emailed professors in the College of Information Studies to ask about research opportunities, and one, Dr. Ana Ndumu, responded.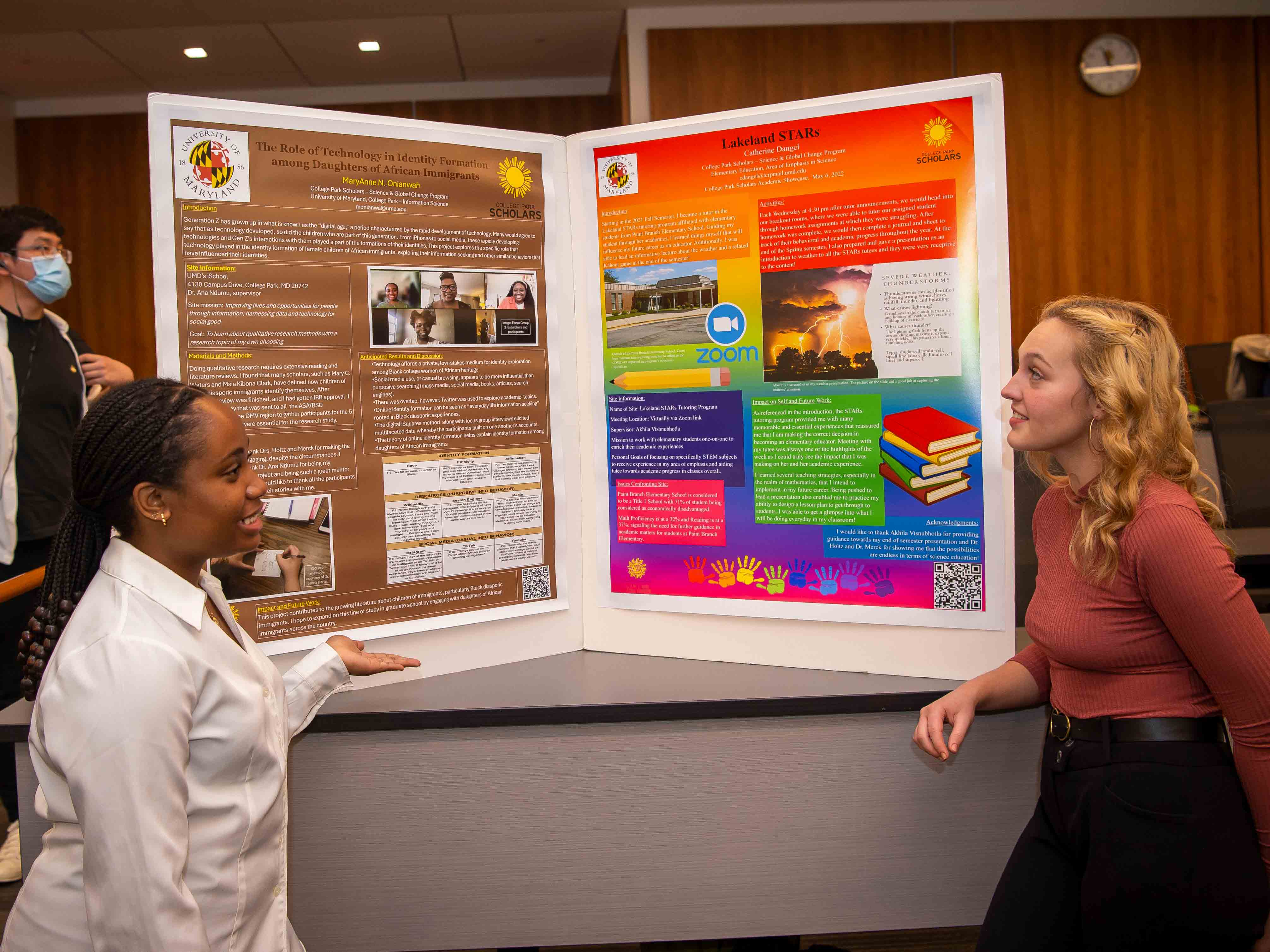 The Science and Global Change Scholars alum ended up working with Dr. Ndumu to ascertain the role of technology in identity formation among daughters of African immigrants.
Onianwah conducted five focus groups of children of African immigrants across the DC/Maryland/Virginia region to discuss how social media plays a role in their lives. After doing extensive reading and literature reviews for her qualitative research project, Onianwah used a coding software and method called I-squares to detect certain vocabulary her focus group participants used. This, and examining drawings made by her focus group participants, helped her find the results.  
"Social media really gives children of Africa an easy way to relate to one another and explore their identities in a safe way," Onianwah observed. 
Onianwah plans to pursue a sociology Ph.D in the future and said that learning the process of research as an undergraduate was helpful. From cold-emailing professors, to performing a literature review, to getting approval from an Institutional Review Board, she gained extensive research experience on this project. 
Onianwah acknowledges her project did not directly address the thematic aspect–climate change–of her Scholars program. Even so, she said what she learned in her program helped her succeed in her practicum. "I still used the scientific method and even the critical thinking skills that I gained in my Scholars program for my practicum," she said. 
And, Onianwah added, skills she gained in her practicum–such as synthesizing literature and asking the right questions–will be helpful in her future professional career. 
Leveraging the power of art in social justice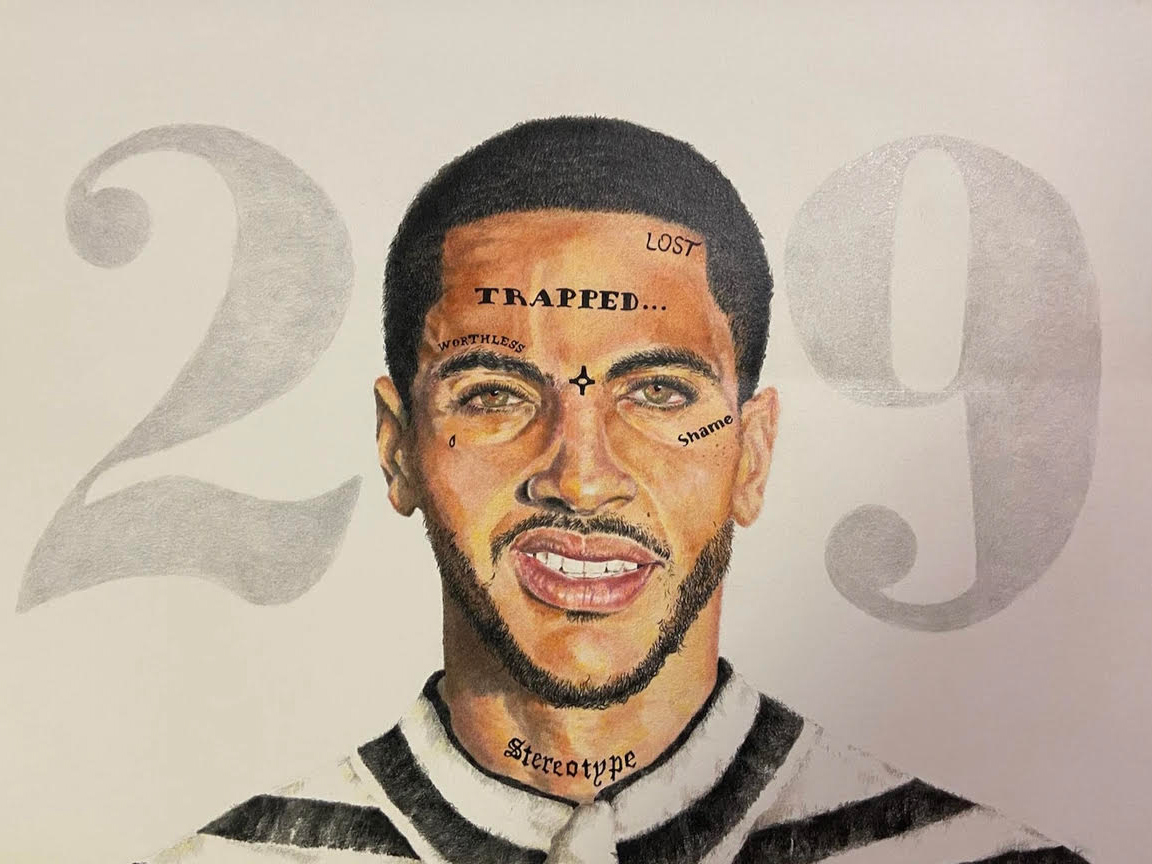 After watching a documentary during her sophomore year about the disproportionate injustices of mass incarceration, Katie Rees wanted to leverage the power of art in combating social justice issues. 
For her Arts Scholars practicum, during the 2020–2021 academic year, Rees partnered with the community organization Justice Arts Coalition to create a showcase of incarcerated individual's art. Rees, government and politics and theater major, also created a learning packet with mindfulness art prompts for incarcerated individuals. 
"The most rewarding part [of my practicum experience] was the connections that I made," said Rees, who is now a senior.  "I got to interact with some of the incarcerated artists, and kind of just learn from them about their experiences."
Rees held her "Art Behind Bars" showcase on Zoom, in light of the pandemic, with a turnout of about 20 people. She felt honored to play a small part in bringing light to often unheard voices, she said. 
"There are incredibly talented artists here that are limited by the U.S. incarceration system," she said. "Just getting to celebrate their work and see how it affected the people who attended the showcase was super rewarding," 
In part for her capstone work, Katie received the Katherine McAdams Leadership Award in Fall 2021. The award recognizes a female Scholars student who has proven to be an effective leader during her freshman and sophomore years.
The University of Maryland community can talk with Scholars sophomores practicum experiences at the 27th Annual Academic Showcase on Friday, May 5, from 4 to 5:30 p.m., at the Edward St. John Learning & Teaching Center.