Kids bent over boxes of school supplies. Tubs of tomatoes, picked fresh off the vine. College students clad in waders, waist-deep in pond water. These were just a few of the scenes witnessed during College Park Scholars' annual Service Day, which took place on Friday, Aug. 27, this year.
Service Day allows freshman Scholars to hit the ground running with meaningful service during their first full day as college students. This year, despite continuing logistical challenges due to the COVID-19 pandemic, which had prompted a virtual service experience last year, nearly 900 first-year Scholars set out to 20 different sites around the Greater College Park community and Washington, DC, metropolitan area. Joining them were 133 sophomore peer mentors and 30 members of the Scholars faculty and staff.
Between beautifying natural areas, assisting community outreach organizations, harvesting crops and more, our new Scholars not only exemplified the goals and practices of their individual programs, but also one of Scholars' paramount virtues: building strong community relationships. Even in the face of 90-plus degree heat and an unrelenting sun, Scholars ultimately provided 3,668 combined hours' worth of volunteer work on Service Day. Here are just some examples of the service in which these new Terps participated.
Contextualizing world crises with International Studies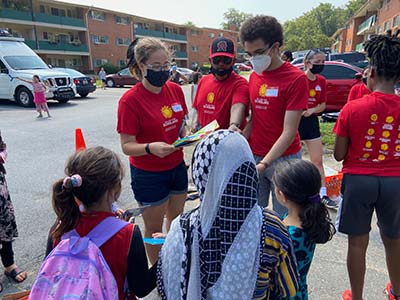 In the context of the recent crisis in Afghanistan, the International Studies (IS) Scholars program used its Service Day to remind students of the interconnectedness of today's world and the fact that global problems aren't remote abstractions.
"We wanted to help develop our Scholars students to be not only contributing members of the University of Maryland community but also contributing members of the global community, and Service Day reinforces how even small actions can have a big impact," says Dr. Stacy Kosko, program director.
The program partnered with Lutheran Social Services to clean up creeks and streams around the Parkview Garden Apartment Complex in Riverdale, Maryland, and provide resources and school supplies to the recent immigrant families living there. As some Scholars students ventured into the woods behind the complex to pick up trash and debris, others greeted refugee families—many from Afghanistan—in the complex's parking lot.
Students collected 20 bags of trash and distributed 50 backpacks and more than 100 meals during their service. They also managed to rescue four newborn kittens from a hot sidewalk—and even engage in some singing and dancing with the children from the apartment complex.
Taking the classroom into action with Global Public Health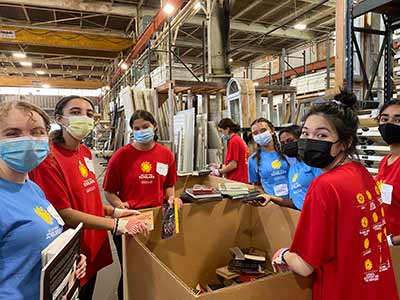 Global Public Health (GPH) Scholars gained firsthand experience in their study of the social determinants of health—institutionalized factors like education and employment opportunities, safe housing and neighborhoods, racism and discrimination, and access to nutritious foods that affect people's well-being—as they spent their Service Day working with Second Chance in Baltimore. The organization provides training to those who otherwise face barriers to employment, such as those who were formerly incarcerated, giving "people, material and the environment meaningful second chances at a new life," says Dr. Lis Maring, GPH program director.
Students worked alongside these staff members in Second Chance's large warehouse, where they de-nailed pieces of lumber, helped with general housekeeping and sorted through approximately 7,000 books. Most saliently, they were able to talk with workers about the latter's life experiences as well as the impact of COVID-19 on their lives and livelihoods.
Harvesting crops with Environment, Technology and the Economy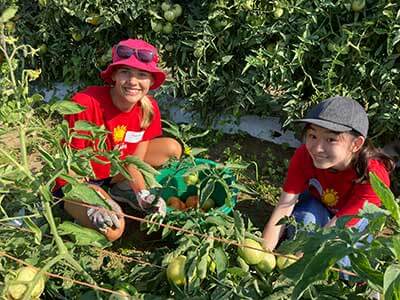 The Environment, Technology and Economy (ETE) Scholars program continued its long-standing tradition of service at Terp Farm, a part of the Upper Marlboro Facility that focuses on agricultural research sponsored by the College of Agriculture and Natural Resources. In temperatures that reached 107 degrees Fahrenheit on the "real feel" index, students helped harvest around 1,000 lbs. of tomatoes, peppers, eggplant and okra, among other tasks. All of the harvested food, which was grown as part of research on non-chemical methods of weed and insect control, was then donated to local food pantries and churches.
Cerruti Hooks, a researcher in the Department of Entomology whose plots Scholars helped harvest, took the vegetables to the food pantries himself. "I felt like Santa Claus; the Reverend and volunteers for the church pantry really lit up when they saw the truck full of produce," he says. "I certainly would not have been able to pull it off without the Scholars students who had helped harvest."
Engaging with local communities with Media, Self and Society
Every year, The Collaborative—a consortium of community partners, local government agencies and business leaders that offers crisis services and resources for communities in need—hosts a community partners expo. Given the pandemic's impact on food security and economic disparities, this year's event in New Carrollton, Maryland, provided food, services and other goods to local families in need.
The expo served as the Service Day site for the Media, Self and Society Scholars program, helping students identify their civic capacity and begin thinking about the knowledge and skills they can contribute to society. For the journalism students in the Media program, the site proved an important lesson about understanding the communities they could eventually be covering as reporters. Scholars helped set up tents and tables for a vaccine clinic, organized and distributed bags of food, and handed out basic household items, such as cosmetics, toiletries and bags.  Scholars also made the most of the hot day by serving snow cones.
"I'm glad that I was able to do my part in making sure that no person was forgotten after the effects of the pandemic," says freshman Scholar Sanai Theodore.
Reigniting a service tradition with Science and Global Change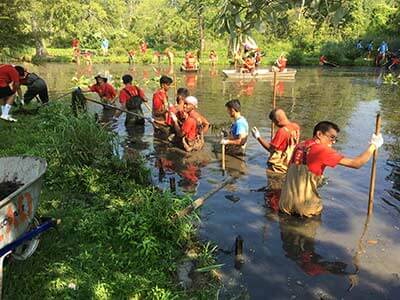 Since 2003, the Science and Global Change (SGC) Scholars program has been faithfully conducting its service at Kenilworth Aquatic Gardens, a National Park Service site in northeast Washington, DC. Students would don chest-high wading gear over their red Scholars t-shirts and wade into murky pond waters a dozen at a time to remove invasive aquatic plants.
During the pandemic, however, Kenilworth experienced 100 percent staff turnover. Suddenly, no one at the site understood the context behind Service Day or SGC's contributions over the years. Undeterred, Associate Director Dr. John Merck created a PowerPoint presentation with photos from prior Service Days at Kenilworth to highlight Scholars' values and convey the merit in allowing this service to continue.
In the end, Kenilworth gave the go-ahead, and SGC Scholars dedicated roughly 260 man-hours of labor to the removal of hydrilla, an invasive aquatic plant, from half the surface of the main pond—enough weeds to fill the beds of four to five pickup trucks.
So what ultimately convinced the Kenilworth staff to allow another Service Day there? "You mean besides my winning personality?" quips Merck. "I have to assume it was my presentation to them with the PowerPoint, but really God only knows."
Understanding creative education with Arts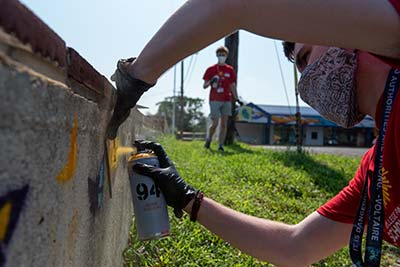 Like many Scholars programs, to limit crowding, Arts Scholars sent its first-year students to three different service sites. One such site was Creative Suitland, a nonprofit community arts organization in Prince George's County, Maryland, that had opened just before the start of the pandemic. Scholars helped clean up the parking lot outside of the organization offices and later worked to add artistic elements to an existing mural with spray paint, paint brushes and stencils.
Creative Suitland's staff shared with students the organization's mission: to encourage arts engagement as a way of addressing urban blight and providing opportunities for educational outreach. As staff provided a history of the neighborhood and its cultural ties, Scholars learned the particular needs a community might have and how arts education can tie into those needs.
"The students really enjoyed the opportunity to make a bit of a difference in the work they completed despite the heat," says Harold Burgess, Arts program director.