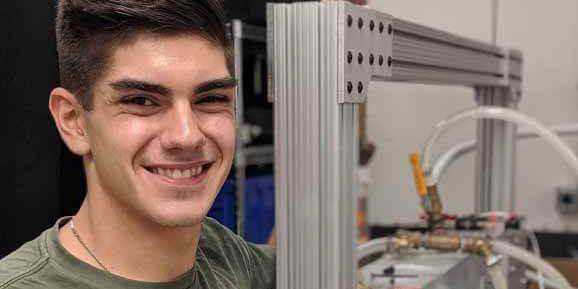 College Park Scholars recently awarded the very first Randall G. and Susan Woodfield Hoffman Endowed Scholarship, to Ryan Gerbes, a sophomore mechanical engineering major in the Science, Technology and Society (STS) Scholars program.
"I can't begin to describe the honor and gratitude I feel as the first recipient of the Hoffman Scholarship," says Gerbes. "The award, and the spirit of service, gratitude and community that it represents, inspires me to continue my work with fresh passion and commitment."
Gerbes is a first-generation college student who started his Scholars experience last year as a commuter student. Despite commuting more than an hour from Baltimore each way, Gerbes committed himself to the Scholars community, serving as both a commuter representative on the student advisory board and a Scholars Ambassador. He also gave back to the community through the STS robotics service-learning course, where he and his peers introduced elementary school students in the Greater College Park community to STEM education. This academic year, Gerbes is working daily as a lab assistant in a fluid dynamics lab and is participating in the campus Quality Enhancement Systems and Teams (QUEST) Honors Program.
Hoffmans prioritize education, service, leadership
The Randall G. and Susan Woodfield Hoffman Endowed Scholarship was established by Randall G. Hoffman and Susan Woodfield Hoffman, both graduates of the University of Maryland.
"My wife and I both benefited greatly by our attendance to the University of Maryland—me, by being on partial scholarship on the golf team, and Susan, by having leadership roles in her sorority," says Randall Hoffman. "I'm not sure I would have made it financially through college without the monies provided."
The Hoffmans therefore sought to provide financial support to other students, pledging in 2014 to fund a $50,000 scholarship to benefit Scholars students. The donation to establish the Randall G. and Susan Woodfield Hoffman Endowed Scholarship is one of the two largest gifts in Scholars history. (The Hoffmans also recently completed a second endowment, the Susan G. and Randall G. Hoffman Endowment.)
Randall Hoffman says he and Susan chose to benefit Scholars students with their generosity, because Scholars students seem particularly committed to acquiring an outstanding education while also providing service and leadership at the university—the very values the Hoffmans themselves prize.
And in that, they are pleased that the first award is going to Gerbes. "For us, it is even more rewarding that Ryan is the first in his family to attend college," Randall and Susan Hoffman say. "It sets a precedent for his family and future generations. We wish him much success in his academic endeavors."
Gerbes, for his part, says the scholarship has reaffirmed his commitment to Scholars and the University of Maryland. "I can't wait for the next chance to work on a project with Scholars or the broader university community. I couldn't be more honored to be a member of the Scholars family," he says.