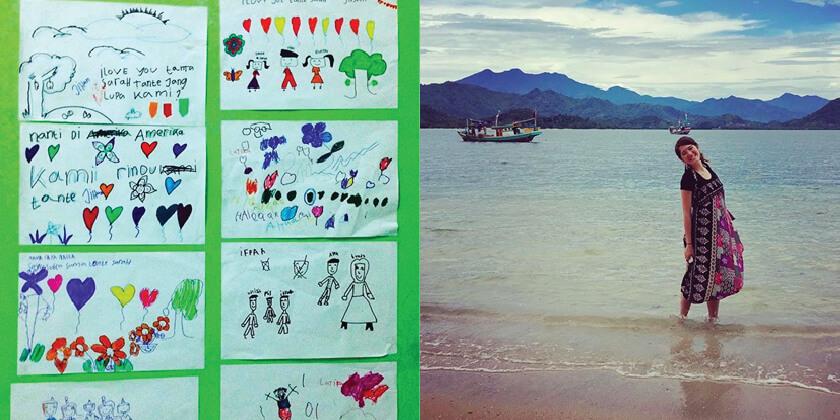 Life Sciences alumna Sarahann Yeh arrived in Indonesia on Aug. 23 to work with high school students at SMAN 7, a public high school on the outskirts of Bandar Lampung city.
Yeh received the Fulbright Scholarship this past spring, which funded her nine-month trip and connected her with service opportunities in Indonesia. She is also serving as a U.S. cultural ambassador, and she credits Scholars for helping her to discover her passion for cultural advocacy.
"Scholars taught me to value experiential learning and gave me confidence to pursue international opportunities," Yeh said. "I remember sitting in colloquium when a lightbulb went off in my head: 'I don't have to just learn about things in lecture. I can go do them.'"
As a university student, Yeh held eight different internships, traveled to over ten countries and studied three languages.
"The Scholars staff were always so supportive of and patient with me. They encouraged me to apply for international scholarships... wrote me letters of recommendation, and helped me prepare for interviews," Yeh said. "I try to remember this when I'm interacting with my students. I always try to be patient, encourage them to think creatively, and support their goals and dreams."
When she arrived in Indonesia, Yeh spent her first week at her site in Bandar Lampung on Sumatra island, before going to a two-week Fulbright Scholar orientation in Bandang on Java Island. She returned to Bandar Lampung on Sept. 18 and started working at the school on the Sept. 19.
"Culture shock is always hard, and being the only foreigner in my community is a challenge. I live alone (except for the ants, geckos, and cockroaches of course) in a neon green house and take motorcycle taxis around town."
Yeh said that she splits her time between working at school, eating at local street cafes called "warungs," doing artwork, and teaching herself how to play the guitar.
"If anything, this grant has taught me to be independent, appreciate other cultures while also retaining my identity, and creatively solve problems when my house floods, the electricity goes out (which happens frequently), or I get lost and don't speak the language."
Life Sciences Scholars Director Reid Compton said Yeh never let anything deter her from taking advantages of the opportunities at this university.
"Sarahann Yeh was the most engaged and fearless student I have had in my eight years as director of the Life Sciences program," Compton said. "She came to me early in her first semester to express her fears about being unprepared for university. We talked at length that day, and I knew then that she was a special student who would take charge of her education and do whatever it took to enrich and experience the world."