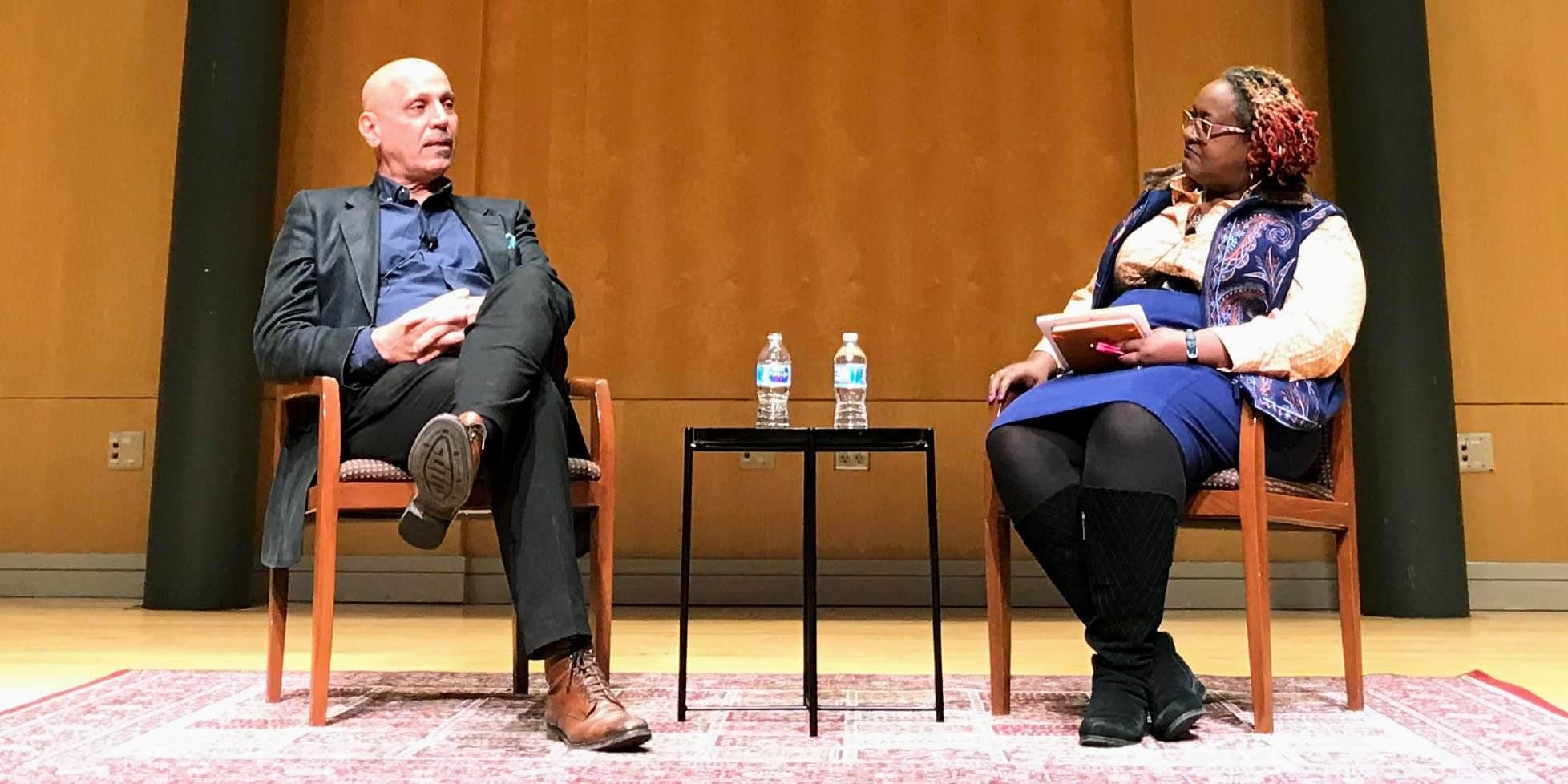 College Park Scholars kicked off the spring semester with a February dialogue event for students to share their own personal stories around our annual theme, "Migrations." Many of the participants, as first- or second-generation Americans, spoke of their connections to their parents' or grandparents' cultures through food. They also referenced the emotional impacts their families' respective migration stories had on their own lives.
On March 5, 2019, Scholars hosted our marquee theme event, "MIGRATIONS: Conversations on food, art and cultural fusion." The Do Good Dialogue was presented in conjunction with The Clarice Smith Performing Arts Center and the Year of Immigration.
The featured guest: Busboys and Poets owner Andy Shallal, who also happens to be a former Scholars parent and a current University of Maryland Executive MBA student.
Work in progress
American Studies Professor Psyche Williams-Forson opened the event by asking, "So who is Andy Shallal?" Shallal paused. He then answered, "I'm still trying to figure that out… [but] he's a work in progress."
Over the course of the evening, Scholars students, faculty and staff had an opportunity to learn about the "work in progress" that is this Iraqi–American restaurateur, artist and political activist.
The event covered why Shallal sometimes might regret having his phone number publicly available and why it's important to pause and reflect. Shallal also spoke at length about the power of food in bringing diverse communities together, regardless of culture and regardless of initial differences.
The evening turned out to be an apt follow-up to the prior student dialogue event—as well as a reinforcement of Scholars' values of diversity and inclusivity.
Food as culture and as memory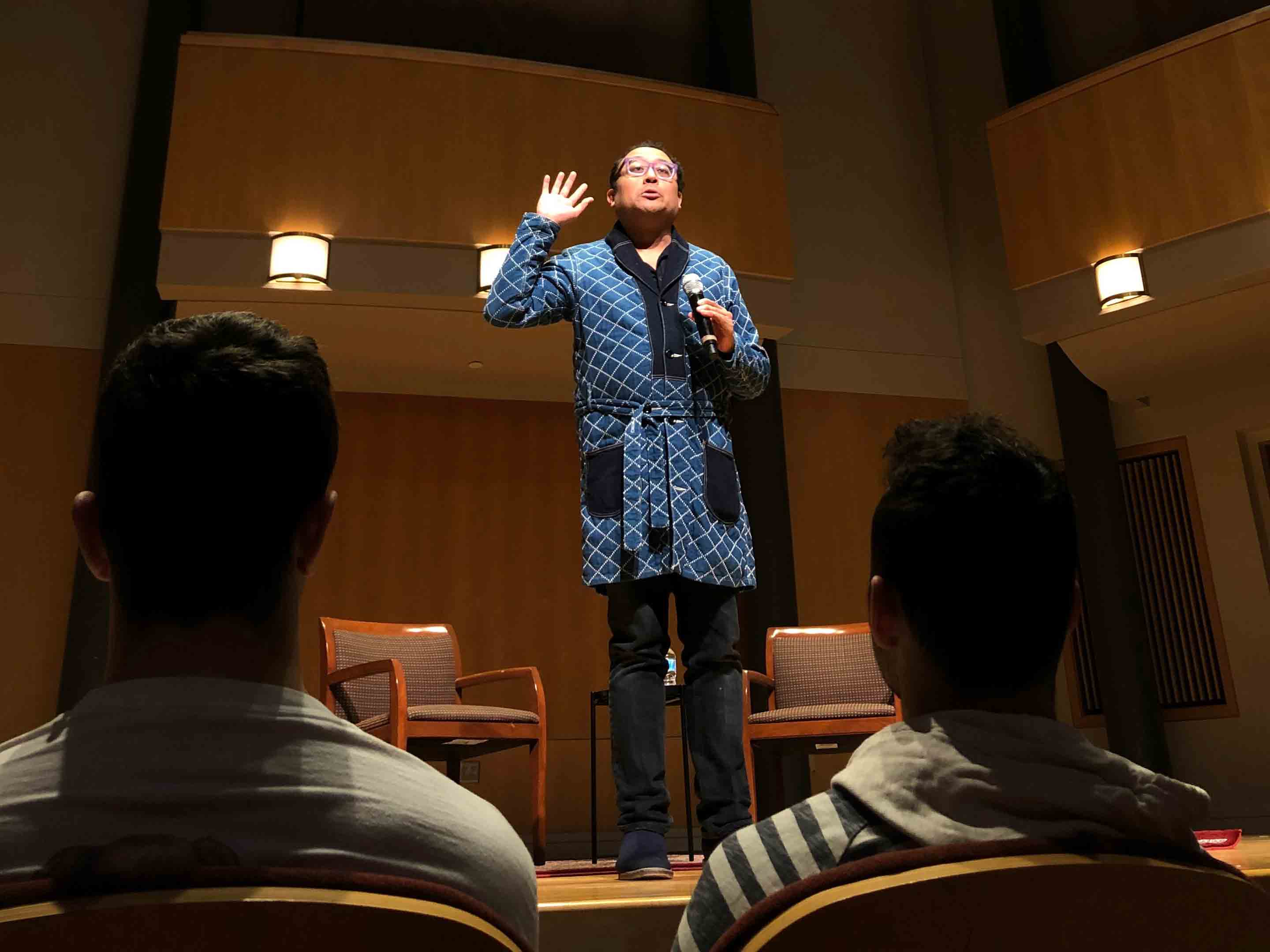 The evening kicked off with Filipino–American spoken word artist Regie Cabico performing two pieces, "The Mango Poem" and "An Afternoon in Pangasinan With No Electricity." Both poems centered around the power of food as part of culture and memory.
The first poem spoke of how the taste of mango served, for Cabico's family, as a literal taste of home—the connection to a homeland even after migrating to a new country, and the ways in which tasting a familiar food can spark memories and comfort.
The poem in some ways recalled the February dialogue event, "Where are you really from? Student stories of how they got here." At that event, students had shared stories of learning to make tortillas with their grandmother and preparing familiar dishes—a task they agreed often serves as a comforting ritual.
Yet Cabico's second poem reflected the challenges associated with food as an immigrant in America. Specifically, what do you do when you discover the foods that are part of your culture—in this case, balut—are things that people would only consume as part of TV shows like "Fear Factor"?
As Williams-Forson would later note, food "can bring us together [and] it can also produce tension."
Building a community, no matter where you're from
For Shallal, that tension around food may have been evident with his initial introduction to the restaurant industry. His father owned a restaurant after the family immigrated to the United States from Iraq.
For his father, the restaurant was simply a way to make money consistently. It is, perhaps, a not-unexpected concern that is a part of many migrations tales. Shallal's parents had gone as far as to steer him away from the food business, wanting him to pursue a career in medicine instead.
Shallal did become a researcher at the National Institutes of Health. But he returned to waiting tables after realizing a career in medicine was not his dream. And, unlike his father, the experience swiftly turned into a calling for Shallal.
"I love serving; I love to make sure people are happy when they eat," he said.
Founding Busboys and Poets was about following that calling, and finding ways to make others happy. "When 9/11 happened, Muslim Americans really felt stuck between worlds. Opening Busboys and Poets was about reinforcing that I'm not alone. It was reassuring to know there are people out there who care," Shallal said.
Shallal noted the importance of building the spaces you wished existed and giving people an opportunity to come together—not only to eat, but also to build community and find a chosen family no matter where they were originally from.
"I love the power of food," Shallal said. "When you serve someone a good meal, they're ready to invite you home … I've been invited to parties, to weddings, on yachts, all because I served them a good meal!"
Sharing meals across differences
Being a publicly accessible figure isn't without its challenges. "I'll [sometimes] get a call at midnight on a Friday going, 'Why are you out of chicken?'" Shallal shared.
It does, however, speak to Shallal's larger purpose of breaking bread, something he feels is as crucial today (perhaps more) as it was when his restaurant began.
"Food is able to open people up in a different way. When you're eating with someone, it's hard to hate them. It disarms us, even physiologically—you can't think too hard or overanalyze because your body is focused on digestion," Shallal explained.
This idea of coming together to share a meal across differences is woven into Busboys' operations. Take Shallal's oft-cited methods of training his staff in racial sensitivity and diversity.
"Race determines so much — wealth, health, where you eat... Restaurants have long been racially fraught throughout American history. I wanted to change that paradigm and get away from marginalizing people," he said.
Shallal said he feels especially qualified to do so because, in his words, "an immigrant who's neither black nor white has the ability to do that." He starts staff trainings by asking them to consider the ways in which they perceive customers (in part due to race), the ways they themselves are perceived, and how it's everyone's obligation to control only their own behavior.
"For years," he observed, "people thought if we forget long enough, [racial issues] would just go away. [But] when you sweep things under the carpet, they get lumpy, and you trip over them."
Perspectives from peoples' identities
Yet Shallal emphasized to students that the tripping is part of the process: confronting difficulties and difference requires nuance as well as a willingness to be vulnerable and to make mistakes from which you're willing to learn.
As the evening drew to a close and the Q&A portion wrapped up, Shallal offered a last reflection that reinforced the value of sharing with one another, rather than making judgements based on a single facet of anyone's identity. "People see each other flat," he observed,"[but] all our identities have messages to share, once people hear each other's stories. Once you have that, [people] start to connect with one another and learn something about themselves."
After the event, Shallal stayed for the reception in the lobby of The Clarice. A small group of students surrounded him, finding an opportunity to connect with him and to one another… naturally, over plates of food.