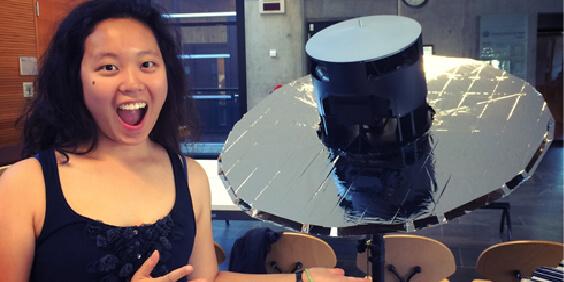 Science, Discovery and the Universe alumna Steffi Yen is pursuing her doctorate degree at Heidelberg University after graduating from the University of Maryland in 2013 with her B.S. in astronomy.
Yen credits SDU Scholars with furthering her passion for astronomy through academic excursions and hands-on scientific experiences.
"My favourite SDU excursion was to the National Radio Astronomy Observatory in Green Bank, West Virginia, home of the world's largest steerable radio telescope," Yen said. "We got a little taste of what it's like to be an astronomer. We were able to operate a small radio telescope and analyzed the spectral emission from clouds in the Milky Way."
Yen said the most important lesson she learned from her experience with Scholars was not to be afraid to interact with professors, advisors or research supervisors.
"I remember I was so nervous going into my first year Scholars meeting with Dr. Neal Miller, one of the directors of SDU... I spoke honestly about how I was having trouble applying for research internships because I had no prior research experience," Yen said. "As it turns out, he was looking for a student to do research over the summer and actually offered me the position. It would have been a missed opportunity if I had not spoken up."
That summer between her freshman and sophomore years, Yen helped Miller use "archival data that consisted of commensurate ultraviolet observations made by an X-ray telescope," Miller said. "We worked on getting the photometry accurate and included in spectral energy distribution fits, then used the results to study galaxy evolution."
After that summer research experience, Yen attended an American Astronomical Society meeting with Miller in January 2011, where she won the Shapiro Excellence in Undergraduate Research Award.
"Steffi was an absolute delight to work with... I'm really glad that among all those talented [SDU Scholars] she was the one to work with me," Miller said. "She is smart, responsible, hard working and fun."
Yen also said that Scholars taught her to be inquisitive and ask questions as often as possible.
"My first research experience made the biggest impact on my college and career experience, and without Scholars, I'm not sure I would have been as proactive in gaining astronomical experience outside lectures," Yen said. "Scholars introduced me to friends who shared similar passions and [Scholars directors] who were not only great scientists, but people who really cared about their students and provided them with the tools...necessary to succeed."
Current SDU Director Alan Peel said that Yen arrived to this university in 2009 "excited to be a part of SDU and thrilled to be a Scholar."
"She brought a gleeful exuberance to class and to our excursions off campus. Always cheerful, Steffi also applied her brilliant mind with a quick wit and a kind heart to all the academic challenges we use to inspire our students. She was a solid leader in our program and was a great resource for rising freshmen when she was a sophomore and an upperclassman."
Now, Yen's PhD research focuses on studying the Milky Way's open star clusters, which are groups of up to a few thousand stars that were formed from the same giant molecular cloud and have roughly the same age. While she says her plans after she completes her PhD program are uncertain, one of her biggest dreams is to work for NASA. She is considering pursuing a post-doctorate, but is also interested in education and public outreach or scientific writing.
"As a brilliant young scientist, SDU is thrilled to see [Yen] thrive abroad in a top notch research capacity, and we know we'll see her joyful face announcing some triumphant astronomy discovery in the near future," Peel said. "We also hope she manages to sneak in a giraffe (her favorite animal) into her public talks every chance she gets."