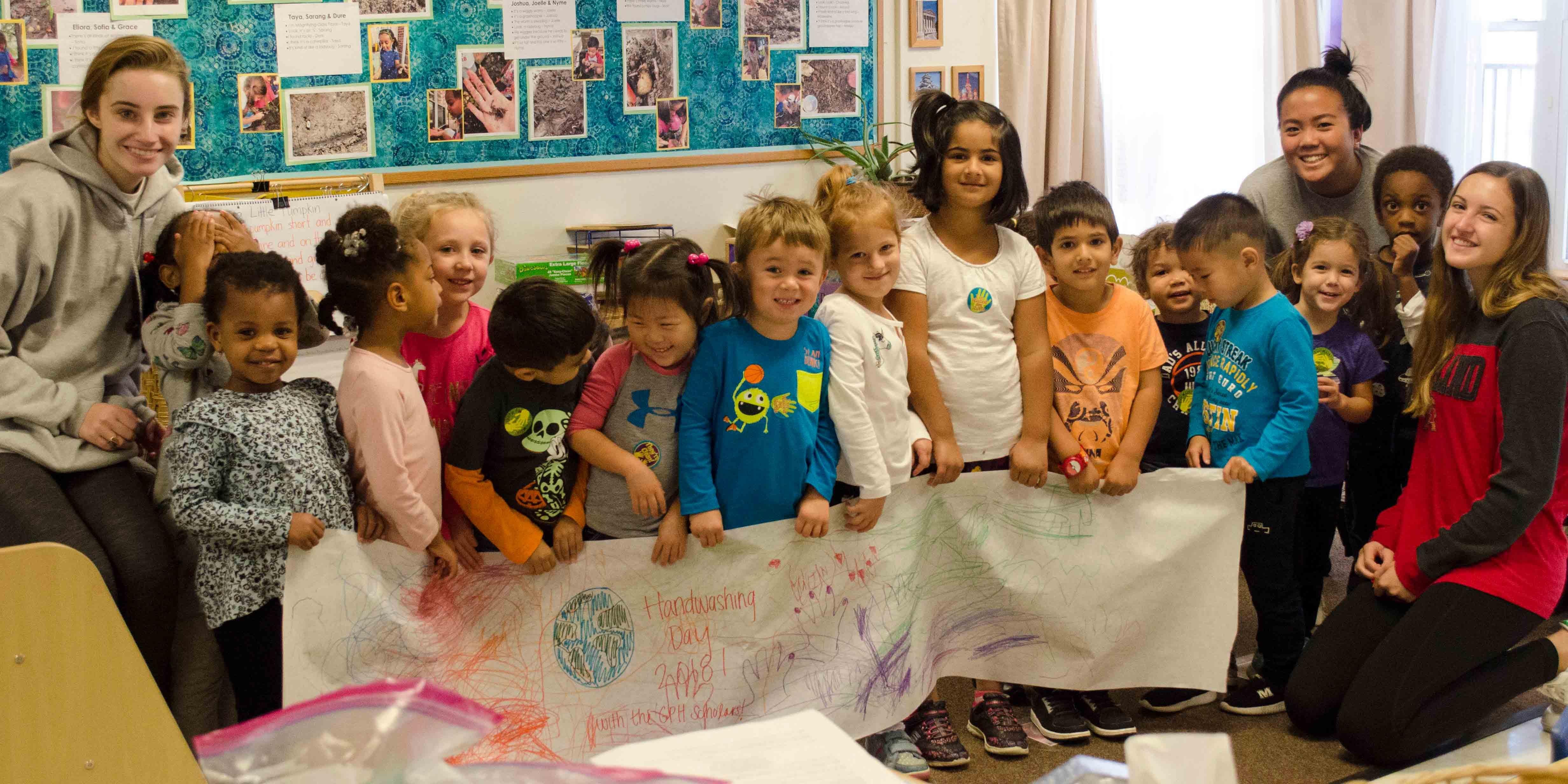 Washing your hands is serious business—something that the students at the University of Maryland's Center for Young Children are learning hands-on.
"Our kids wash their hands all the time," says Director Mona Leigh Guha, of the center's 3- to 6-year-old students. The state requires certain handwashing protocols in licensed preschools, and frankly, it's good practice. Handwashing with soap is widely recognized as one of the easiest and most effective ways of preventing disease.
"Handwashing is the best vaccine," observes Elisabeth Maring, director of the Global Public Health (GPH) Scholars program. GPH is sponsored by the School of Public Health.
On Oct. 17, several first-year students in GPH visited the center to reinforce that message. The college students talked with the preschoolers and kindergarteners about Global Handwashing Day—which takes place each year on Oct. 15—and the importance of washing hands to remove germs and stay healthy. They sang songs and drew pictures.
And, of course, they washed their hands.
The GPH Scholars came armed with Glo Germ lotion, which simulates the appearance of germs. The youngsters rubbed a drop of the stuff onto their hands, then washed their hands at the pint-sized sinks attached to each classroom. GPH students then shone an ultraviolet light on the children's hands: Spots that glowed under the light meant the kids had missed a spot when they were washing.
More than once, GPH students inquired of their young charges: "Did you use soap?", sending kids scrambling back to the sink.
Destiné Carroll, a biology major, says she volunteered in this activity because she wants to be a pediatrician. "The kids know to wash their hands; I thought they wouldn't, but they do," she says. "As they grow older, they'll know how to stay healthy, and it'll make a huge difference."
As the center's director, Guha, says, "You can never teach [handwashing] too many times."
GPH has been visiting the Center for Young Children to celebrate Global Handwashing Day for the past six years. "It's really about connecting with the community on campus," says Maring, noting that service is built into the culture of College Park Scholars.
Adds GPH Assistant Director Haley Axton, "In class, we talk about big impacts vs. little impacts. Little impacts can still make a difference. There is a need in the community, and we can make that impact by going down the street and helping to teach hygiene."
GPH studies the links between culture, economic development and health across populations, and promotes well-being across communities worldwide.