Ewaoluwa Ogundana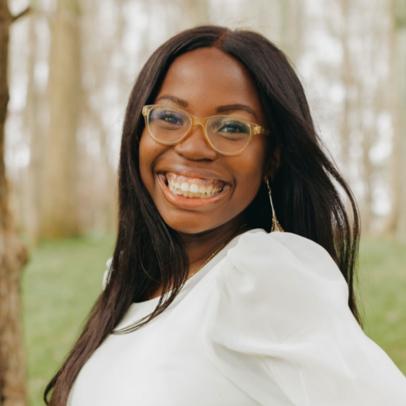 Ewaoluwa Ogundana
Graduate Assistant, Public Leadership
Ewaoluwa Ogundana is a master of public policy candidate at the University of Maryland (UMD) School of Public Policy and one of the graduate teaching assistants for the Public Leadership Scholars program. She graduated summa cum laude with a Bachelor of Arts in Political Science, with a minor in communications, from Trinity Washington University in fall 2020.
Prior to graduation, Ogundana worked as a writing tutor at Trinity's Writing Center and helped students improve their writing style and skills. She also served as president of the Student Government Council, where she worked to grow student activity and expand the Council leadership to better cater to campus student needs.
Ogundana has always been passionate about education and the well-being of students. Her journey through undergrad exposed her to the power of sharing her story and struggles of attaining a higher education. Since then, she has worked with various advocacy organizations to push for policies that help DACA (Deferred Action for Childhood Arrivals) and undocumented students like herself. She hopes to specialize in immigration and higher education policy while at UMD and grow her career in the policy sector through policy advocacy, research and analysis.
Contact